Summary

Tesla has added over $7 billion cash to its balance sheet through equity raising as investor sentiments have pushed share price and market cap to record levels.
Over the last one year, the operational performance of Tesla has also improved significantly, and China factory is delivering cars.
Tesla, Inc. came up with another banger in the September quarter show, which was labelled as the 'best quarter in history' by Elon Musk. But optimists believe that best is yet to come, at least from new factories in two other continents.
Notably, during the same period last year, bulls had showered love on Tesla stocks, smashing it through the roof over the next months. At the backdrop, perennial bears on Tesla stock had since been defied and forced to close short positions.
Best quarter ever for Tesla
In the quarter ended September, Tesla produced 145,036 vehicles and delivered 139,300 vehicles.
Total revenue for the quarter was $8.7 billion, which includes automotive revenue of $7.61 billion. It was noted that Tesla generated free cash flow of $1.9 billion over the past four quarters.
For the trailing 12 months, it spent $2.4 billion on new production capacity, supercharging locations, service centres, and other capital investments. Cash at the end of the quarter was $14.5 billion with an increase of $5.9 billion. In Q3, free cash flow was $1.4 billion.
Tesla is now emphasising on the next phase of growth, which would majorly come through its new production facilities in Shanghai, Berlin, and Texas. Its most recent investments in capacity building are now stabilising.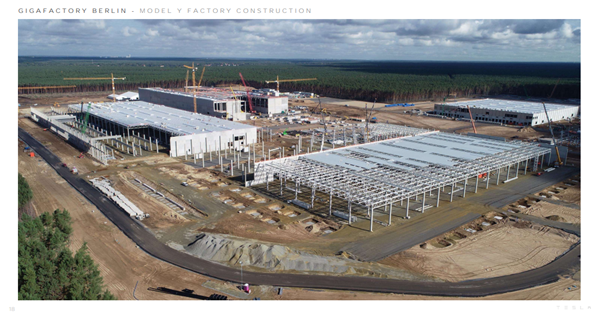 Source: Tesla Q3 2020 Presentation, October 2020
Good Read: Climate Change, Reduced Engine Cost, High Subsidy – Throttles The EV Industry
Model Y in Fremont is expected to reach capacity level production while Shanghai plant is achieving designed production rate for Model 3. Tesla is implementing architectural changes in products and factories to realise efficiencies.
In Q3, Elon Musk took home bumper pay in line with 2018 CEO award milestones.
As a result, stock-based compensation expense increased to $543 million. In Q3, GAAP based net income was $331 million, and net income was $874 million on a non-GAAP basis, which excludes stock-based compensation.
It posted GAAP-based operating income for the quarter of $809 million with 9.2% operating margin. Operating results were driven by vehicle deliveries and profitability.
Over the year to Q3 2020, the revenue growth was 39% driven by deliveries growth in other segments of business. In Q3, the increase in cash position was driven by $5 billion capital raising, free cash flow of $1.4 billion, and reduced use of working capital credit lines.
The average (ASP) declined slightly compared to the previous corresponding period as product mix continues to selling price shift towards affordable Model 3 and Model Y from Model S and Model X.
In September, the company hosted Tesla Battery Day and declared plans to reduce battery pack cost per kWh by 56% for the production of a profitable $25k vehicle. With a simpler manufacturing process, Tesla also believes capex per GWh would decline by 69% compared to current levels.
Outlook
Tesla said it has the capacity to produce and deliver 500,00 vehicles this year. Although the target is difficult now, it continues to aim at delivering half a million vehicles in 2020. The achievement of this target will depend on quarterly Model Y and Shanghai production and improvement in delivering capacity.
On a trailing 12-month basis, Tesla maintained an operating margin of 6.3% and expects operating margin to improve over time. With capacity expansion and localisation, the company seeks to deliver industry-leading margins.
Presently, it is building capacity for Model Y in Gigafactory Shanghai, Gigafactory Berlin, and Gigafactory Texas. Management expects to kick off deliveries from each location in 2021 and continue investments in the product roadmap.
General Motors' EV Program
General Motors is seeking to debut 20 electric vehicles by 2023. Its modular technology will have no gas tanks, radiators, exhaust pipes or engines. Battery packs in the modular platform would have an option to arrange height and width.
General Motors plans to use ultium batteries to power EVs in every segment. For the production of ultium batteries, LG Chem and GM are running a joint venture. Presently, the estimated range would be up to around 400 miles at full charge.
GM seeks to deliver charging capabilities at home and at work. Along with EVgo, it is working to build over 2,700 fast-charging stations over the next five years. It was understood that this number would be triple the size of the United States' largest public fast-charging network.
The company expects to allocate capital and engineering resources worth over $20 billion to EV and AV programs between 2020 and 2025. The JV with LG Chem would take costs to below $100 per kWh. This month, the company announced $2 billion investment for an EV assembly line.
EVs would be launched across Cadillac, Chevrolet, GMC, and Buick. GM plans to sell a million EVs per year by mid-decade in North America and China (with JV partners). It recently unveiled GMC Hummer EV and Cadillac LYRIQ. It has filed over 3,000 patents related to electrification by in-house R&D.
Good Read: General Motors goes aggressive on EV bet, takes 11% stake in Nikola