Summary

Rocket Lab to send out electron launch testing vehicle.
This could mean reusable spacecrafts and vehicles in the future.
Up against SpaceX, which already boasts reusable vehicles.
Rocket Lab is ready with the first vehicle for electron launch-based testing. These are vehicles that are modified and reinforced in such a way that they become reusable. If successful, this could save a lot of time and money for the Company and carve out a niche in the area of aeronautics and space sciences.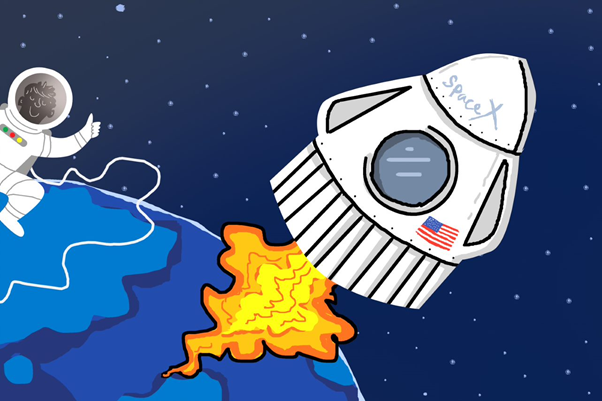 Image Source: Copyright © 2021 Kalkine Media
The launch is scheduled for 15 May 2021, and the CEO for Rocket Lad, Peter Beck, has confirmed the same. He has also said that the vehicle should contain Blacksky satellites, which is the first part of the mission. The next is that the satellite becomes able to survive a booster-stage recovery, after the craft has been dunked into the ocean. This is said to be the second of the three originally planned booster recovery missions. The Competitor SpaceX has already achieved the feat of producing reusable vehicles and this increases the pressure on Rocket Lab to make the least mistakes and get it right as soon as possible.
The previous recovery vehicle was called "return to sender". It made waves after splashing in the Atlantic Ocean last November, both literally and figuratively. Back then, it was informed by the officials that the vehicle in fact came back in a remarkably good condition. However, there are several upgrades as well as new components in this mission, making it all the more crucial for the booster.
Also read: After SpaceX, Will Tesla (TSLA) Start Accepting Payment In Dogecoin?
Also read: Dogecoin Wasn't the Only Crypto to Fall After Musk's SNL Appearance
One of the main differences is that this booster is equipped with a heat shield, which is created from stainless steel instead of aluminum. The re-entry temperatures get really high, as much as 2400 degree Celsius, and this is what the craft shall need to endure.
Also read: Dogecoin Wasn't the Only Crypto to Fall After Musk's SNL Appearance
Besides this, the Company has further introduced an Ocean Recovery and Capture Apparatus, which are meant to help the craft come out of water, a sort of search and rescue required after the final stage of the mission is completed. This has been done after learning from the November experience, where the relentless ocean had presented challenges. The craft escaped the unscathed though. It also plans to use parts and components of crafts in various missions after they have been completed.