Source: hedgehog94,Shutterstock
Summary

The vaccine plan aims to reach 2 million New Zealanders in 4 months.
Border and healthcare workers will be prioritised followed by people at higher risk if the catch COVID-19.
More vaccination centres are being opened.
COVID-19 immunisation discussions have resumed again as Auckland came out of its 7-day lockdown. Market reports stated that Kiwis were not so keen on getting vaccinated due to a lack of confidence on the safety of the coronavirus vaccine.
On 8 March, PM Jacinda Ardern revealed that the government had bought 8.5 million additional Pfizer/BioNTech vaccines, which were considered enough for every Kiwi. The government had earlier ordered an estimated 1.5 million Pfizer vaccines.
The government purchased more Pfizer vaccines and made Pfizer the country's primary vaccine supplier due to its 95% effectiveness in preventing the infection.
Source: Copyright © 2021 Kalkine Media Pty Ltd.
Chris Hipkins, COVID-19 Response Minister, stated that the efficiency of the roll-out would increase if the vaccination was restricted to the only vaccine rather than multiple ones.
Ardern considers securing this additional order is a significant milestone for NZ's fight against COVID-19. The extra vaccines are likely to come to the country in the second half of the year.
The vaccine roll-out plan
About 120 people, including border workers and healthcare workers, got the vaccine in the first week of COVID-19 immunisation roll-out in Taranaki.
The government plans to take the vaccine roll-out to 2 million Kiwis in 4 months. People with higher risk of catching the disease are next in queue after border and healthcare workers. After them, older people with pertinent health conditions living in South Auckland, in aged residential care homes or in a whanau care setting, will be offered the vaccine.
The Pfizer vaccine roll-out plan was given by COVID-19 Response Minister, Chris Hipkins, on 10 March.
Here's a look at the plan, which has been divided in 4 phases.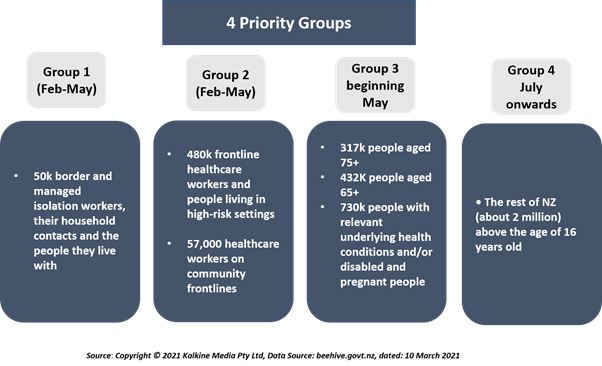 Two special categories were being taken into consideration by the NZ government. One is for the people who may require the vaccine on compassionate grounds, and the other is recognising national significance category, which includes athletes, diplomats, and others looking to represent NZ abroad.
Kiwis aged 70 will be offered vaccination from May onwards followed by Kiwis aged over 65. The general population will get the vaccine in July.
PM Jacinda Ardern announced that 18,000 people had gotten their first dose of Pfizer vaccine with the initial focus on coronavirus frontline border workers and their families. Over 50K frontline healthcare workers and people living in high-risk settings will be next in line.
Hipkins stated that it was a plan that prioritised on reducing the likelihood of any outbreaks in the future, and also protected elders and people with severe health conditions or those who live in outbreak-prone locations.
New vaccination centres being opened
On 9 March, NZ's first large-scale coronavirus vaccination centre was opened in South Auckland, which plans to vaccinate about 150 Kiwis a day. Two more vaccination centres are due to open in West Auckland and Central Auckland.
Ashley Bloomfield stated that the government was also collaborating with Maori and Pacific NGOs to also put some community-based vaccine clinics in place. He added that similar centres would be set up all around the country.
Hence, the government plans to use a targeted strategy to reduce the risk of any COVID-19 outbreaks in the future.