Summary

The US FDA has added a warning for Pfizer and Moderna COVID-19 vaccines to suggest an unusual risk of heart inflammation.
Experts believe that the benefits of receiving vaccines outweigh the risks associated with them.
WHO scientists have stated that receiving a combination of vaccines may help tackle the supply shortage.
We are already halfway past CY2021, but we continue to grapple with the uncertainties surrounding COVID-19. International health organisations and policymakers are burning the midnight oil to overcome the challenges posed by the coronavirus, but this seems to be taking time.
A significant concern is the mutating nature of the virus, which has had a catastrophic impact in the last few months.
Scientists and researchers are working against the clock to discover breakthroughs and device strategies for implementation at ground level to tackle the novel disease. New research is emerging from time to time to handle the situation in a better manner effectively.
While a few vaccines that have received conditional approvals are now being used extensively worldwide, they have had their fair share of concerns. While has AstraZeneca (LON:AZN) vaccine has faced multiple challenges, it is not the only one that has been under the spotlight.
DID YOU READ: COVID-19: Are Intranasal vaccines better than the traditional vaccine shots?
Image source: ETAJOE, Shutterstock
US FDA warns of heart inflammation risks
In a major development, a warning has been added by the US Food and Drugs Administration (FDA) to patient and provider of fact sheets for Pfizer (NYSE:PFE) and Moderna (NYSE:MRNA) COVID-19 vaccines. This is done to suggest an uncommon risk of heart inflammation.
The fact sheets were reviewed for every vaccine and incorporated a word of alert concerning the heart muscle's inflammation and the tissue surrounding the heart following the second shot and with the emergence of symptoms in few days after getting the dose.
SILVER LINING: COVID-19 scares Australia's criminals out of their jobs
However, the above risks associated with inflammation seem to be very low due to the number of vaccine shots administered.
Moreover, health officials believe that the advantages of getting jabbed still overshadow the risk provided the risk of COVID-19 diseases and associated, potentially severe, complications.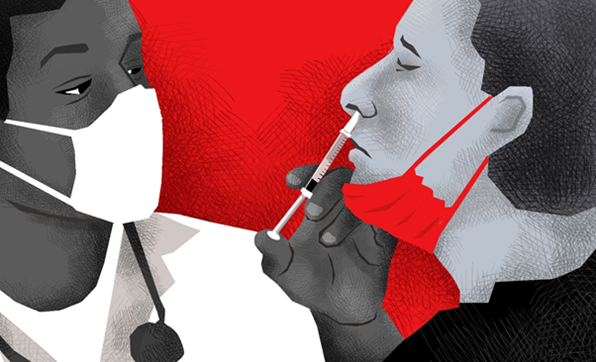 Source: Copyright © 2021 Kalkine Media
ALSO READ: How covid is changing our fitness habits
Silver lining amid the looming third wave
Thankfully, the devastating second wave of COVID-19 that wreaked havoc across India seems to be tapering off now. The Asian country seems to be breathing a sigh of relief after a frightening period of two months.
However, clouds of gloom have not passed yet as the Delta plus variant is rapidly setting foot across nations, and there is a high risk of the third wave of COVID-19. These projections have pushed researchers, governments, policymakers and concerned authorities to rethink their strategies.
Amid these challenging times, the only hope of these countries is the COVID-19 vaccine which is already short on the supply end in the market.
DID YOU READ: What is Delta plus? Is it more dangerous than other strains?
Source: Copyright © 2021 Kalkine Media
A silver lining in these anxious times comes from a WHO Chief Scientist who has stated that using a combination of vaccines for immunisation can be of great help in countries where individuals have received at least one dose of the COVID-19 vaccine but are currently facing a shortage of vaccine.
RELATED: COVID-19 loosens grip on India, shifts wrath towards other nations
In support of this, the WHO scientist further cited data from European nations that indicates that immunisation using two distinct kinds of COVID-19 vaccines stirs up a more robust immune reaction.
However, this mix-and-match regimen has some side effects, including pain, fever, and other minor side effects.
All in all, the mounting anxiety around the Delta plus variant calls for expediting the efforts from increasing production to wearing masks to curb the spread of the disease. The increased availability of vaccine doses and abiding by the standard protocols on the ground level is imperative to avoid another catastrophic wave.