Summary

Bitcoin revenue fueled Square's first quarter total net revenue to grow 266 percent year over year.
PayPal's net income jumped to US$1.10 billion from US$84 million in the year-ago quarter.
Digital payments behemoth PayPal Holdings, Inc. (NASDAQ: PYPL) and Square, Inc. (NYSE: SQ) reported stellar first-quarter results amid the government's stimulus payments and bitcoin transactions.
While PayPal posted significant growth in its earnings, Square reported a profit for the quarter following strong bitcoin-backed revenue growth.
PayPal Holdings
PayPal's net income in the first quarter surged to US$1.10 billion, or 92 cents per share, from US$84 million, or 7 cents per share, in year-ago quarter on a GAAP basis. The non-GAAP EPS jumped 82 percent to US$1.22.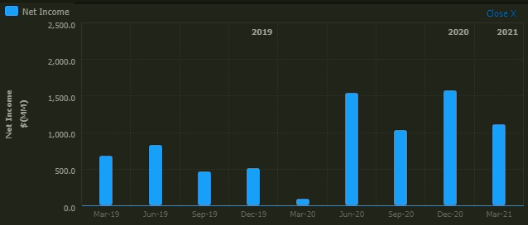 Source: PayPal's net income since first quarter 2029.
Revenue during the three months grew 31 percent year over year to US$6.03 billion as total payment volume totaled US$285 billion, up 50 percent year over year.
PayPal added 14.5 million net new active accounts in the quarter and has 392 million active accounts as of the end of the quarter.
The California-based company anticipates full-year non-GAAP EPS to increase 21 percent to US$4.70 while GAAP EPS is expected to be US$3.33.
PayPal forecasts US$25.75 billion in full-year revenue, which represents a 20 percent growth.
For the second quarter, PayPal eyes revenue growth of 19 percent to US$6.25 billion. PayPal targets GAAP EPS to be 76 cents, while non-GAAP EPS is projected to grow 5 percent to US$1.12.
PayPal's stock rose 1.87 percent to US$252.02 on Thursday.
READ MORE: Good News For Crypto Lovers: Coinbase Allows Crypto Purchase Via PayPal
Square, Inc.
Square posted a net income of US$39 million, or 8 cents per share, for the first quarter, against a loss of US$105.9 million, or 24 cents per share, in the prior-year quarter.
The net income included US$29 million loss from its investment in DoorDash and US$20 million loss related to the impairment of bitcoin investment.
Adjusted net income was US$217.7 million, or 41 cents per share, compared to a loss of US$7.3 million, or 2 cents per share, in the first quarter previous year.
Total net revenue totaled US$5.06 billion, up 266 percent year over year, as revenue from bitcoin came in at US$3.51 billion. Square's revenue grew 44 percent year over year, excluding bitcoin.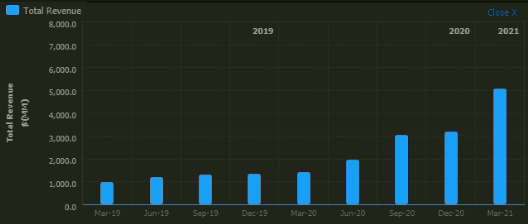 Source: Refinitiv, Square's total revenue since first quarter 2029.
Transaction-based revenue rose 27 percent to US$960 million while the company processed US$33.1 billion in gross payment volume, which represents a 29 percent growth.
Cash App, which allows customers to send bitcoin for free, generated US$4.04 billion of revenue, up 666 percent. Cash App's revenue, excluding bitcoin, was up 139 percent to US$529 million.
The San Francisco-based company's fair value of bitcoin investment was US$472 million at the end of the quarter based on observable market prices.
Square's shares grew 2.78 percent in after-market trading on Thursday to US$230.19.
READ MORE: Square, NetEase, & Fiverr: 3 Growth Stocks On Investors' Radar