Summary

In the beginning of the year 2020, Mergers and Acquisitions (M&A) deals were shelved owing to coronavirus crisis.
Since June, M&A in the US saw a steep rise in megadeals above US$10 Billion.
Mergers and Acquisitions deals are mainly emerging from the US markets, while Europe is lagging.
Industry experts believe Mergers and Acquisitions to emerge stronger, especially after seeing the growth in July.
From the beginning of July, Mergers and Acquisitions activity has been surging up, with a number of heavyweight multibillion-dollar deals being signed, as companies are going forward with the deals that were on hold and majorly impacted due to the pandemic. M&A market is now appearing to be bouncing back since last week (2 August) when the news of Microsoft's expected acquisition of video-sharing social media app TikTok began to float again.
The novel coronavirus created havoc in people's lives, destroying economies worldwide for many months, where market conditions were unbelievably frightful. But with easing up of lockdown and releasing multiple relief package and stimulus, the market conditions are improving, even though companies are preparing themselves to battle the earlier predicted recession.
Mergers and Acquisitions gaining momentum is a sign of revival as it joined the resuscitating credit and equity markets. New company IPO launches and Special Purpose Acquisition Companies (SPACs) are also experiencing an upbeat mood, giving investors something to look forward to.
After a series of allegations facing from the US government, TikTok is in talks with two big companies Twitter Inc and Microsoft Corp, about a potential combination. It is unclear whether Twitter will pursue the deal.
Microsoft is being considered a front-runner as it is negotiating for weeks with TikTok's owner, Beijing-based ByteDance Ltd for any possible deal. After Trump administration declared TikTok a national-security threat, a week ago, Microsoft CEO Satya Nadella spoke with President Donald Trump about the matter. Microsoft's market capitalisation is about US$1.61 trillion (as on 7 August) on NASDAQ index, whereas Twitter's market capitalisation is about US$29.38 billion (as on 7 August), on NYSE much smaller than Microsoft's.
Also read: The TikTok Talk: Microsoft's Efforts around Pocketing a Big deal
In the financial advisory market, Goldman Sachs topped the Mergers and Acquisitions (M&A) in the first half (H1) of 2020 on deal value. According to a data and analytics firm, GlobalData, Goldman Sachs advised on 113 deals worth US$205.9 billion. Followed by JP Morgan with 105 transactions valued at US$178.9 billion. Morgan Stanley occupied third place with 92 deals values at US$170.8 billion.
Also read: Morgan Stanley Delivers Record Results in Q2, Net Income Up
Source: GlobalData
Mergers and Acquisitions deals are mainly emerging from the US market. 7-Eleven's owner, recently, announced buying Marathon Gas Stations for US$21 Billion. Seven & i Holdings Co. is the world's largest Japanese diversified retail group. Founded by Masatoshi Ito, the convenience-store franchiser agreed to buy Marathon Petroleum Corp.'s Speedway gas stations. The Company looks forward to delivering growth even during uncertain times of pandemic.
Seven & i Holdings Co. Chief Executive Officer Ryuichi Isaka recently during a conference said that this deal is a historic first step for the Company towards becoming a international retailer.
After deducting all sale costs and taxes, Marathon will utilise US$16.5 billion to lessen debt and bolster dividend payments.
Also read: Most Talked About Retail Stocks: City Chic, Kogan.com
Refinitiv, a provider of financial market data and infrastructure owned by Blackstone Group LP and Thomson Reuters released a report on M&A sector, which says period between June and July saw US$300 billion M&A signed deals compared to US$100 billion in April and US$130 billion in May.
Market sentiments are improving on deals front, which were on pause previously this year, but are now back on track.
In the first week of August, Siemens Healthineers AG and Varian Medical Systems, Inc. announced that they have inked an agreement to advance battle cancer and strengthen their position in healthcare. Siemens Healthineers would also acquire all securities of Varian for US$177.50 per share in cash, this relates to a purchase price of nearly US$16.4 billion.
Also read: What influenced NASDAQ to Reach Record High?
Data firm CB Insights released a report last month on M&A deals picking up in half of the second quarter. It reported significantly more deals in Asia were VC deals, which rose 20% quarter over quarter.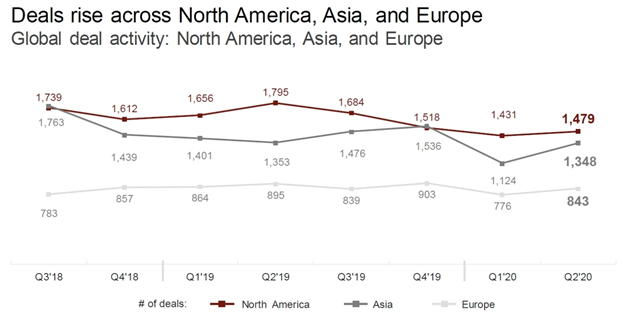 Source: PwC CB Insights MoneyTree™ Report Q2 2020
According to PwC's 2020 midyear outlook, new M&A patterns started to emerge. Amid COVID-19 outbreak, the US economy fell into a recession and several deals in the second quarter plunged by 29% on pcp. This is the single largest y-o-y decline in dead activity since the dot-com recession in 2001. However, there are indicators that market conditions have now started to stabilise.
Even though the overall deal volumes declined initially, some sectors like healthcare, industrial products, oil, and gas were more resilient than others. Tech companies gained a lot of attention on M&A front, in the face of uncertainty; innovation continued to thrive. Stay-at-home orders, along with COVID-19 related restrictions, raised a demand for technology and digital infrastructure. About 27% transaction in the US during the second quarter took place in tech firms, better than previous year's 24%.
The major problem that Mergers and Acquisitions activity faced amid the crisis was in the cross-border deals. The sudden health crisis led many countries to close their borders resulting in upending a cross-border deal environment, which was already fraught with economic and political issues. The US-China trade war, growing populism and the declining influence of multilateral institutions were also creating uneasy situations for the M&A activity.
The dealmakers are witnessing one of the most uncertain environments, where strategies from the economic and political crises do not apply anymore. Despite the recession, the industry experts believe Mergers and Acquisitions to emerge stronger, especially after seeing the growth in July.
Also read: Trump Cuts US ties with ByteDance and Tencent