Source: Jirapong Manustrong, Shutterstock
The American Depository Receipts (ADRs) – Infosys Ltd (NYSE:INFY) and Wipro Ltd (NYSE: WIT) of two Indian companies have more than doubled in the past one year. And both have a similar story: both companies have CEOs that have turned on the game for them.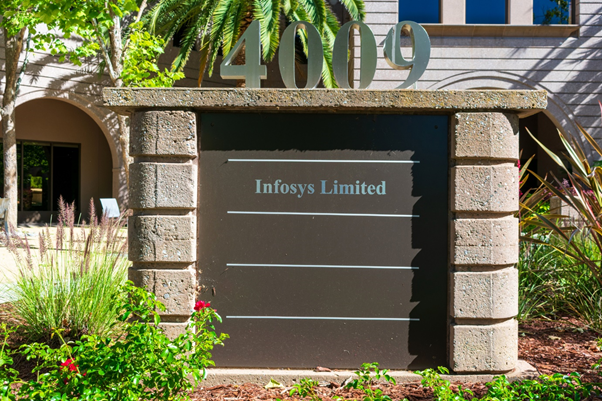 Infosys Limited sign near corporation office of Indian company in Silicon Valley. Infosys has its headquarters in
Bengaluru, Karnataka, India. © Michaelvi | Megapixl.com
In the past one year the ADRs -- security that represents shares of a foreign company and allows that company's stocks to trade in the US financial markets -- of Infosys have surged by 120% on the New York Stock Exchange (NYSE), while those of Wipro have surged by 114%.
What do the numbers say? Historically, India's largest IT services firm – Tata Consultancy Services (TCS) was the industry leader, in terms of the topline and bottomline growth. TCS doesn't have ADRs.
But tables seem to have turned in past four quarters.
The two Bengaluru-based company, both listed in at NYSE through ADRs, have outperformed TCS on earnings numbers. Both companies have seen a leadership transition in the past few years, and are now both headed by ex-Capegemini senior executives – Salil Parekh at Infosys and Thierry Delaporte at Wipro.
Read also: What is Dividend?
In the past week, all three companies announced their results. Infosys reported a bottomline growth of 18.1% in US dollar terms, Wipro 27.8%; while, on the other hand, TCS reported a growth of 15.6%.
With new Mr Delaporte moving to Wipro last year, the company has shredded its image of being laggard in the numbers. This happened after he, in his first earnings call, on 14 July 2020, said that he will focus on both growth and profitability 'as there was no choice.'
On the other hand, Infosys seems to have returned to its good old days, reporting 13.0% growth in their revenues from US dollar terms. Backed by growing big deal wins, and Mr Parekh's focus on the digital business, Infosys has also seen its operating margins – which were under pressure in the past decade – going over 25%.
Experts suggest that going forth, strong guidance, positive annal growth in key markets and strong deal wins are contributing to reducing the gap among the top tier companies – TCS, Infosys, and Wipro.
Also read: Education trends: How pandemic has shaped the way we learn
So, it is no surprise that these ADRs have been doing well. Afterall, the fundamentals are strong or so the analysts believes.