Summary

As millions of Australians were forced to work from home, businesses needed to change their tactics and improve existing technology tools.
Most of the factors from the AlphaBeta research have showed that Australian businesses have become a lot more technology resilient, having a lot bigger improvement in a year than in the last 10 years combined.
Productivity in the workplace was mixed depending on the employee, so businesses will need to do further research and see what brings more money, staying at home or working back from the office.
When the pandemic struck Australia along with the whole world, millions of people were forced to work from home. As the shift to work from home may seem easy for some, businesses needed to improve their technology performance both at work and on their servers.
Do read: Coronavirus Takes a Toll on Global Markets
The AlphaBeta research found that some businesses had implemented as much technology alteration since March as they had in the last ten years. Businesses needed to adapt to the novel situation as the pandemic caused many shutdowns.
Due to that, productivity, employment, and sales have been mostly positively affected by the technology resilience.
When thinking about the future, Australian businesses have expressed that the new improved technology would be used even in a post-COVID era because it boosted productivity in the workplace.
However, those businesses that implemented complementary changes, such as social distancing measures or mental health support, have showed a three times larger improvement, rather than any other new change.
Also read: E-commerce Boom Amid COVID-19 Pandemic, New Challenges Arise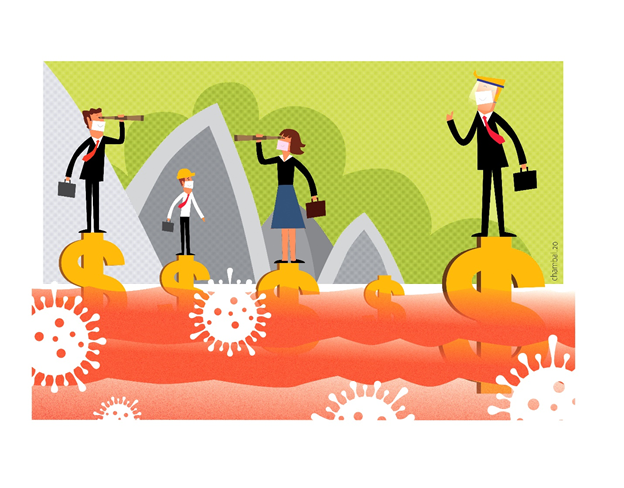 Image Source: © Kalkine Group
How did Australian businesses adapt to technology changes?
Most companies have improved their way of doing business in the front and back office technologies.
Front office technology consists of:
Web presence – The fact that web presence increased by 22% since 2018 showed that Australians have made radical changes in their technology environment. The current web presence rate is at 77%, while it was 55% in 2018 when the last data was collected. These numbers are an equivalent to a 10-year growth within one year.
Activity on social media – As most people spend a lot of their time on mobile devices and using social media apps, digital marketing has been bigger than ever. That is why many businesses have decided to invest in PR and social media specialists that manage businesses' social media accounts.
In Australia alone, there was a 17% increase from the latest data in 2018. The current social media activity is estimated to be 65%, while it was 48% back in 2018. The growth in being active on social media is comparable to 3 previous years.
Taking and placing orders online – Dining in was not possible for a long time or was heavily restricted in most Australian states. The current rate of being able to take orders online is 51% (compared to 41% in 2018), while the ability of placing orders online has been increased to 72% from the 2018 data when it was 63%. This development is equal to what was done in previous 3 years.
Back office technologies consist of human relations (HR) and stock management process. Businesses have implemented more digital tools in their payroll processes, so the current rate for that is 73% and has jumped from 65%. Online tools for stock control processes have also improved, being at 41% compared to 31% from 2018. Both factors show that they have improved as much as they did in the last 10 years.
Interesting read: How did the economy get affected by the pandemic?
Another thing that Australian businesses started using more are collaboration apps and tools. As people have been urged to work from home, meetings have been held online through videoconferencing apps, which more than 60% of Australian companies have started doing.
Businesses have been implementing 43% more of filesharing and signing documents online were greeted by 27% of Australian enterprises. Apps that are allowing changes to the existent IP address (VPNs) were used by about 22% businesses.
How did the productivity change?
The firms decided to invest their time and money in additional training of their employees, supplying the staff with protective equipment or adopted new measures (such as social distancing), the result of which was seen in the form of big increase in the staff productivity.
Experts have said that these businesses saw the biggest boost in productivity because employees felt more valued. Technological development is always welcome, but there is no such thing as employees feeling more human and valued.
Working from home was welcomed by many people, as they could finally spend more time with their families, cook more home-made meals, do more chores instead of calling cleaning services and similar. Those who still need to go to the offices have shown a big enthusiasm for working from home, as it became 'a new normal'.
In total, productivity for all employees has been mixed, as 18% of them said their productivity slightly worsened, while 17% stated the productivity slightly increased.
However, after businesses dive in the research a bit more, they will see what is most productive for them money-wise, and decide if business-as-usual would get a new look or get back to what most people were used to.
Also read: COVID-19 Impact and Scenario at Global Level