Summary

Despite several vaccines in the market, an effective vaccine rollout process, the threat from new strains, and limited options available for adolescents continue to pose serious challenges.
Moderna's COVID-19 vaccine has demonstrated 100% efficacy in Phase 2/3 clinical trial in adolescents.
A new study in the UK highlighted that two shots of AstraZeneca or Pfizer's COVID-19 vaccines provide 80% protection against the B.1.617.2 strain.
China-based Sinopharm's COVID-19 vaccine has obtained emergency use approval from the World Health Organization (WHO).
Novavax has entered into an agreement with South Korea's government and SK Bioscience Co for vaccine development in South Korea.
With several global pharmaceutical companies launching their respective vaccines for the adult population, they are now evaluating them in adolescents, which form a sizeable section of the total population. Experts believe that herd immunity can only be achieved when we have vaccines for adolescents. As the virus continues to wreak havoc globally with the emergence of new strains, it becomes critical to get approved vaccines on the market for youngsters. The COVID-19 pandemic continues to test the limits of the worldwide healthcare system and has yet again brought several countries to a halt.
INTERESTING READ: Is COVID-19 preying more on vulnerable countries?
A new strain of SARS-CoV-2 B.1.617.2 that was first detected in India is becoming dominant and has been officially recorded in fifty-five territories, as per a World Health Organization (WHO) report.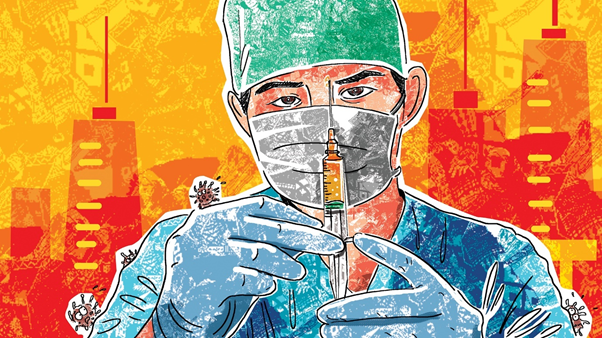 Source: Copyright © 2020 Kalkine Media
Vaccine developers are now testing their jabs for B.1.617.2 strain of coronavirus. Some UK studies reveal that the vaccines developed by Oxford-AstraZeneca and Pfizer-BioNTech were more than 80% effective against this new variant.
MUST READ: How protective are COVID-19 vaccines against new variants?
With this backdrop, we will discuss the latest updates from five global vaccine manufacturers - Moderna, Pfizer, AstraZeneca, Sinopharm, and Novavax.
On 25 May 2021, Moderna updated the market that its COVID-19 vaccine Phase 2/3 clinical trial in adolescents has met its primary immunogenicity endpoint. The Company highlighted that no COVID-19 positive case was observed in study subjects who received two shots of its vaccine, mRNA-127. Moderna highlighted that the vaccine demonstrated 100% efficacy.
Moreover, MRNA disclosed that it would submit data to the global regulatory authorities in early June.
Stephane Bancel, CEO of Moderna, commented-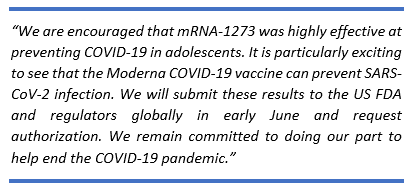 The US-based pharmaceutical giant has developed mRNA based vaccine against COVID-19 with its partner BioNTech SE (NASDAQ:BNTX).
On 20 May, the two partners announced a new agreement with the European Commission (EC) to provide 900 million shots of their COVID-19 vaccine to the European Union (EU). The Company disclosed that the new deal is an addition to the 600 million shots already committed by the companies to the EU through 2021.
The Buzzing Trends || How ASX Is Performing Amid Buzzing Global Developments?
Earlier on 10 May 2021, the two partners announced that the US Food and Drug Administration (FDA) had expanded the Emergency Use Authorization for their COVID-19 jab to include young adolescents (12-15 years). This vaccine is the first COVID-19 vaccine authorized for use in children of 12-15 years in the US.
READ MORE: Pfizer-BioNTech's COVID-19 vaccine shows 100% efficacy in young adolescents
AstraZeneca Plc (LON:AZN)
According to the new study by Public Health England (PHE), two doses of Oxford-AstraZeneca or Pfizer-BioNTech's COVID-19 vaccine were found to be more than 80% effective against the B1.617.2 variant.
The study disclosed the effectiveness of both vaccines against the new strains of coronavirus - B1.617.2 found in India, and B.1.1.7 found in the UK. The study evaluated data from 1,054 people who were infected with the new B.1.617.2 COVID-19 variant.
Source: © Karinhamich | Megapixl.com
Sinopharm
Earlier this month, Sinopharm's COVID-19 vaccine was awarded an emergency use approval from the World Health Organization (WHO). The Company is developing a COVID-19 vaccine in collaboration with the Beijing Institute of Biological Products.
This move indicates that Sinopharm's vaccine can be used to strengthen WHO-backed efforts like the COVAX initiative for equitable access to vaccine around the world.
Sinopharm's vaccine is the first Chinese-made vaccine that has obtained emergency authorization from the WHO.
Novavax is developing the recombinant protein-based COVID-19 vaccine named NVX-CoV2373. Last week, the biotech firm disclosed that it had entered into a non-binding MoU (memorandum of understanding) with SK bioscience and the Ministry of Health and Welfare of Korea (MOHW). With this agreement, the companies will explore further collaborative opportunities in developing and manufacturing vaccines, including NVX-CoV2373.