Summary

The Australian Red Cross has reported blood shortage in the country and has urgently called for donors of O+ and A+.
All types of blood and plasma donors are needed, including the plasma of people recovered from Covid-19.
The pandemic situation has hit the donation process with fewer taking appointments, and even those few people are cancelling it.
Australia is facing a shortage of two of its most common types of blood groups, O+ and A+, and the Australian Red Cross has urgently called for donors. Though all blood groups and plasma types are required, supplies for these two groups are down to just two days, and at least 16,000 people are needed to supply stocks in a period of coming two weeks.
Majority of the Australian population has an O+ or A+ blood type, which makes these blood groups mostly in demand during any blood urgency. The Australian Red Cross has urged people to make blood or plasma donation part of their new normal. It also stated that though these groups are the most needed ones, even other groups are required and those who don't know their blood group, must come and donate at donation centres as it is critical for patients in need. Convalescent plasma is also needed by people who were tested positive for Covid-19 and have completely recovered now.
Lifesaving blood shortage amid the fresh covid-19 outbreak in South Australia
Australia is experiencing the third wave of coronavirus outbreak in South Australia, and the state is on high alert. In the wake of the fresh burst of the virus, the annual blood donating event was cancelled by the North Alabama Red Cross Board. The organisation had to divert its staff to the areas with blood urgency, and due to the shortage of the staff, the other blood donating drives were also cancelled. Blood donating service in the country has been impacted by the ongoing epidemic as fewer donors are making appointments for donation with as many as 1200 donors ending up cancelling or not reaching the donation centres.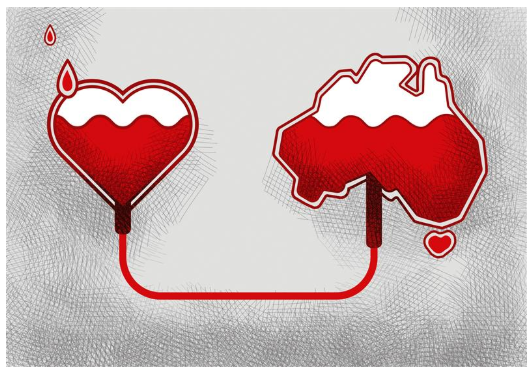 Image Source © Kalkine Group
With new restrictions in place in South Australia, the Australian Red Cross is urging people for blood and plasma donations.
As per the requirement, every week 31,000 donations are needed across Australia for patients undergoing cancer treatment, major surgery, pregnancy and in times of trauma.
Also read: High alert in South Australia after first coronavirus outbreak in months
Blood donation process in Australia
Where: In Australia, one can donate blood to Australian Red Cross Lifeblood, that has mobile units across Australia.
Before and after donation: One day before donation, it is recommended to drink plenty of fluids and eat salty food. At the centre, the donor gets double checked if they are able to donate. After donating blood, the staff also provide refreshments to the donors.
Who can donate: Anyone in the age group 18 to 76; however, other factors affect the eligibility to be a blood donor which include- medications, medical history and travel history.
There is no investor left unperturbed with the ongoing trade conflicts between US-China and the devastating bushfire in Australia.
Are you wondering if the year 2020 might not have taken the right start? Dividend stocks could be the answer to that question.
As interest rates in Australia are already at record low levels, find out which dividend stocks are viewed as the most attractive investment opportunity in the current scenario in our report Top Dividend Stocks to Consider in 2020
CLICK HERE FOR YOUR FREE REPORT!