Summary

Artificial intelligence (AI) has enormous potential in healthcare, from mobile education solutions to drug discovery.
AI-based solutions can help clinicians to assist decision-making for the diagnosis and treatment of any disease.
AI-based solutions can potentially enhance healthcare service delivery and reduce the cost of managing the ageing population.
Artificial intelligence (AI) in the healthcare sector refers to the system of interconnected technologies that can operate independently without or with minimal human intervention. AI and machine learning (ML) solutions are transforming how services in the healthcare sector are being delivered.
Artificial intelligence is an emerging technology that has its applications into many aspects of the healthcare sector, from drug development to detection of any disease as well as patient care.
DO WATCH: What is artificial intelligence?
Furthermore, AI has enormous and wide-reaching potential in healthcare, with everything from mobile education solutions to drug discovery falling under machine learning. In the healthcare industry, clinicians can use AI-based solutions to assist decision-making support for diagnosing and treating any disease.
Source: © Elnur | Megapixl.com
Role of artificial intelligence in healthcare
With the new development in artificial intelligence technologies, the application of AI is also increasing. As of now, various researchers are advising that AI can progress just like or even better than people at vital human services, for instance, diagnosing a specific disease.
Early disease diagnosis and treatment applications: Diagnosis and treatment of diseases have been at the core of artificial intelligence in healthcare for a long time. AI-based knowledge is now used to identify diseases, for example, tumours identification in the early stage.
Administrative Applications: AI has several administrative applications, including clinical documentation, claims processing, revenue cycle management, and medical records management.
Artificial intelligence to tackle pandemics
AI is already used for disease detection, such as cancer, more accurately and in its early stages. Below mentioned are some key points highlighting the role of AI in managing pandemics-
Artificial intelligence can be used to predict virus spread and develop early warning systems by getting information from several news sites and social media platforms.
The use of cell phones, wearables or smartwatches can help detect, diagnose, contact tracking, and provide efficient AI-assisted quarantine surveillance.
AI can support the development of medicine, therapies, and vaccines and inspire researchers to accomplish outcomes even faster.
AI is an effective helper for the scientist and researchers to save time on many experiments.
RELATED ARTICLE: How is Artificial Intelligence helping in dealing with the COVID-19 crisis?
Latest AI-enabled healthcare developments in Australia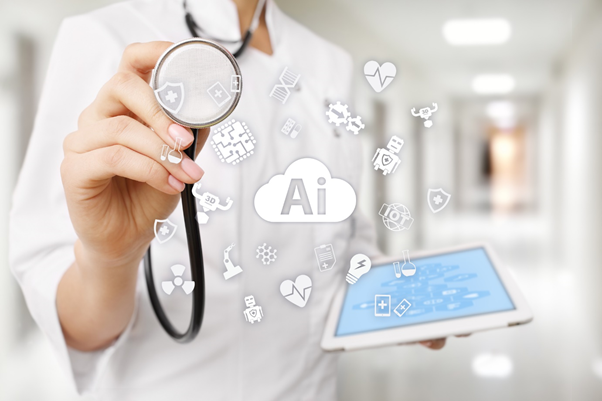 Source: © Wrightstudio | Megapixl.com
Western Australia (WA) to unveil AI-powered foetal monitoring system
The WA state government is prepared to launch an AI-based foetal monitoring system across the Country Health Service maternity sites through 2022. This new technology will facilitate the remote monitoring of foetal heart rates.
The busiest and largest site of WA, Bunbury Regional Hospital, will be the first to launch this system. The hospital will implement Infant Guardian System from K2 Medical Systems, which operates on AI to support the clinical review of foetal heart rate patterns.
Australia launches a new integrated virtual platform
In July 2021, AIcare launched an AI-enabled mobile app-based healthcare platform globally. Notably, the AIcare Health app serves as an integrated virtual clinic. This platform features online bookings, prescription ordering, video consultations, maintenance of electronic health records (EHR), reminders, and messaging. Moreover, it enables patients to remotely connect with nurses, pharmacists, or general practitioners (GPs).
Interestingly, the platform developed by AIcare is the only one that connects a nationwide network of providers with a nationwide pharmacy for delivering personalised therapy directly to homes.
ALSO READ: Electronic Medical Records (EMR): What are they, and why do we need them?
Public health agencies to launch InterSystems's AI data platform in Australia
Hospitals in Victoria's Southwest, including public health groups are ready to introduce a data platform capable of real-time analysis using AI, ML, as well as business and clinical intelligence (CI). Furthermore, the health organisations will be using the IRIS for Health platform by InterSystems, an international tech provider.
InterSystems also highlighted that its platform would support the health organisations' interoperability and healthcare device integration abilities, including API management and support for emerging data standards in healthcare.
RELATED READ: Which are the top ASX-listed stocks in the artificial intelligence space?