Summary

The first-quarter net sales jumped 44 percent year over year to US$108.5 billion.

AWS sales grew 32 percent while sales from online store rose 44 percent.

For the second quarter, Amazon projects net sales up to 30 percent to US$116 billion.
Amazon.com, Inc.'s (NASDAQ: AMZN) net income has more than tripled in the first quarter of 2021, backed by strong revenue growth in e-commerce and cloud business, the company said in its earnings report on Thursday, April 29.
The technology giant's net income skyrocketed to US$8.11 billion in the first quarter, or US$15.79 per share, compared to the net income of US$2.54 billion, or US$5.01 per share, in the same quarter of 2020. Revenue up 44% YOY
Revenue up 44% YOY
Net sales jumped 44 percent to US$108.52 billion from US$75.45 billion in the year-ago period.
Online stores sales grew to US$52.90 billion compared to US$36.65 billion in the corresponding quarter last year.
Sales from third-party seller services, which include commissions and any related fulfillment and shipping fees increased to 64 percent to US$23.71 billion.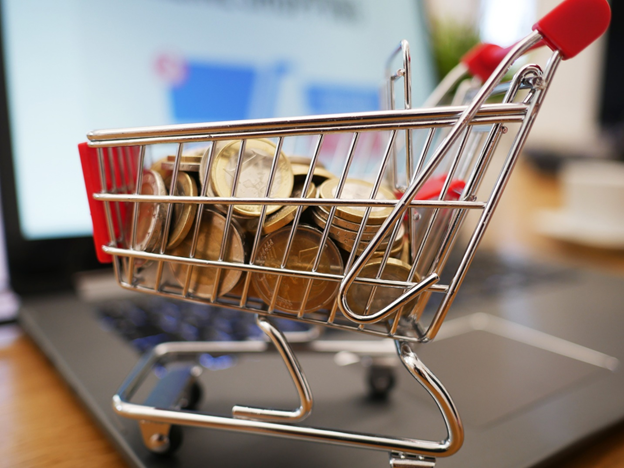 Source: Pixabay
The Amazon Web Services recorded 32 percent growth in net sales to US$13.50 billion, against US$10.22 billion in the previous year period.
Subscription services contributed US$7.58 billion to the net sales, up 36 percent year over year. The subscription services include fees associated with Amazon Prime memberships, as well as digital video, digital music and other non-AWS subscription services.
Amazon also recorded US$6.90 billion in sales primarily from advertising services and other service offerings. This compares with US$3.90 reported in the first quarter 2020.
The company's net sales from the North American segment increased 40 percent to US$64.37 billion while international segment net sales totaled US$30.65 billion, up 60 percent.
Forecasts Up To 30% Growth in Q2 Net Sales
For the April – June period, Amazon expects its net sales in the range of US$110 billion to US$116 billion. This would represent a growth between 24 percent and 30 percent with Prime Day sale expected to be in the second quarter of 2021.
Shares Jump In After-Market Trading
Shares of Amazon, which closed at US$ 3,471.31 on Thursday's, rose up around to 4 percent in the after-hours trading following the results.
The company's share price grew over 73 percent in 2020 and is up over 9 percent year to date.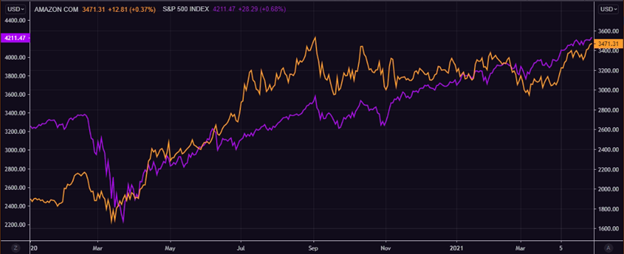 Source: Refinitiv, Amazon Stock and S&P 500 since January 2020.
Apple Inc (NASDAQ:AAPL), Microsoft Corp (NASDAQ:MSFT), Alphabet Inc (NASDAQ: GOOG, GOOGL) and Facebook Inc (NASDAQ:FB) have also reported strong quarterly results.