Summary

With the development of COVID-19 vaccines and medicines, scientists are now aiming to improve therapeutics and exploring different delivery routes.
Amcyte Pharma's algae-derived NasitrolTM nasal spray has demonstrated efficacy in reducing COVID-19 infections.
Canada-based SaNOtize has filed for emergency approval of its COVID-19 nasal spray in Canada and the UK.
Marinomed Biotech is developing nasal spray by using its Carragelose technology.
Bharat Biotech's nasal spray vaccine is under the advanced stage of clinical development.
An Australian contract research organisation and China-based CanSino Biologics set to start clinical trials of the COVID-19 vaccine.
Experts believe that the nasal route of administration has excellent potential for vaccination because of an established mucosal immune system. The route has several key advantages, including the fact that nasal administration is considerably less invasive than an intramuscular (IM) injection.
The rapid development of treatments and vaccines to combat the COVID-19 pandemic is ongoing, with major players launching their vaccines and geographies accelerating their vaccination drives. The leading vaccines being used worldwide include ones from Pfizer Inc (NYSE:PFE)-BioNTech SE (NASDAQ:BNTX), Moderna Inc (NYSE:MRNA), Oxford-AstraZeneca Plc (LON:AZN), and Johnson & Johnson (NYSE:JNJ).
However, now researchers aim to improve the administration routes for vaccines and medicines and explore different routes of administration of drug delivery, including intranasal sprays. Multiple nasal treatments and vaccines to combat COVID-19 are being evaluated across the globe.
Recently, ASX-listed Starpharma Holdings (ASX:SPL) announced the launch of antiviral nasal spray, VIRALEZE™, in Europe. The spray has proved to inactivate ~99.9% of SARS-CoV-2 within 60 seconds.
ALSO READ: Better than injection? All about nasal COVID-19 vaccines in the pipeline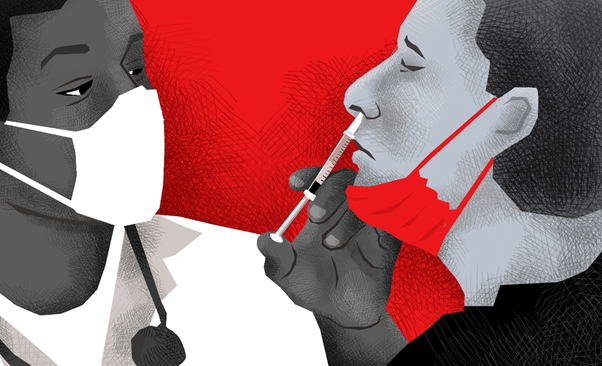 Source: Copyright © 2021 Kalkine Media Pty Ltd.
With this backdrop, let us discuss the latest developments in COVID-19 therapeutics that are delivered intranasally-
Amcyte Pharma's algae-derived nasal spray against COVID-19
Seattle-based Amcyte Pharma stated that its algae-derived NasitrolTM nasal spray had demonstrated efficacy in reducing COVID-19 infections among the ICU (intensive care unit) staff in an independent clinical trial.
Nasitrol has proven antiviral activity and clinical efficacy as a nasal spray to treat common cold and is a patented nasal spray derived from red algae.
Amcyte anticipates marketing Nasitrol in the US via a licensing agreement from Laboratorio Pablo Cassara.
SaNOtize's Nasal Spray Treatment for COVID-19
Canada-based pharmaceutical company SaNOtize and UK-based NHS hospitals disclosed the findings of Phase 2 clinical trials of NONS (Nitric Oxide Nasal Spray), a nasal spray-based COVID-19 treatment.
The Company highlighted that the treatment proved highly effective and a decrease in viral load was also seen in severe COVID-19 patients.
The trial findings demonstrated that early treatment with NONS considerably reduced the severe acute respiratory syndrome coronavirus (SARS-CoV-2) level, including in COVID-19 patients with heavy viral loads.
Notably, the Company has applied for emergency approval for its nasal spray treatment in Canada and the UK.
Source: © Citalliance | Megapixl.com
Nasal spray against COVID-19 developed by Carragelose technology
Austrian drug developer Marinomed Biotech (VSE:MARI) is developing a nasal spray to block the novel coronavirus. The Company revealed that its nasal spray has shown to inactivate new, rapidly spreading variants of coronavirus.
On 21 April 2021, the Korneuburg-based Company disclosed that in-vitro testing demonstrated that its product was effective against the SARS-CoV-2 wildtype and three other variants, including the British, Brazilian, and South-African types.
The Company further added that its data showed that its marketed over-the-counter (OTC) lozenges, nasal and throat sprays would effectively contribute to combating the COVID-19 pandemic.
Marinomed's latest Carragelose technology is being developed to target disease like COVID-19 by inactivating the virus and further preventing them from infecting cells.
Dr Eva Prieschl-Grassauer, Chief Scientific Officer at Marinomed, commented-
ALSO READ: Biden Backs Waiver of Patent for COVID-19 Vaccines, Pharma Companies Don't Like It That Much?
Bharat Biotech's nasal COVID-19 vaccine
Several media reports mention that the nasal spray vaccine developed by Hyderabad, India-based Bharat Biotech, is showing great promises in its clinical development. Experts believe that this nasal spray vaccine could be a game-changer as it is easy to administer, store and transport and be faster and more effective. Currently, the nasal spray vaccine is in the advanced phase of clinical development.
Australia to launch the first human clinical trial for nasal COVID-19 vaccine
Australia is all set to roll out the first human clinical trial of a genetically mutated adenovirus vaccine for COVID-19 administered as a nasal spray.
Source: © Nastyazhi | Megapixl.com
Australia-based contract research organisation (CRO), Avance Clinical, has applied to conduct a Phase 1 clinical trial on behalf of US-based player Tetherex Pharmaceuticals Corporation.
In the study, a gene encoding the spike protein of coronavirus will be introduced to help the human body to generate antibodies against COVID-19.
CanSino to commence clinical trials for nasal COVID-19 vaccine
China-based vaccine manufacturer, CanSino Biologics, is ready to initiate clinical trials of its COVID-19 vaccine that can be administered via nasal route.
As per media reports, CanSino Biologics is developing the inhalation vaccine in partnership with the Beijing Institute of Biotechnology (BIB).
Moreover, the reports also mention that the Company's CEO highlighted that the nasal vaccine could be more efficient compared to injected vaccines as novel coronavirus enters the human body via the airways.
Chinese health regulators had given approval to CanSino to conduct the first nasal spray vaccine clinical trial for the vaccine developed by scientists at Beijing Wantai Biological Pharmacy Enterprise, Hong Kong University, and Xiamen University in September 2020.
DO READ: All ASX Indices Closed in Red Amid COVID-19 Restrictions in Australia