Source:Dmitry Kalinovsky, Shutterstock
Summary

It is still early days for the drone industry. Drone companies are slowly building up their profiles and listing on exchanges to access capital.
The applications of drones are numerous; the following article details four drone companies working across the breadth of the industry.
Drone technology has advanced to the point that serious consideration is being given to its commercial and industrial application. The drone industry is expected to be worth US$60 billion by 2025.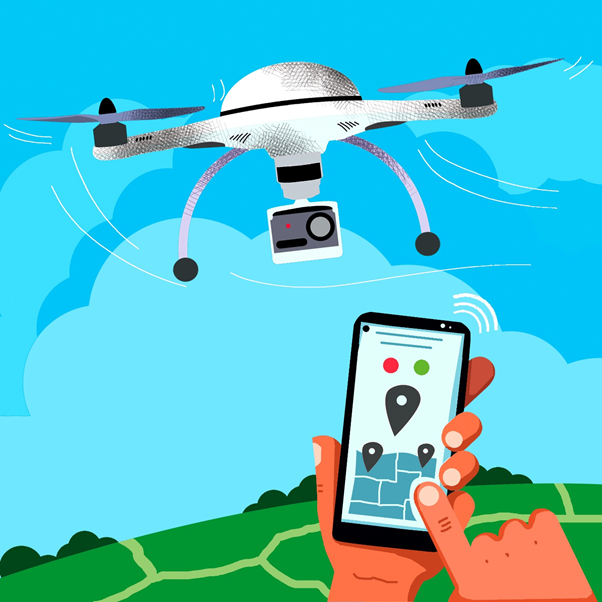 Source: Copyright © 2021 Kalkine Media Pty Ltd
Companies specialising in drones have begun listing on exchanges worldwide in an attempt to access capital. These companies hope to expand and refine their products and operations to serve this flourishing industry.
The following companies are making ripples in the drone technology space in 2021:
DroneShield
DroneShield Limited (ASX:DRO) is an Australian company that design weapons and technology used to incapacitate or interfere with drones and other unmanned vehicles.
The Company listed on the ASX in 2016 and since this time, has lost 40% in the value of its shares. The Company's market capitalisation was noted at AU$58.48 million, as on 22 March 2021.
In 2020, DroneShield generated a revenue of AU$5.6 million. The Company is yet to be profitable, therefore an important point, the Company promotes that the contracts that they are actively discussing contracts with clients worth AU$100 million.
DroneShield, recently, signed AU$1 million contract with a Five Eyes country member. The Company has noted that additional significant contracts are likely to be announced shortly.
On 22 March, at the time of writing, DroneShield shares were trading flat at AU$0.150.
AeroVironment
Source: © Digitalstormcinema | Megapixl.com
AeroVironment, Inc. (NASDAQ:AVAV) designs and develop unmanned crafts, primarily for the US military. AeroVironment has twelve autonomous drones that are highly integrated into the US armed forces.
The Company is projecting US$400 million to US$410 million for the FY2021, up from US$368 million in FY2020. FY2022 is anticipated to be approximately US$570 million based on the Company's order book. Consequently, AeroVironment stock has performed well in the past year, up by 123.5%.
On 19 March, AeroVironment shares closed at US$119.46, increasing by 0.10%.
Drone Volt
Drone Volt SA (PA:ALDRV) is a French-based manufacturer of drone built to inspect and survey heavy-industry sites, such as wind turbines or transmission lines.
COVID-19 related disruptions interrupted normal business operations for Drone Volt in 2020. However, in the last quarter of 2020, the Company generated revenue of €5.8 million.
Drone Volts anticipates 2021 to revenue to pick up in part thanks to US$1.5 million in royalties from US licenses.
On 19 March, Drone Volt shares closed at EU€0.26, decreasing by 1.85%.
EHang
Source: © Moophoto | Megapixl.com
China's EHang Holdings Ltd (NASDAQ:EH) develops drones large enough to transport people. The drones are autonomous; therefore the passengers do not have to hold a pilot's licence to hitch a ride.
The Company's drone does not openly operate anywhere as of 2021. The Company is very much a blue-sky venture, with many obstacles that are needed to be conquered.
The strength of the Company right now is in its numerous, albeit tenuous, partnerships. EHang has announced partnerships with organisations and city councils in Austria, Italy, Australia, Hong Kong, and Spain. Whether
On 19 March, EHang shares closed at US$46.31, increasing by 2.14%.
READ MORE: Brent Breaches $70-Mark as Saudi Aramco Faces Drone Attack