Highlights

UK job vacancies touched a record high of almost 1.2 million in September, according to data from the ONS.
The rise in vacancies was due to an acute shortage of workers caused by the pandemic and due to Brexit coming into effect.
The number of people on payrolls from August to September rose by 207,000, to a record of 29.2 million, higher than pre-pandemic levels.
The Office for the National Statistics (ONS) reported UK job vacancies touched a record high of nearly 1.2 million in September.
The rise came as several sectors are facing staff shortages and are searching for workers to meet the shortfall. The staff shortage has been attributed to the impact of the ongoing pandemic and also Brexit.
The rise in job vacancies, however, comes despite cooling unemployment data in the UK. The discrepancy has been attributed to the shortage of skilled workers.
Unemployment eases
According to the ONS data, the number of UK workers on payrolls increased by about 207,000 people between August and September.
This led to a record level of 29.2 million people, which was about 120,000 higher than its pre-pandemic levels.
The unemployment data fell by 0.4 per cent to 4.5 per cent in the three months to August, according to the ONS. The data also showed that the employment rate increased by 0.5 per cent to 75.3 per cent for the period.
The sharp drop in unemployment figures was due to the furlough scheme ending by the end of September.
London witnessed the sharpest rise in employment but did not reach its pre-pandemic levels, unlike other areas.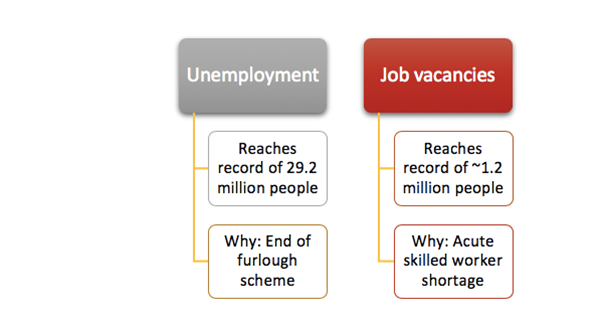 © 2021 Kalkine Media
Job vacancies rise
Job vacancy rose by 318,000 between July and September 2021, up from January and March 2020, during pre-pandemic levels.
It was also the second consecutive month that the three-month average jumped over the 1 million mark.
The hospitality sector was among one of the most impacted by the shortage, with accommodation and food services activities up the highest, by 59 per cent between July and September.
Vacancies also rose due to demand from shop owners, wholesalers and motor garages and other businesses. Motor garages had job vacancies for 35,000 additional workers.