(Featured image Source: Government of Canada Photos)
Summary

United States President Donald Trump imposed tariffs on aluminum imports from Canada.
Canada warned of a "dollar-to-dollar" retaliatory imposition of tariffs.
The tariffs were driven by the Trump administration's "America First" agenda, the upcoming US polls in November and complaints from the US aluminum producers
United States on Thursday fired a fresh salvo against Canada – its key trading partner – by reimposing 10 percent tariffs on aluminum imports. Responding back, Canada warned of a "dollar-to-dollar" retaliatory imposition of tariffs. The development comes weeks after the landmark Canada-United States-Mexico Agreement (CUSMA) trade agreement came into force.
America's aluminum business is being destroyed by Canada, alleged US President Donald Trump after signing the tariff proclamation. The new tariff will come into effect from August 16.
Trump said Canada has flooded American markets with exports that has an adverse impact on US' aluminum sector. The surge in aluminum exports from Canadian producers has "broken that commitment," he said while speaking at a Whirlpool factory in Clyde, Ohio, on Thursday.
The tariff was slapped on raw aluminum from smelters and not applicable on downstream aluminum produces.
Calling the tariffs "unwarranted and unacceptable", the Canadian government said that this was the last thing workers of both the neighboring countries need amid the COVID-19 pandemic and the economic crisis that has resulted from it.
Canadian Deputy Prime Minister Chrystia Freeland raised the new CUSMA pact and said the aluminum trade has been economically beneficial for both the nations, creating a competitive space in the North American markets. The CUSMA is the updated avatar of the trillion-dollar North American Free Trade Agreement (NAFTA) trilateral accord between US, Canada and Mexico.
Canadian Prime Minister Justin Trudeau went a step further and threatened to bring in measures to counter the US move and support Canada's aluminum works, citing similar moves taken two years back. In a tweet on Thursday, he said Canada will put in "countermeasures" and "retaliatory tariffs".
The new move to impose tariffs is almost a rerun of the situation in 2018, when the Trump administration brought in tariffs that had hurt Canadian steel, aluminum and meta exports to the US. Canada, in response, had slapped taxes on wide range of goods originating from the US. However, the situation was defused in 2019, when after a mutual agreement, the US exempted Canada from tariffs. The deal hinged on the understanding that imports of steel and aluminum would be kept at "historical levels".
Cause and Impact of Aluminum Tariffs
The tariffs were driven by the Trump administration's "America First" agenda and complaints from the US aluminum producers who claim Canada's metal exports are hurting the home industry.
The Rusal-Glencore agree deal of Russian aluminum worth C$ 16.3 billion could also be a reason. But more on that later.
The US, which is set to go to presidential elections in November this year, is in a midst of an economic recession and faces record-high unemployment levels due to the coronavirus pandemic. Trump's announcement coincides with the ongoing primary polls, which shows he may have lost a significant position of his earlier base and was behind Democratic Party nominee Joe Biden.
The tariff mostly likely has a direct correlation to Trump's re-election plan, though it may not have the effect he intended.
The move has not gone down well in the US Chamber of Commerce and economists at home. American brewers have also claimed that it will drive up costs for end users. Canadian businesses too echoed similar sentiments, claiming that the tariffs will raise costs.
US is currently reliant on foreign sources to meet the aluminum demand at home markets. Imposition of tariffs mean increase in costs for all industries using aluminum or its products, including the automotive industry. In 2019, Canadian aluminum exports to the US totalled US$ 8.33 billion, United Nations COMTRADE data shows.
One of the key restructured points of the new CUSMA agreement targeted the automotive industry, a major consumer of aluminum. All North American automobiles must now source 70 percent their steel and aluminum from within North America.
The thing with aluminum production is that the smelters, where the metal is extracted from its ore, cannot be shut down due to lack of demand. While the pandemic forced auto industry to stop its assembly line and caused demand to dry up, aluminum production didn't stop. Canadian aluminum producers just shifted from auto products to generic primary aluminum known as P1020 and shipped it to cost-effective warehouses in the US.
The surge in imports raised a red flag in the US and two American aluminum producers – Century Aluminum and Magnitude 7 Metals, who form a part of Trump-lobby – thrust the facts in public and pushed their agenda.
Now, let's come back to the Rusal-Glencore aluminum deal.
Russia's Rusal entered a long-term aluminum supply contract with Swiss trader and metals producer Glencore worth up to C$ 16.3 billion. The contract is from 2020 to 2024 and can be extended till 2025.
Glencore is the world's largest aluminum producer outside China. It also holds a 47 per cent stake in Century, one of the companies supporting the tariff.
Opposing the tariff, the Aluminium Association of Canada says export of 'standard P1020 aluminum' to US declined by nearly 40 percent following disruption in trade and supply chain in the recent pandemic months. The downward trend started in June with a 16 percent drop over May aluminum export numbers, followed by a 30 percent month-over-month decline in July.
The association adds it is time for Canada and the United States to reap the benefits of the new CUSMA trade agreement and drive economic recovery, especially since there's no surge in Canadian aluminum production or exports.
Aluminum prices are currently down by two percent this year on the London Metal Exchange, the global benchmark for prices. The new tariff can further cause a volatility in the industry.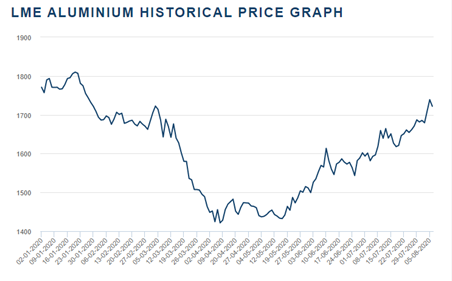 (Source: London Metal Exchange)
The aftereffects of the tariff and Canada retaliatory actions remains to be seen.
---
Disclaimer
This website is a service of Kalkine Media Pty. Ltd. A.C.N. 629 651 672. The website has been prepared for informational purposes only and is not intended to be used as a complete source of information on any particular company. Kalkine Media does not in any way endorse or recommend individuals, products or services that may be discussed on this site. Our publications are NOT a solicitation or recommendation to buy, sell or hold. We are neither licensed nor qualified to provide investment advice.