Summary

Major supermarkets like Sainsbury's have asked the government to urgently intervene and prevent any more food supply shortages in Northern Ireland
Northern Ireland has seen shortages in few food products as retail chains adjust to the post-Brexit arrangements while importing food items from Great Britain. Since December 31, NI continued to remain a part of the European Union's single market for goods. But the rest of Britain left the Union.
This implies that all the food items being imported from Great Britain region to NI have to be professionally certified now. Moreover, they are subjected to a new set of checks at the ports.
At the same time, supermarkets have been given a three-month grace period from January to March this year. During this period, they don't need to fully comply with all the certification requirements of the Union. These requirements will be introduced in total from April 1. But the major supermarkets have noted that when that happens, the system could become unworkable.
Therefore, the CEOs of Asda, Co-Op, Iceland, Marks & Spencer, Sainbury's, and Tesco have collectively written to Michael Gove, the cabinet office minister for an urgent intervention to avoid any food supply disruptions. They said that in case the grace period ends without working out a long term solution, the issue could get worse.
The letter also mentioned that if required, they were ready to discuss workable solutions with the EU officials to arrive at a clear outcome.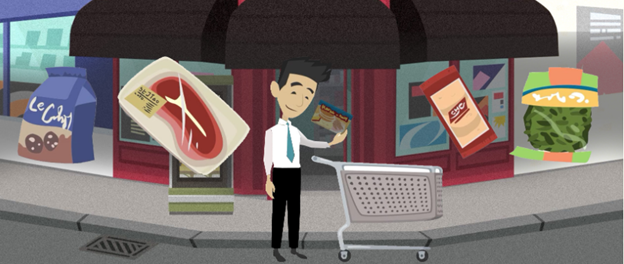 (Image source: ©Kalkine Group 2021)
However, a government spokesperson said that the grace period for retail stores and their food supplies was working fine. Goods are continuing to flow properly from GB to NI.
He added that the government was working closely with the sector as the new requirements are being rolled out. To this end, a dedicated team was already set up. It would be working closely with the food sector, supermarkets and the NI executive for streamlining the movement of goods as soon as possible.
The current scenario
The movement of food from Greater Britain to Northern Ireland is already facing challenges. Due to this, Marks & Spencer has been forced to lower its range of food items on offer.
Moreover, Sainsbury's is compelled to temporarily source products from a NI based retailer. On Monday, a couple of items were seen to be missing from the fresh food isle at the Belfast store of Sainsbury's.
Similarly, at Tesco's NI outlets, shoppers are facing shortages with many food products missing from the shelves due to the new post Brexit trade scenario.
Supplies of food products such as meat, fruits, and vegetables are delayed at many of the large supermarkets.
Seamus Leheny, head of Logistics NI, the national industry association for freight transport said that many hauliers were bringing empty lorries to NI, unable to meet the new customs demands.
A large amount of Brexit bureaucracy is causing major supply chain disruptions, noted the market experts.