Summary

The Cannabis Legalisation and Control Bill, if passed, will regulate production, possession and use of cannabis for those aged from 20 years to older.
Currently, a huge number of New Zealanders use cannabis illegally.
According to WHO, cannabis is most widely cultivated, trafficked and abused illicit drug, causing half of all drug seizures worldwide.
Upcoming September voting on the Cannabis Legalisation and Control Bill to be introduced by the New Zealand Government will decide the fate of recreational cannabis in the nation.
Will it be legal or continue to be illegal; shall be voted in one of two referendums during this year's general election.
The global cannabis market is worth a whopping US$100 billion, combining 13 significant markets, Canada currently leading the top position. If this year's referendum is passed to legalise the recreational use of cannabis in New Zealand, it will add its share into the global market.
Currently, the use of cannabis is highly regulated by the Misuse of Drugs Act 1975; possession of any amount of the drug is a crime. It is a fourth-most widely used recreational drug in New Zealand after caffeine, alcohol and tobacco; also, a most commonly used illicit drug in the country.
Cannabis is consumed worldwide, legally or illegally in many countries. In New Zealand, with a tiny population of little more than four million, around 13.4% of people from the age group 16 to 64 use the drug, which is the ninth-highest cannabis consumption level in the world.
Most of the cannabis found in the Oceania region is locally grown and locally trafficked, while by New Zealand, Australia is reported as a source.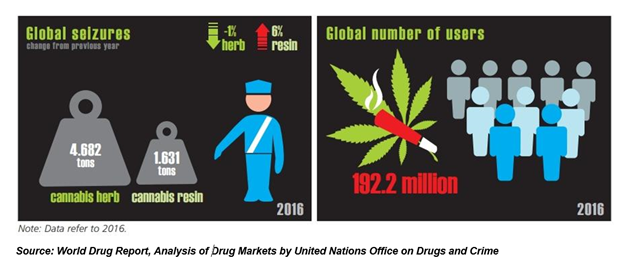 The Cannabis Legalisation and Control Bill
In New Zealand, from December 2018, the use of medical marijuana was allowed for terminally ill patients in the last 12 months of their life. The Misuse of Drugs Act was amended by the Misuse of Drugs (Medicinal Cannabis) Amendment Act 2018 (2018 No 54).
The Labour government then announced a nationwide non-binding referendum to make cannabis legal for personal use. The draft needs to be passed like any other piece of legislation with a yes/no vote. If more than 50% of voters support the Bill, it will move to the next stage of Parliament voting.
The Bill, if passed, will regulate production, possession and use of cannabis for those aged from 20 years to older.
As specified in the draft, the purpose of this Act is to regulate and control farming, manufacturing, use and dealing of cannabis in New Zealand. The intent behind introducing the Act is to reduce harm from cannabis use to not just individuals and families but also wh?nau, and communities. Exercising controls over the availability of cannabis in New Zealand will determine the illegal supply of the drug.
With an Act in place, the Government can raise awareness towards health risks associated with its misuse/overdose. The Government can also restrict access to the drug in order to protect the health and wellbeing of its citizens, especially young Kiwis. Also, a legal and quality-controlled introduction of the drug in the market will ensure a safe product in the hands of users.
Cannabis accessories such as holders, pipes, rolling papers or wraps, water pipes, bongs, and vapour devices will also come under the extent of the Act.
Also read: Cannabis Legalisation and Control Bill released
Canada and US Markets
Cannabis, also known as Marijuana in Canada is legal for both recreational and medicinal purposes. Whereas in the USA, use and possession of cannabis are illegal under federal law. At the state level, however, laws regarding the medical and recreational use of cannabis vary and conflict with federal law.
Most provinces in Canada have a retail supply of the drug either operated by the government or private enterprise. In 2018, Canada became the second nation after Uruguay to legalise the drug.
The National Cannabis Survey (NCS) collects self-reported data about Canadian's cannabis consumption every three months. According to its statistics, by 2019, more than 5.1 million people nationally, or 16.8% of Canadians aged 15 or older, claimed using the drug in the three months before the survey. This number was higher than 14.9%, which is about 4.5 million reporting use, on average, in 2018 before legalisation.
As on last updated in 2019, there are around 407 cannabis retail stores across Canada and its provinces and territories.
Marijuana use is widespread among teens, making it a most commonly used psychotropic drug in the United States, after alcohol. In the US, its use is more prevalent in men than women, and more than 11.8 million teens reported marijuana use in 2019.
With the growing popularity of vaping devices, teens in the US have started vaping THC, the ingredient in cannabis that produces the high. Nearly 4% of 12th-grade kids acknowledged the daily use of THC.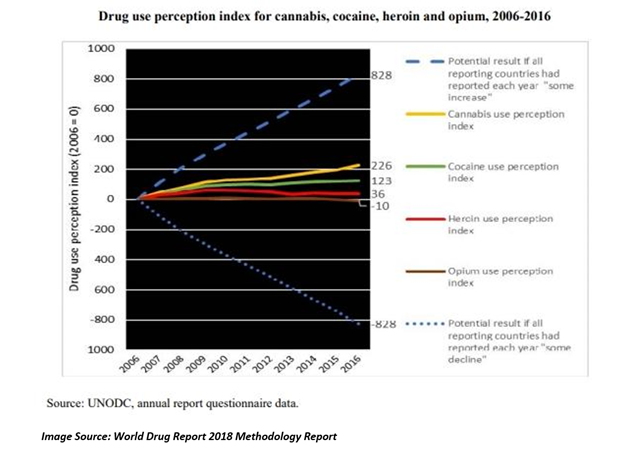 Cannabis Spread Worldwide
It is by far the most widely cultivated, trafficked and abused illicit drug as well. According to WHO, half of all drug seizures worldwide are caused by cannabis. About 147 million people in the world, making it a 2.5% of the world population, consume cannabis annually, compared to 0.2% consumption of cocaine and 0.2% consumption of opiates.
In the present decade, cannabis use is grown more rapidly than cocaine and opiate usage. Surprisingly, the fast spread of cannabis since the 1960s is in developed countries in North America, Western Europe and Australia.
The price factor plays a notable role in the spread of cannabis across the world, as it appears to be price-inelastic in the short term, but relatively elastic over the longer time. An analysis of its markets shows that the low prices correspondence with a high level of its usage and, vice versa.
Even with its various acute and chronic health effects, cannabis is also used in a supervised and controlled method for many treatments. Several pieces of research have exhibited the therapeutic effects of cannabinoids in the advanced stages of illnesses such as cancer and AIDS.
Bottomline
Experts' argue on the association between cannabis and psychosis appears to be getting even stronger. The current quality of cannabis is much more in strength as the potency of the drug is much higher these days than what it used to be.
The clinical research says for the past few years; there's an increase in presentation of young men with psychosis resulted from cannabis use, including high levels of agitation, aggression and paranoia.
Experts believe the regulated amount of THC level through government authorised channel may not succeed as the consumers will turn to the black market to purchase high THC level cannabis. And this will add to the damages already causing alcohol usage. Hence, the draft bill voting in coming months will determine the future of the cannabis industry in New Zealand.
---
Disclaimer
This website is a service of Kalkine Media Pty. Ltd. A.C.N. 629 651 672. The website has been prepared for informational purposes only and is not intended to be used as a complete source of information on any particular company. Kalkine Media does not in any way endorse or recommend individuals, products or services that may be discussed on this site. Our publications are NOT a solicitation or recommendation to buy, sell or hold. We are neither licensed nor qualified to provide investment advice.
There is no investor left unperturbed with the ongoing trade conflicts between US-China and the devastating bushfire in Australia.
Are you wondering if the year 2020 might not have taken the right start? Dividend stocks could be the answer to that question.
As interest rates in Australia are already at record low levels, find out which dividend stocks are viewed as the most attractive investment opportunity in the current scenario in our report Top Dividend Stocks to Consider in 2020
CLICK HERE FOR YOUR FREE REPORT!