U.S. President Joe Biden on Friday presented the full budget for fiscal year 2022 that seeks to spend US$6.013 trillion, up from US$4.174 trillion in fiscal 2021.
The budget includes Biden's previously announced American Families Plan and American Jobs Plan.
Here are the top highlights from the fiscal 2022 budget:
The proposed budget sees a deficit of US$1.837 trillion in fiscal 2022, down from US$3.669 trillion in fiscal 2021. The deficit represents 7.8 percent of GDP in 2022.
Biden proposes to raise discretionary funding by 8.6 percent to S$1.522 trillion. Defense allocation, which accounts half of the discretionary funding, would see a 1.6 percent increase, while non-defense allocations will grow 16.5 percent.
The budget seeks to increase the funding for the Department of Education and the Department of Health and Human Services by 40.8 percent and 23.4 percent, respectively.
Healthcare proposals include US$8.7 billion for the CDC, US$6.5 billion to set up Advanced Research Projects Agency for Health.
Under the US$1.8 trillion American Family Plan, the President proposes to provide minimum four years of free public education, expand the Child Tax Credit through 2025.

READ MORE: From Free Education To Tax Cuts: An Insight Into Biden's New Family Plan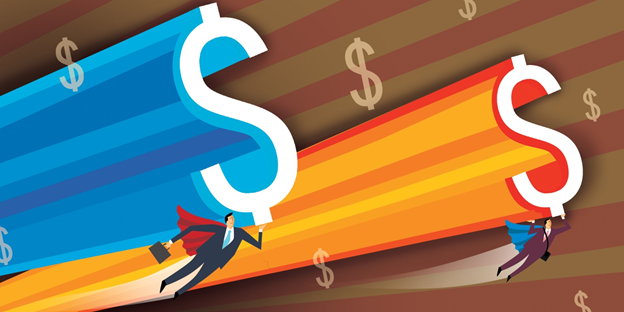 Image Source: Copyright © 2021 Kalkine Media

American Jobs Plan proposes to spend US$17.10 billion to fix highways, rebuild bridges and upgrade airports.
Made in America plan to restructure tax code to ensure wealthy corporation pay a fair share and invest at home. The plan includes a 28 percent corporate tax rate and a global minimum tax.
The budget seeks more than US$36 billion in resilience and clean energy investment, US$600 million for electric vehicles and charging infrastructure, with the target of achieving net-zero emissions before 2050.
The proposal also seeks to increase the funding for the Environmental Protection Agency by 21.6 percent.
The budget sets aside US$500 million for the Technology Modernization Fund to support Federal cybersecurity and an additional US$110 million for the Cybersecurity and Infrastructure Security Agency.

READ MORE: GOP To Make A Counteroffer of US$1trillion To Biden's Infra Plan