Summary

TSX Real Estate Index has dropped by 19.32 per cent since the beginning of the year; investors have also shunned REITs
Overall sales and prices are projected to remain below pre-COVID levels by the end of 2022.
Federal housing agency figures for June show improvement, indicating an optimistic situation in near future
The bigger picture in the housing market is that of optimism as the industry reshapes its business model to accommodate the changing circumstances.
The once-resilient housing market of Canada is undergoing a historical recession triggered by the COVID-19 pandemic, social distancing rules and the overall economic downturn. A cornerstone of Canada's economic growth till the beginning of 2020, real estate sector is today grappling with rock-bottom interest rates, rent losses, business shutdowns and low demand for homes.
In 2019, commercial real estate, housing and residential building construction industry accounted for nearly 15 per cent of Canada's economic output. But following the pandemic-induced lockdown in March, people shifted to their homes, adopting work-from-home mode, and held on to liquidity, causing a market freeze.
On the Toronto Stock Exchange, the S&P/TSX Real Estate Index is among the worst-performing sectors of the year, dropping by over 47 percent by March 24 following its peak in February.
Apart from the home segment, retail real estate has also suffered major losses as businesses in shopping centers and malls stay closed, causing the share prices of Real Estate Investment Trusts (REITs) to nosedive.
The pandemic has also left its mark on the housing sales' figures across the country.
Canada Mortgage and Housing Corporation (CMHC), the federal housing agency, predicts that the market will see a historic recession in 2020, with sales declining by between 19 percent and 29 percent from pre-COVID levels. Home sales will fall by 41 percent in Canada's six largest markets – Vancouver, Calgary, Edmonton, Toronto, Ottawa and Montreal, says agency.
Housing starts will also likely decline between 51 percent and 75 percent in the second half of 2020 from pre-COVID-19 levels.
Further compounding the woes, Canada Mortgage and Housing Corporation has tightened rules and updated eligibility criteria for mortgage borrowers. Under the new guidelines that came into effect from July 1, property buyers will be screened for higher credit scores and lower debts – a move that aims to safeguard interests of new home buyers.
Rebound on the horizon?
Despite the sluggish state of the Canadian economy, latest industry figures show sales and construction activities picking up, raising hopes for roaring comeback in near future.
After posting record declines in April, Canadian home sales went up by 56.9 percent on a month-over-month basis in May while new listings rose by 69 percent, according to Canadian Real Estate Association (CREA).
CMCH's June figures for standalone monthly SAAR (Standalone Seasonally Adjusted Annual Rate) of housing starts across Canada stood at 211,681, up by 8.3 percent from May. The federal agency says the annual pace of housing starts went up in June following a rise in starts of multifamily projects that offset the decline in single detached homes. The SAAR of urban starts increased by 8.7 percent to 196,675 units in June, while multiple urban starts was up by 13 percent to 154,602 units in the same time frame.
In July, home sales hit a record high of 62,355 sales, up 26 per cent month-over-month.
The federal housing agency expects housing starts, sales and prices to enter recovery mode by the first half of 2021, as the pandemic begins to recede. The average multiple listing service (MLS) price is projected to decline by between 9 percent and 18 percent from pre-COVID-19 level before picking up a notch by mid-2021. However, overall sales and prices are projected to remain below their pre-COVID levels by the end of 2022.
Housing Starts Forecast (2020-2022)

(Source: CMCH)
The Toronto Regional Real Estate Board (TRREB) reported 8,701 sales in June, up by 89 percent from May. It was down by just 1.4 per cent compared to June 2019. The average June sell price for homes around Canada's largest city was C$ 930,869, up by 11.9 per cent from the same period last year. The actual and seasonally adjusted average selling price also rose by 7.8 per cent and 9.8 per cent, respectively, as compared to May.
MLS Sales in Toronto: Three-year Comparison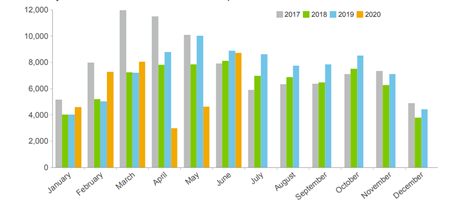 (Source: TRREB Housing Market Charts)
While construction activities have begun in a handful of provinces, social distancing measures are making movement and transactions difficult.
Realty and the Stock Market
Canadian real estate once yielded high dividends for investors. Under the throes of a pandemic that forced the economy into recession not seen since the Great Depression of 1930s, investors are now shunning the real estate investment trusts (REIT).
In 2019, real estate companies – including Real Estate Operating Companies (REOCs) and REITs – on the Toronto Stock Exchange and the Toronto Stock Exchange Venture raised C$ 8.5 Billion through equity capital.
As the pandemic triggered a downturn, scrips of 19 constituent companies on the S&P/TSX Capped REIT Index crashed, nosediving by 19.32 per cent this year.
SmartCentres Real Estate Investment Trust (TSX: SRU.UN)
Canada's largest fully integrated REIT has leased spaces to many Walmart outlets and other top supermarkets, stores, fitness centres and restaurants. It operates through retail and mixed-use. Walmart stores have done well in the pandemic, raising hopes for the REIT.
Share prices of SmartCentres have dropped over 33 percent year-to-date. It is currently trading at C$ 20.62, paying a dividend yield of 8.886.
H&R Real Estate Investment Trust (TSX: HR.UN)
One of Canada's largest REITS with assets that include retail, industrial and office properties has a current market cap of over C$ 2.7 billion. Its shares have plunged over 50 percent in 2020. In the first quarter results, H&R REIT posted an increase in same-asset property increased by 33 percent (in US dollars) compared to Q1 2019. However, rentals from investment properties fell to US$ 279.7 million from US$ 298.7 million last year.
The Bigger Picture
Home sales in Toronto jumped in March, right before the virus grinded the country to a halt. Social distancing measures and broader economic conditions influenced housing and real estate sales and prices.
The bigger picture in the market, however, is that of optimism.
Both the Office of the Superintendent of Financial Institutions and federal housing agency CMHC have taken initiatives to boost lenders' liquidity, including options to defer mortgage payments and slash interest rates for financing a house purchase. The continued influx of immigrants into the country Canada has fed a boom that analysts expect to continue once the virus is beaten.
The entire housing industry is continually reshaping its business model to accommodate the changing circumstances. And most are hopeful of seeing a demand revival by the end of the year.