Highlights

The Splinterlands game has more than 300,000 daily users.


Around 7,000 people check out the game daily.


The SPS token gave an 18% return in the last 12 months.
The Splintershards (SPS) crypto has been gaining traction in the market after experts gave a bullish view on the token. On Tuesday morning, it was trading flat at US$0.2195.
What is Splintershards (SPS)?
Splintershards (SPS) tokens are governance tokens for the SPS decentralized autonomous organization (DAO). They were launched in July 2021. It mainly represents the game named Splinterlands, which is rapidly gaining popularity and so is investors' attention.
Splinterlands is a digital, collectible card game based on blockchain technology. It is inspired by similar games like Magic the Gathering, Hearthstone, etc. In the games, players build a car collection with different attributes and battle with other players in matches based on skills.
Also Read: CinCor Pharma IPO: How to buy the stock - All you need to know
In the Splinterland game, players can buy, sell, or trade digital currencies just like they could do in games like Magic the Gathering, Pokémon, etc. It was started in May 2018.
Splinterlands was created as a solution to players who were unable to own assets as the games became digital. So, with the aid of blockchain technology, the players can own and trade digital assets freely. In addition, it maintains transparency in the game, meaning all the cards in the game have a verified supply and historical record.
The players battle with each other by choosing different types of battles like ranked battles and practice battles. The ranked battles help players to increase their rating.
On a plus side, the beginners can also play the ranked battles without any trouble, as a rating below 100 does not lose any ranking points.
Also Read: Why Hoth Therapeutics (HOTH) stock jumped today?
The battles generally happen between players having similar strengths. And in the game, the players from both sides must choose six monster cards and one summoner card for the battle. One can win the battle by destroying all the monster cards of the opponent.
The game, in general, is free to play, but the players must buy the summoner's spellbook for US$10 to unlock the complete game. With the summoner's spellbook, players can assess several other features that could be redeemed for real currency.
The game's daily users are over 0.3 million, and according to DappRadar, it is one of the most popular games on any blockchain. In addition, the game doesn't promote itself. So, its popularity comes from word of mouth.
Also Read: Global investment firm TPG IPO is set in motion, eyes US$9 bn valuation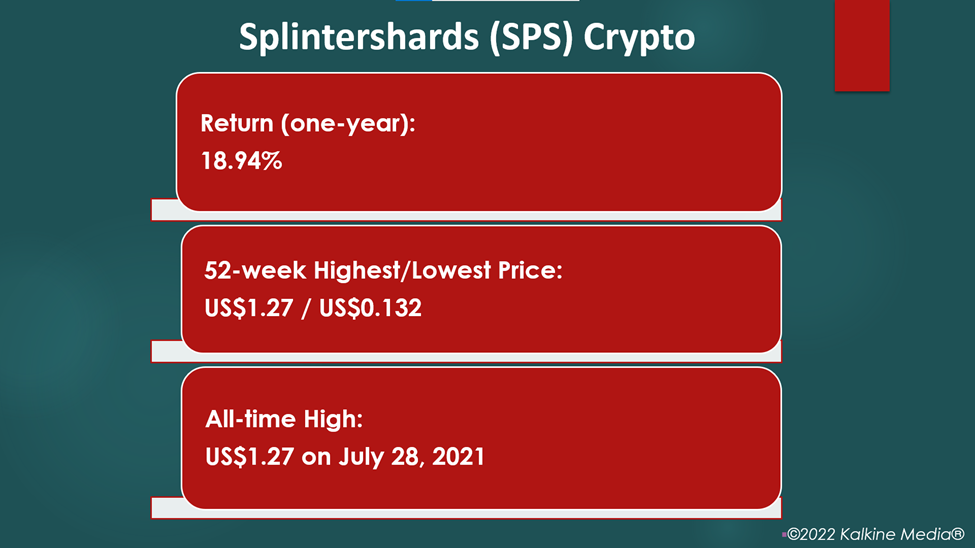 Source: *Data provided by CoinMarketCap.com
Also Read: US manufacturing PMI falls in December, factory activities up
Pricing and other details of Splintershards (SPS) token


The SPS token was up 0.47% to US$0.2195 at 11:30 am ET on Jan 4. Its market cap is US$76.58 million, and its fully diluted market cap is US$658.62 million.
Its 24-hour trading volume through Tuesday morning was US$2.64 million, up 39.95%.
The SPS token saw the highest price of US$1.27 and the lowest price of US$0.132 in the last 52 weeks. It reached an all-time high of US$1.27 on July 28, 2021.
Also Read: Why is PancakeSwap (CAKE) token up today?
Why is Splintershards (SPS) crypto gaining popularity?
Bottomline
The Splintershards (SPS) token gave an 18.94% return in 12 months. It is traded on exchanges like Pancakeswap (V2), Gate.io, etc. Its maximum supply is three billion. Around 7,000 people check out the free basic game daily. Of which, about 3,000 people opt to pay US$10 for the additional features. Its growing popularity is catching investors' attention.