Highlights

Kollect (KOL) rose more than 60% in the last 24 hours at the price of US$0.329.
The platform provides an in-game play-to-earn feature and has introduced the synthesis system on November 30, where the low rarity collectible cards can be exchanged to get high rarity or more same rarity cards.
The token has reached its highest price today, December 1, 2021, since its launch.
Kollect (KOL) jumped 60.25% on Wednesday at 7:00 am ET. The token price was US$0.329 at this gain.
Why is it rising?
Kollect introduced the synthesis system on November 30, and the token started rising after that. The synthesis system works to synthesize cards of the same rarity in an attempt to get another card of high rarity or the same rarity.
Earlier this week, the platform also announced partnering with Good Games Guild to expand its ecosystem.
Kollect (KOL) crypto up 60% on new synthesis system – worth exploring?
Good Games Guild is a gaming hub that believes NFT and Blockchain technology is the future of gaming. Thus, it is focused on the NFT gaming community, Marketplace and virtual world economy. Its ecosystem has features like Apply to earn, Rent to earn, and Stake to earn.
Also Read: Five hot healthcare stocks to watch as Omicron threat looms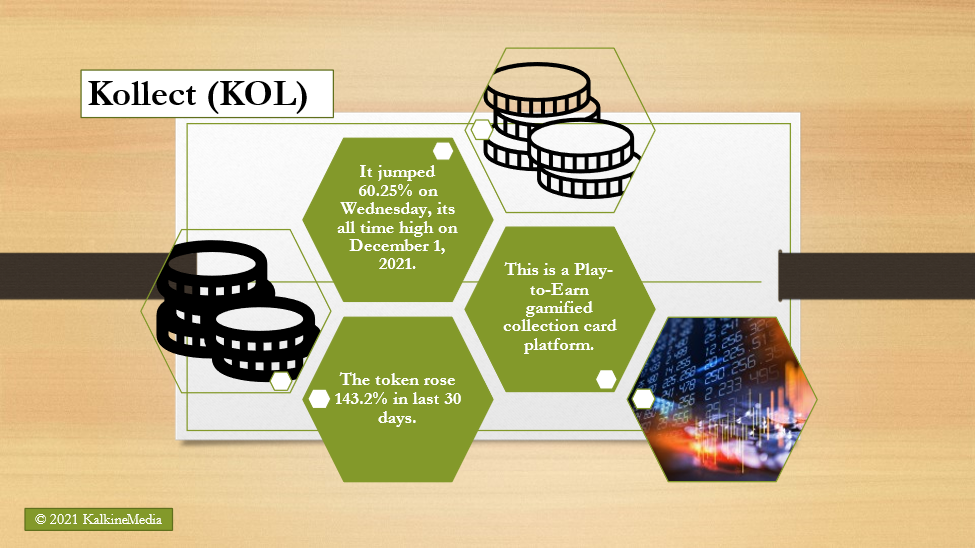 Also Read: Five metaverse cryptos that are making news
What does Kollect do?
Kollect is a platform, and KOL is a token. The platform is for branded IPs for collecting gaming cards. The collection book system is called Kollect.book.
Kollect platform, through its Kollect.game, offers users to use their collected NFT cards for real actions. It aims to become the hub of the NFT collectible, where these can be used in play-to-earn games. Here, the branded IPs can have the games and their in-game currency.
Also Read: Seven hot dividend stocks to watch in 2022
The simple process for users is to own the digital collectible on the favorite IP available on Kollect.card. The next step is to complete the collection by exchanging cards with other collectors and then synthesizing cards to get new high rarity cards. The last is to earn by competing for the rare card slot to complete the collection and getting a reward as a result.
The play-to-earn feature of the platform allows users to stake their cards in desirous collection books strategically and increase their rewards.
The token can be purchased from the exchanges, including Uniswap (V2), OKEx, BKEX, MEXC and BitMart, among other exchanges.
Also Read: Top metal and mining stocks to explore in 2022
Past performance
The trading volume in the last 24 hours also increased 287.88% to US$9,512,700. The token has a market capitalization of US$11,901,945. KOL's self-reported circulating supply is 36,500,000 KOL, and the maximum and total supply are 1,000,000,000.
It touched its all-time-high price at US$0.339526 on December 01, 2021, and the lowest of all-time prices at US$0.122741 on October 28, 2021. It ranks 2872nd as per coinmarketcap.com.
Also Read: Wonderland (TIME) token rose 992% since Sep, how far will it go?
Bottomline
The token has generated a 143.2% return in the last 30 days, according to coingecko.com.
However, cryptos are a volatile investment instrument, and the investor must be cautious while selecting one.