Summary

The cryptocurrency market witnessed an epic meltdown as digital assets crashed.
Bitcoin Cash is the biggest loser.
Dogecoin has crashed by over 54%.
The cryptocurrency market has collapsed – marking its biggest single day loss in history. Bitcoin crumbled by 30% while Ethereum plummeted 44% -- all within 24 hours. But they aren't the biggest losers still. The seven biggest losers in the cryptocurrency crash are: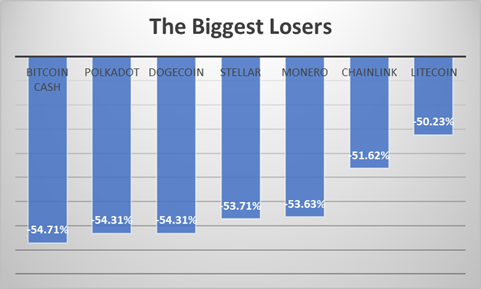 Source: Coindesk. Kalkine Graphics
Bitcoin Cash: Created in 2017, Bitcoin Cash is a fork – a spin-off – of Bitcoin. When Bitcoin split into two – Bitcoin Cash and Bitcoin SV – in August 2017, anyone who owned Bitcoin came into possession of the same number of Bitcoin Cash units. Since then, Bitcoin has surged past US$64,000-mark, while Bitcoin Cash peaked at US$3,785.82. In today's crash, Bitcoin Cash crumbled by 54.71%.
Polkadot: A translation architecture that enables customised sidechains to connect with public blockchains, the protocol was created by Ethereum co-founder Gavin Wood. The digital asset's first token sale closed on 27 October 2017 – raising a total of 485,331 ETH. In today's mayhem, it collapsed by 54.31%.
Dogecoin: Billionaire Elon Musk's supposedly favourite cryptocurrency was created by software engineers Billy Markus and Jackson Palmer. It was supposed to be a satire or a joke – which got too serious. This also collapsed by 54.31% today.
Stellar: An open source, decentralised protocol for digital currency to fiat money low-cost transfers, Stellar crashed by 53.71% today. The protocol allows cross-border transactions between any pair of currencies.
Monero: A cryptocurrency with focus on privacy, Monero was released in 2014. The digital asset nosedived by 53.63% in today's debacle.
Other than these five, Chainlink and Litecoin lost more than half off their values in today's crash.