Highlights

The 'Dogs of Elon' NFT project is looking to ride the meme cryptocurrency craze.
10,000 NFTs with ownerships recorded on blockchain will be on offer for digital art collectors.
Five other big NFT projects are also making noise after having jumped on the ERC-721 token bandwagon.
Non-fungible tokens are arguably the second most popular component of the blockchain universe. Crypto tokens are indeed the first.
Source: Pixabay.com
The latest in NFTs is the 'Dogs of Elon' art that pay homage to billionaire CEO of Tesla Elon Musk. Mr. Musk regularly tweets about cryptocurrencies, and meme tokens like Dogecoin are possibly his favorite picks.
Also read: Elon Musk's crypto holdings & how they've performed in 2021
What is the 'Dogs of Elon' NFT?
We know that unlike cryptocurrencies that are fungible tokens, meaning part of a homogeneous group, NFTs are unique. 'Dogs of Elon' is set to launch 10,000 NFTs, which are unique pieces of artwork. It is said to be a tribute to Dogecoin, the meme currency with the highest market cap, and Shiba Inu, which is the biggest competitor to Dogecoin.
The tokens of the 'Dogs of Elon' project use pixel artwork with unique avatars. A marketplace was launched and users are minting these NFTs. It is also being reported that the project's NFTs could later be staked by users.
What is the 'Dogs of Elon' NFT? Popular NFT projects of 2021 to look at
Each participant in the launch can get up to 20 NFTs out of the total 10,000.
With the 'Dogs of Elon' NFT entering the real-world competition, let us look at five other top NFT projects that currently dominate the marketplace.
1. CryptoPunks
CryptoPunks tops the list on the back of its high market cap, estimated to be nearly 1.19 million Ether tokens. These are a set of 10,000 unique tokens created by Larva Labs. The ownership of these NFTs is registered on Ethereum's blockchain.
The CryptoPunks project claims that no two of its avatars are identical. The project started by giving out the NFTs for free to users with an Ethereum wallet. These ownerships were recorded on the blockchain to make them immutable. Now, the same NFTs are selling for millions of dollars in auctions.
Two characters of CryptoPunks -- #3100 and #7804 -- sold for over US$7 million each in March 2021.
On its website, CryptoPunks' lowest-priced avatar is available for 94.95 Ether tokens as of now.
2. Bored Ape Yacht Club
Most NFT projects have unique, tantalizing names, like this one. Dubbed as BAYC, this project also has 10,000 unique characters. Here, these characters are apes, and the project says they are bored. The project is said to have sold out all but 30 NFTs, and all further transactions can be carried out on OpenSea.
What makes the characters unique is the difference either in their clothing or expression or like elements. The best part of the BAYC project is that they claim to have a uniform price for all NFTs -- 0.08 Ether tokens.
BAYC NFTs use Ethereum's blockchain for storage. This makes them ERC-721 tokens. The market cap of the project is estimated to be over 400,000 ETH.
3. MakersPlace
MakersPlace is a marketplace that hosts digital artwork of artists. It promises to provide NFT enthusiasts access to unique creations with assured authenticity.
Also read: Can these 5 altcoins hedge against inflation?
The NFTs on MakersPlace are issued by the artist and bear a sign for authenticity. As any NFT's proof of ownership is always recorded on a blockchain, which is a distributed ledger, there can only be a single authentic owner. MakersPlace is riding the NFT craze by offering artists a way to sell their unique art.
The project claims that any NFT bought using the platform can be further resold using any exchange for such a purpose. This may mean promising digital artists can earn the patronage of art lovers who will later sell their collectibles at a premium.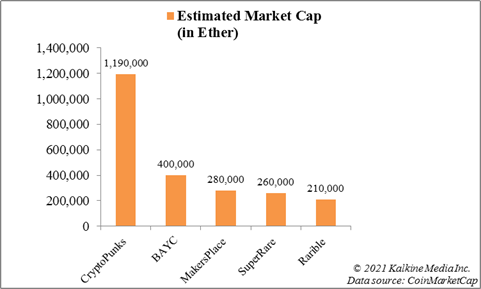 MakersPlace's market cap is estimated to be nearly 280,000 Ether tokens. The platform has 77,725 unique artworks as of now, according to CoinMarketCap.
4. SuperRare
The biggest draw of NFTs is rarity. The high price of NFTs is because they are claimed to be unique and rare. SuperRare seems to be projecting the same attribute through its name.
It also projects itself as an auction house, but with a digital footprint. It uses the internet to allow art lovers to get hold of unique digital works of artists. Once purchased through the SuperRare platform, these NFTs can be traded as a token to earn appreciation over the cost price.
The SuperRare platform can be accessed by anyone with an Ethereum wallet. The platform is tying up with more digital artists who can showcase their work. The transaction fee on purchases is three per cent, and it is collected from the purchaser.
ERC-721 tokens, like the bored apes of BAYC, are supported by this blockchain-based marketplace. The SuperRare project has an estimated market cap of nearly 260,000 ETH.
5. Rarible
Rarible allows digital artists to create artwork that can be later sold as an NFT. This platform also has its own governance token, $RARI. The token can be used to vote on governance issues. With time, the project aims to become a Decentralized Autonomous Organization (DAO) with all powers in the hands of users.
Also read: Top 5 NFT disruptors of 2021
According to CoinMarketCap, Rarible has over 300,000 assets, and an estimated market cap of nearly 210,000 Ether tokens. Rarible also provides users with OpenSea integration. This means users can list the NFT purchased over Rarible on the OpenSea marketplace.
The entry of the 'Dogs of Elon' NFT project may further heat up the already hot NFT marketplace. Once this project goes live, a combination of things like meme currencies and unique digital artwork may attract the attention of collectible lovers.
Bottom line
NFTs have had a great year in 2021. What did not find a mention above is the Everydays: the First 5000 Days artwork by Beeple that sold in March 2021 as an NFT and collected nearly US$70 million. Digital artwork with unique features are finding takers, which is driving up prices. The Dogs of Elon art is joining the market with its 10,000 unique digital assets.