Highlights

Cheap cryptocurrencies may have their own lure, and a high market cap can add more sheen
There are still many cryptos with billion-dollar-plus market capitalizations, but under US$1 per token price
Solana, a cheap crypto at the start of 2021, rose sharply last year to outshine the returns of Bitcoin
Bitcoin is popular and has a very high market cap, but a BTC token is expensive. In contrast to this, some cryptocurrencies are both popular and large-cap assets, but their price per token is very low.
Last year, Bitcoin's price appreciated, but the price growth of another asset, Solana, was nothing less than phenomenal. Solana was trading under US$2 at the beginning of 2021, but it ended the year with a price tag of nearly US$170.
A section of investors favors low-priced or cheap cryptocurrencies in anticipation of higher price appreciation and resulting capital gains. Hereunder are three cheap cryptocurrencies that have a market cap of over US$1 billion.
1. BitTorrent (BTT)
BitTorrent is popular even outside of the cryptocurrency world. This peer-to-peer file sharing platform can be said to have envisaged powers in the hands of users, instead of centralized entities, even before Bitcoin was born.
BitTorrent's plunge into the crypto world started when TRON, a blockchain network, acquired it. The project is working toward making BitTorrent more decentralized with token-based economics. BTT is a token that was launched on TRON, and it acts as the native crypto of BitTorrent.
BTT's price
BTT has a market cap of over US$2 billion as of now, but the price per token is just US$0.000002. This is nowhere near Bitcoin's price that has been hovering in tens of thousands of dollars for quite a long time.
BTT price prediction
Available on Binance and Huobi Global among other crypto exchanges, BTT may rise to US$0.00001 by the end of this year, but for this, BitTorrent would have to prove its utility on the blockchain by finding more patronage.
Also read: DOGE price prediction: Can Dogecoin reach double digits by 2025?
2. Shiba Inu (SHIB)
Shiba Inu is so popular that it can even outshine biggies like Bitcoin and Ether. But this popularity has not caused the price of one SHIB token to mirror that of BTC or ETH.
Shiba Inu is a meme currency, which is said to be the biggest rival to Dogecoin. The latter often makes news when it features in a tweet of billionaire Elon Musk. Shiba Inu is set to launch its native blockchain in the coming days. Besides, it may also unveil a stablecoin, which some believe can compete with the most traded crypto asset Tether.
SHIB's price
With a market cap of over US$16 billion as of now, which ranks it among the top 15 cryptos on the list by CoinMarketCap, SHIB's per token price is approximately US$0.00003. Dogecoin on the other hand is trading at nearly US$0.15.
SHIB's price prediction
In the long-term, if the Shibarium blockchain and the proposed SHI stablecoin of the project can pique the interest of crypto enthusiasts, SHIB may reach US$1 by 2025.
Also read: SHIB price prediction 2025: Can Shiba Inu crypto reach $1?
3. eCash (XEC)
Having its roots in Bitcoin Cash (BCH) and Bitcoin Cash ABC (BCHA), eCash envisages becoming a medium of exchange in digital transactions in traditional trade and commerce.
The developers of the eCash project claim to offer better transaction speeds, besides upgrades that are not dependent on forks. One of the promised features is anonymous transactions, besides the compatibility of eCash in the Ethereum-led world of decentralized finance or DeFi.
Also read: Florida home sells as NFT: Top 3 non-fungible token projects to watch
XEC's price
The market cap of XEC is over US$1.5 billion as of now, and the price per token is nearly US$0.00008. XEC ranks among the top 75 cryptos by market cap, and its low price may be an attraction for some investors.
XEC price prediction
XEC is neither a major blockchain network like Solana nor a major DeFi player like Uniswap. The price of XEC may rise if the token finds utility in electronic transfers. If eCash can deliver better speed and low fees, XEC may be back to its all-time high of US$0.00035 by the end of the first half of 2022.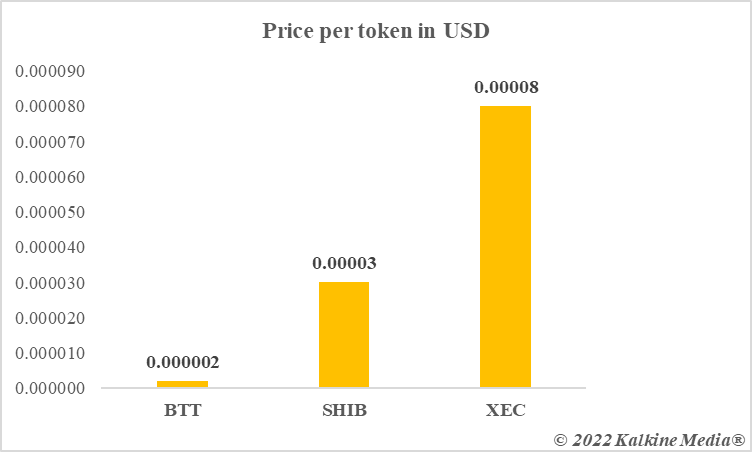 Data provided by CoinMarketCap.com
Also read: Bitcoin price prediction 2025: Can Web 3.0 catapult BTC to $300,000?
Viewpoint
Cheap crypto tokens have a distinct lure. Some analysts claim that if the linked projects of these tokens prove their utility and long-term viability, the price may appreciate more than the rate at which Bitcoin or other cryptos do. But at the same time, all cryptos regardless of the price or market cap are vulnerable to high fluctuations.
That said, Solana proved in 2021 that a crypto with a humble per token price can make its backers rich. It may be a possibility that 2022 could be yet another year when a low-priced altcoin delivers superior returns as compared to Bitcoin, or it may be not. Another point here is the three mentioned above have billion-dollar-plus market capitalizations. All remain a close watch in 2022, especially Shiba Inu, which is one of the most popular crypto assets.