Highlights

Altura is an innovative smart contract platform where game developers can mint, transact, and distribute Smart NFTs.
On January 18, 2022, it introduced a new strategic grant program for partners called the Altura Supercharge.
Its native token ALU dropped 8.85% to US$0.09451 at 12:02 pm ET on Tuesday.
Digital asset company Altura (ALU) introduced a new strategic grant program for its partners called Altura Supercharge on Tuesday, January 18, 2022, but the token fell after the news.
The Altura (ALU) token traded at US$0.09451, down 8.85% at 12:02 pm ET. However, its trading volume was up 42.64% to US$1,769,010 in the last 24 hours to Tuesday evening.
What is Altura Supercharge?
Altura Supercharge supports game developers and helps boost the adoption of Altura's NFT technology. According to one of its official blog posts, Altura's grant program provides up to US$70,000 to build metaverse projects. The AlturaNFT also helps create items, tools, land, etc.
The primary criteria are project selection is market potential, competitiveness, and positioning within the segment. The second condition is the project's potential community, size, diversity, loyalty, and activities. And the third aspect is the prospect of return on investment.
Also Read: Top 2 US financial stocks set to report their earnings this week
What is Altura?
Altura is a smart contract platform. Game developers can mint, transact, and distribute Smart NFTs, representing the in-game items, on the Altura platform.
The platform allows gamers to own and control their in-game items, while offering developers to integrate the blockchain technology in video games.
Since the current NFTs are static, Altura is trying to bring in Smart NFTs that can change or evolve, like a video game sword that becomes stronger with every use.
Altura also plans to attract more developers by offering financial incentives.
Also Read: Top 2 cannabis stocks to watch in 2022
The Altura platform acts as a marketplace for NFT transactions. It also helps create loot boxes that drop NFTs, or APIs and SDKs for video game integration.
Majd, the founder and lead developer of Altura, has been a cryptocurrency investor since 2019. He is also hosts the Eager Money YouTube channel that has around 15,000 subscribers.
Also Read: These 2 NYSE basic industry stocks returned over 200% in a year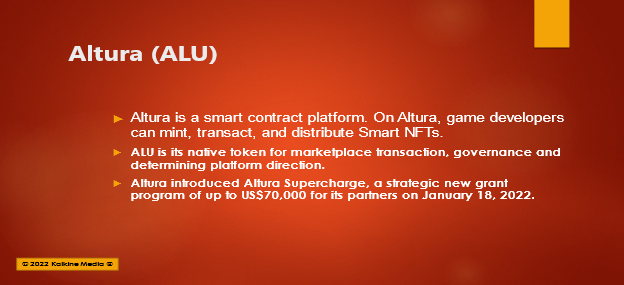 Also Read: 5 best US hospital stocks for 2022
ALU token:
ALU is its native token for marketplace transaction, governance, and determining platform direction. It has a market capitalization of US$57,912,699. Its self-reported circulating supply is 612.8 billion. Its maximum supply is 1,000,000,000 and the total supply is 1,000,000,000.
The token can be purchased on PancakeSwap (V2), Biswap, and Gate.io.
It touched an all-time high of US$0.462652 on Nov 3, 2021, and an all-time low of US$0.00255407 on July 19, 2021.
Also Read: How to research a stock? A beginner's guide to share selection
Bottomline
The craze for blockchain-based gaming activities have been growing of late, and so are the opportunities to earn money by participating in such games. According to experts, the NFT segment is likely to grow manifold in future.