If you are an active sports enthusiast, Kalkine puts together for you some of the most sought-after sporting events of Australia for you to plan you next trip to the land of Koalas and Kangaroos, nicely around the sporting event of your choice. Be sure not to miss an opportunity to get a first-hand thrilling experience of your favorite sport at the Australian continent.
Australian Tennis Open
(Image Source: https://mootennis.com/)
This hugely popular event is an annual feature in Australia and is held in January each year since a longtime now. Being one of the world?s most well-known, sought after and significant tennis championships, the event is hosted in Melbourne, Australia. Every year, the best tennis players are drawn to this event. The crowd, excitement and thrill is worth experiencing in the Melbourne park, where it is held, which is a cluster of courts and competing stadiums just outside the city center. It has various categories of tickets starting form the basic to a premium place ticket that you can buy and enjoy the event, which is followed by four tennis events ? US open, Frech Open, Wimbledon held annually. Getting there is also not difficult. While you are there, try taking a guided tour and get to know the details and history of the players, matches and the stadiums.
Melbourne Cup
(Image Source: newshub.co.nz)
The Melbourne Cup event dates back to 1861 since it started being hosted. It is one of the most vibrant and competitive turf races in the world and gives a very lively feel to the city. Organized by the Victoria Racing Club, this event consists of placing bets, making it a thrilling and popular event of national importance. It draws in the attention of the media worldwide with its celebrity judge panel and huge crowds flocking in and cheering On?6?November?2018?at?the?Flemington?Racecourse?in?Melbourne,?the?race?was?running?over?3,200?meters. Lexus?began?a?five-year Sponsorship Agreement with the naming rights, taken over from Emirates.
Soccer
(Image Source: https://www.90min.com/posts)
Football- the sport popularly known as Soccer in Australia, is undoubtedly one of the most popular high-end sporting events of Australia alongside being the most enjoyed and played outdoor sport. There is a total of eleven teams that are currently challenging and playing the sport, ten of which are from Australia itself and one that is from the land of kiwis- New Zealand. Soccer as a sport and entertainment enjoys a high rank of top tenth on the list among the popular feature for television audience. The sport?s national governing body is the Australian Football Federation.? ?The?FFA?is?made?up of nine federations of member states and territories that administer the sport in their respective regions.
Cricket
(Image Source: https://www.skysports.com/live-scores/cricket/australia-v-afghanistan/15639)
Cricket?is?not only an event that unites the whole globe as a one, but in many a country it is no less than a festival. Cricket counts as one of?Australia's?most?popular?sports?worldwide,?domestically?and?locally. National?cricket?team?of?Australian?people?are?representing?Australia?in?international?cricket. The Australian cricket team is headed by coach- Justin Langer. Cricket?Australia?is?the?name of the highest?administrative?body?that looks after the administration for?professional?and?amateur?cricket.? Captains of the team are Tim Paine and Aaron Finch. The Australian cricket team is also popularly known by nicknames such as Aussies, The Invincible and Baggy Greens.
Boxing Day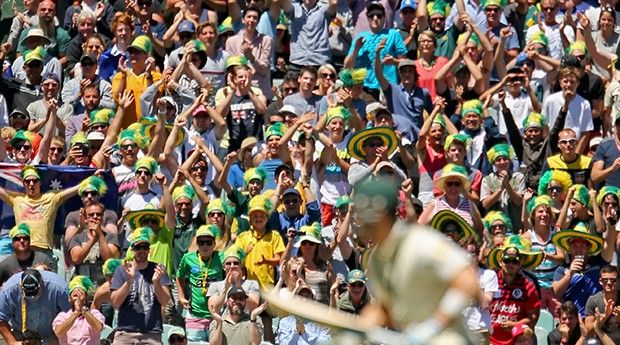 (Image source: https://www.cricketvictoria.com.au/)
Celebrated post the festivities of Christmas, this day takes places on the day next i.e. 26th December every year. The roots of this vacation go back several centuries to where churches will usually open their boxes of alms on the day after Christmas and distribute the contents to the poor of their parish. Second day in a food marked row, people indulge in reinventing and upcycling leftover Christmas feast food into exotic and lip-smacking dishes like turkey salad and sandwiches, ham terrine, bubble and squeak and desserts like trifle, puddings and pies.
Sports are also an important characteristic of this public holiday.
A thousand-kilometer Sydney-to-Hobart yacht race, that has been hosted since 1945, is a regular feature and takes places at noon in Sydney on every Boxing Day. It has over time, become one of the toughest yatch races in time drawing in sailors from all parts of the world coming in with a hope to win and go back home proud and with a feather in their sailing caps.
This day which was originally started in the UK is now celebrated in other countries also. In Australia, Boxing Day is a federal public holiday and those who have money left after the annual Christmas splurge spend some mad cash during' Boxing Day Sales'
Grand Prix
(Image source: https://www.motorsportmagazine.com/)
For the world's greatest stars, the Formula 1 Rolex Australian Grand Prix is the ultimate playground. With Melbourne's public transport system, which includes trains, trams and buses, it's easy to travel to the Formula 1 Rolex Australian Grand Prix. Look at the Albert Park Grand Prix Circuit liven up as the fastest cars in the world race in front of you. Whether you're a full throttle motor sport fan and enthusiast or want to soak in the glamor of this star-studded event, the Formula 1 Rolex Australian Grand Prix presents something for everyone as it takes excitement and opulence to the next level.
Witness?the?Albert?Park?Grand?Prix?of?Australia?2020?in?style.?You can choose an F1 ticket package to experience benefits like chance to meet the racing legends in person, a guided tour of the racing track, a paddock club reception and many more such experiences to make your 3 day race ticket worth it.
Golf: Australian PGA golf tournament and Australian Open
(Image source: https://nz.sydney.com/)
The Australian PGA Championship is an Australasia PGA Tour golf tournament. It is Australian PGA's home tournament which dates to 1905. It has been taking place in the South East Queensland region since 2000. Enjoy an unforgettable and memorable opportunity to see some of the best golfing stars in the world from the Asian & European PGA Tours and have the opportunity to join them on the golf course or in the hospitality venues.
The Australian Open, which is owned and run by Golf Australia, is PGA Tour of Australasia's most well-known, prestigious and longest running golf tournament. With the first Open being hosted as early as 1904, this event takes place around every year end. The nation's biggest courses, the most star-studded fields of the year, and a rare opportunity to join some of the immortals of golf ? it's just not getting bigger than the Australian Open.
There is no investor left unperturbed with the ongoing trade conflicts between US-China and the devastating bushfire in Australia.
Are you wondering if the year 2020 might not have taken the right start? Dividend stocks could be the answer to that question.
As interest rates in Australia are already at record low levels, find out which dividend stocks are viewed as the most attractive investment opportunity in the current scenario in our report Top Dividend Stocks to Consider in 2020
CLICK HERE FOR YOUR FREE REPORT!