Highlights

Warren Buffett is an ace investor of all time and has a net worth of US $107 billion as of 24 December 2021.
Buffett manages Berkshire Hathaway, which has around 60 companies under its umbrella.
Buffett has held some of his investments for decades, as quality businesses usually earn high return and increase in value over time.
Who hasn't heard of US business magnate, investor, and philanthropist Warren Buffet? He is an ace investor and has a net worth of US $107 billion as of 24 December 2021. He is currently the chairman and CEO of Berkshire Hathaway and is famously known as "Oracle of Omaha". His investment mantra is widely known as he started investing from the age of 11 years. In last 80 years, he shared his investment tips with the world through his letters and public speeches at Berkshire Hathaway AGM speeches.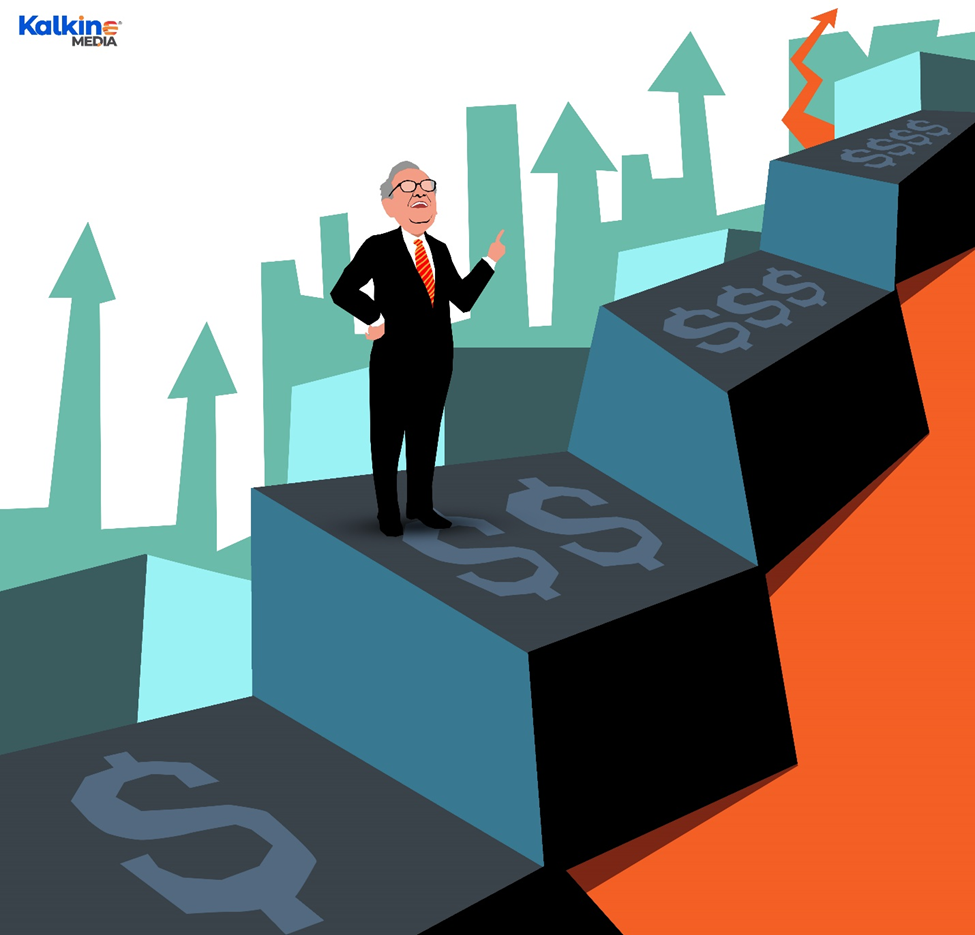 © 2021 Kalkine Media®
Buffett manages Berkshire Hathaway, which has around 60 companies under its umbrella, which includes Dairy Queen, Coca-Cola, Heinz, Apple, Bank Amer Corp, American Express, Moody's Corp, Verizon Communications and US Bancorp Del to name just a few companies. If you want to invest you can look into the investment strategy of Oracle of Omaha which is uncomplicated and easy to understand. The seasoned investor puts his money in big businesses trading for less than their intrinsic values due to losses at stock market and then he holds these investments for a longer term.
While Buffet's investment strategy comprises of many values and principles. Here are the top 10 tips that you can incorporate into your own investing strategies.
Invest In Great businesses
Buffet doesn't invest in struggling and complicated businesses and industries, even if they are available at cheap price. He only settles for high-quality businesses at fair price than fair businesses at a lower price, with promising long-term opportunities for continued growth.
His philosophy on investment has evolved over the years with experience as Berkshire Hathaway was one of his worst investments. He bought the shares at a low price as he believed that if you buy stocks at a cheaper price there will be some news that may increase its price despite a patchy long-term performance.
But he shared that with this, he changed his philosophy and concluded that unless you are a liquidator, buying cheaper stocks with no quality is a stupid step. To know the quality of business you can analyze return on invested capital ratio. If the ratio is higher, it indicates that the company has the potential to compound their earning faster, which raises its intrinsic value over time.
Margin of safety
A margin of safety refers to the attribute of an investment that helps investors from earning losses. For example, if the share market price is US$20 and the company's assets are realistically worth US $25 per share, then there's a safety of margin of US $5, so the intrinsic value of the assets will prevent the share prices to fall too significantly. But always buy shares whose market price is lower than its intrinsic value as it will not undo the effect of a subsequent decade of favourable business developments.
Hold investments for long term
One of the most important investment strategies of warren buffet is to buy stocks whose market value in lower than its intrinsic value and hold it for longer term. He has held some of his investments for decades as quality businesses usually earn higher return and increase in value over time. Fundamentally strong businesses take years to grow, which positively affects it share prices.
Diversification can be dangerous
Buffet does not invest in too many stocks from different industries as that can be difficult for him to manage and track the companies. Some investors excessively diversify their portfolio, which also means that they have made investment in mediocre businesses that are lowering the return from its high-quality investments.
Also read: Does investment maestro Warren Buffet trade in penny stocks?
Most news is not News
Most of the news are just to create noise and trigger the emotions of investors to do something. Imagine there are so many businesses that are working for many decades and have faced every unexpected challenge but still they are standing stronger than before. These types of news affect the stock prices for short term and has no impact on company's longer-term earnings.
Don't fear market crashes and corrections
You can only make profit when you buy a stock at lower prices and sell in higher, but some investors do the exact opposite as they fear stock market crashes and sell their holdings before prices drop any further. Buffet suggests stock market crashes are opportunity to buy favourite or top stocks at a lower rate.
Know the difference between price and value
Stock prices change within seconds, but underlying business fundamentals does not. This means there can be a period of time in the market when stock prices have no relation with the fundamentals of the business.
Stock prices usually fall in such situations, like financial crisis regardless the quality and potential of business, but businesses with potential emerge from the crisis. In such a situation, the stock price temporarily separates from the fundamental of business.
Stay away from trending stocks
The trending stocks are the stocks that draw some attention due to some sudden activity or news, severe volatility in prices or high trading volume. Investors should stay from such stocks. One should never buy stocks if suddenly the prices go up. The best time to buy a stock is when no one is interested in it.