Highlights

Buying a house for the first time is an important achievement in one's life.
In Australia, houses are sold via private sale or auction.
It is essential to do a thorough study of the property before spending the hard-earned money.
Buying a house for the first time is an important achievement in one's life. Like any big project, buying a home is all about getting complete details from start to end. In Australia, homes are sold through private sale or via auction. In a private sale, a buyer can purchase a house at a price negotiated with the vendor. It is negotiated through a real estate agent. In the auction, a buyer can purchase a property by bidding against others in an open forum.
If one is planning to buy a property, he/she should be aware of a few steps which can be helpful while purchasing for the first time.
RELATED READ: A look at Australia's rising property prices
1. Inspection of the Property:
Before you place a bid or make an offer for a property, one must first inspect the property. For this one can get this inspected by property or pest inspection
company to ensure that one does not get any unpleasant hidden surprises related to that property.
Also, lending organisations have a valuer who inspects the property before the lending organisation.
Seek help to buy a property:
It is also possible to appoint a buyer's advocate who would assist in finding and securing a property. It is a good practice to appoint a solicitor to manage the legal paperwork related to purchasing the property.
Sort any previous debt:
If a person already has some previous debt and requests more debt, then there is a chance that the borrower may not get the required loan. In such a situation, the borrower pays large and unsecured debt before applying for the loan amount.
Arrange your funds:
Buying a house requires a huge fund. Hence one must handle the finances well before making an offer or bidding at auction. Before one makes an offer, there must be ample funds to cover if the bid is successful. Also, the buyer has enough money that he/she can pay at the time of settlement.
Generally, the deposit is 10% of the property price and is paid when the offer is accepted or the bid is successful. Settlement is the date that ranges from 30 to 120 after the purchase of the property.
Borrowing of money:
There are multiple ways through which one can buy property. It comprises major banks, mortgage brokers, credit unions, building societies, and specialist home loan lenders. A buyer can opt for any of these loan providers. However, there are always terms and conditions with these loan amounts. Hence it is always wise to understand your options, any in-built fees, interest rate structure. For this, a mortgage broker can support in identifying the right home loan. There are cases where lenders would pre-approve the loan. It would show how much an individual can borrow a loan. There are also home buyer grants available for those who are buying a home for the first time.
Know about additional cost involved
Apart from the cost of the property, there are other costs as well. These are Conveyance and legal fees, Stamp duty, Building and pest infection, Mortgage registration and transfer fees, Loan application fee, Mortgage insurance, Council and utility rates and Home and content insurance.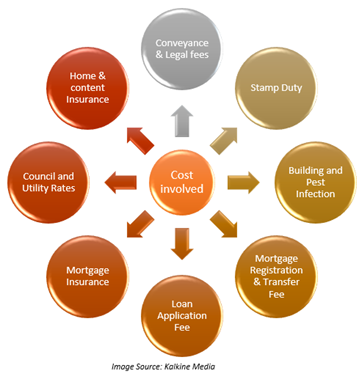 RELATED READ:
7. Prepare yourself to get your dream house
It is quite possible that more than two buyers select the same property. Hence, if you prepare yourself with all the needed paperwork, deposit, and pre-approvals beforehand, then the chances of getting the house would be high in your case.
Home and Content Insurance:
Many people in places like Melbourne, Australia, take out insurance cover for their homes and belongings. For this, buyers look for different companies providing insurance products.
Connecting your Utilities:
Before moving into the new house, one must connect the utility facilities like gas, water, electricity, telephone and internet. For this, one can seek help from real estate agents who can refer to different users.
Temporary Resident Rules and Regulation:
If a person is a temporary resident, then he/she should notify the Foreign Investment Review Board of the plan to purchase the property. Temporary residents can purchase one established property to live in. They can even build new dwellings or develop vacant land to build new houses.
On the other hand, the person with a permanent visa does not need any approval to purchase a house or established dwelling for investment reasons.
ALSO READ: