If you could turn back time, would you whisker yourself a purr-fect opportunity to invest in profitable cryptocurrencies?
Big Eyes Coin (BIG) has captured attention with its delightful branding strategy, enlisting the help of a charming feline friend to tickle its audiences' funny bones. But what keeps people invested in this up-and-coming cryptocurrency is its treasure trove of product offerings that offer profit and minimal regret.
However, Big Eyes Coin still needs to be done, surprising its community. It has now rewritten the rulebook by turning back time, allowing its growing token holders to invest using Stage 3 pricing ($0.00017)! Read on as we dive into how Big Eyes Coin proves to be a cryptocurrency with an extraordinary journey packed with fun, profit, and a touch of feline magic!
It's back: Stage 3's affordable and profitable Price Tag!
Big Eyes Coin's action-packed presale journey concludes on June 3, 2023, but only after turning back time. In a usual paw-sitively BIG move, they're offering their loyal community the chance to snatch Stage 3's incredibly affordable and profitable price tag! That means Kitty Cuddlers can bag up BIG for only $0.00017 per token (equivalent to 5833.33 BIG)!
The Kitty Cuddlers can snag those precious BIG tokens with BTC, ETH, BNB, BUSD, USDT-ERC20, USDT-TRC20, DOGE, and TRX. In the meantime, they can even monitor their cutes via the BIG dashboard. After the presale ends, a paw-some function will be available for BIG holders to quickly redeem their tokens from the wallet they used for purchase.
As everything must end, this purrr-fect offer is available only until the presale closes. But surely, bigger things await its investors and traders before the BIG Launch on June 15, 2023!

Image source: Bigeyes.space
BIG secrets fueling the Best Meme Coin in 2023
With 200 billion BIG tokens up for grabs, 80% is made available to the community during the presale, ensuring organic and sustainable price action. The BIG exchange liquidity is also securely locked for two years, verified by reputable auditing firms. But here's the clincher: BIG offers fee-free buy and sell transactions for their Kitty Cuddlers. The standard gas fees aren't part of the equation.
Big Eyes Coin has clawed its way to a whopping $37.5 million, surpassing its soft cap with purr-fect precision. While aiming for a Stage 15 launch, the community's meows of excitement couldn't be ignored, prompting an earlier release.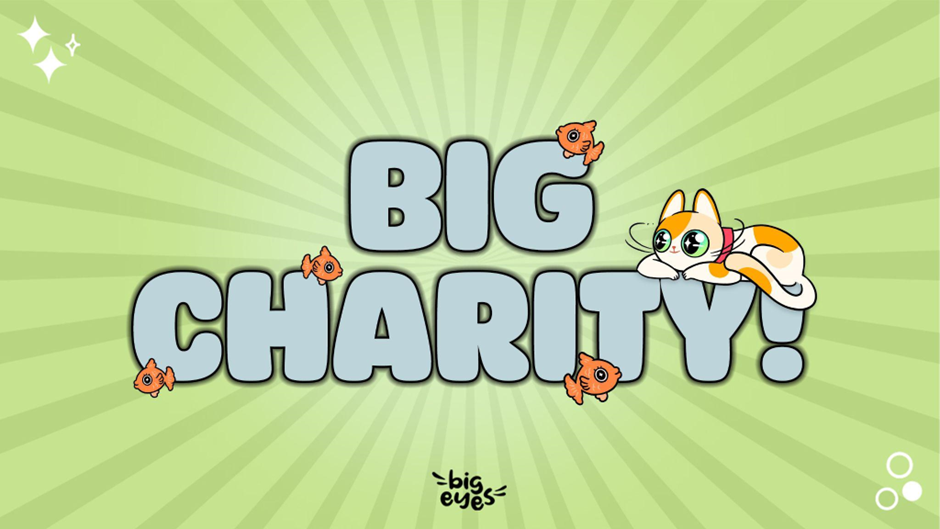 Image source: Bigeyes.space
The BIG goals
Paw-some crypto community
Beyond the wealth-generating goals, Big Eyes is also on a mission to improve the world. They actively support charitable organizations and place a visible charity wallet. This allocates 5% of the total supply back to causes that tug at our heartstrings.
$15,926.20 to 15 charities worldwide
Recently, the Kitty Cuddlers donated a whopping $15,926.20 to 15 different charities worldwide. From supporting the Big Cat Rescue to helping animals in India, from empowering girls through The Malala Fund to assisting Luna Children through ACT International, and even contributing to The Fruit Tree Planting Foundation, Big Eyes Coin is spreading joy and making an impact.
BIG steps into the GameFi Sandbox
On August 29, 2023, merely a couple of months after the BIG Launch, Big Eyes plans to launch their Play-to-Earn (P2E) and Online Casino Games. With over 4,000 games to choose from, the future looks brighter than ever for the Cat Crew.

True enough, Big Eyes Coin has ventured into various realms, establishing itself as the cattiest presale project in meme coin history. From championing meaningful causes to venturing into the NFT and GameFi worlds, Big Eyes Coin has truly understood the assignment with claws out. As an investor, there's only one way to ride this feline revolution: buckle up and let the purr-suit of profit begin! Discover A Paw-sitive Investing Adventure with Big Eyes Coin.
Presale: https://buy.bigeyes.space/