Economic recovery is likely to push oil and gas prices up this year. Meanwhile, Canada's big energy players Suncor Energy Inc (TSX:SU) and Enbridge Inc (TSX:ENB) are set to release their first quarter results for fiscal 2021 in the first week of May.
Ahead of that, let's take a look at the expectations, stock performances and previous financials of these two energy companies.
Suncor Energy Inc. (TSX:SU)

Suncor Energy Inc is set to release its Q1 FY21 financials on Monday, May 3. According to the Zack Consensus Estimate for the upcoming earnings report, the company may post a profit of 44 cents per share on projected revenues of C$ 6.3 billion.
In its 2020 annual report, Suncor claimed that its Oil Sands Operations is set to increase to 410,000-445,000 barrels bbls/d this year, up from 372,200 bbls/d in 2020.
Its funds from operations were C$ 1.22 billion in Q4 2020, up from C$ 1.17 billion in Q3 2020. Compared to the same quarter of the previous year, Suncor managed to narrow down its net loss to C$ 168 million in Q4 2020.
Suncor Energy is one of the leading integrated energy companies in Canada. Its market cap is C$ 40.6 billion and its price-to-cash flow (P/CF) ratio stands at 14.7. It also pays a quarterly dividend of C$ 0.21, which posts a dividend yield of 3.2 per cent, as per TMX.
1-year chart of stock performance of Suncor Energy (Source: Refinitiv/Thomson Reuters)
As the energy sector started recovering, the company's stock skyrocketed by 77 per cent over the past six months. It also beat the S&P TSX Integrated Oil and Gas (Sub Industry) Index and grew by about 25 per cent year-to-date (YTD).
Enbridge Inc (TSX:ENB)

Research Analysts at the National Bank Financial have reportedly estimated that the company will post earnings of C$ 0.55 apiece. Enbridge Inc presently holds a price-to-earnings (P/E) ratio of 31.6 and offers a 5.16 per cent return on equity (ROE).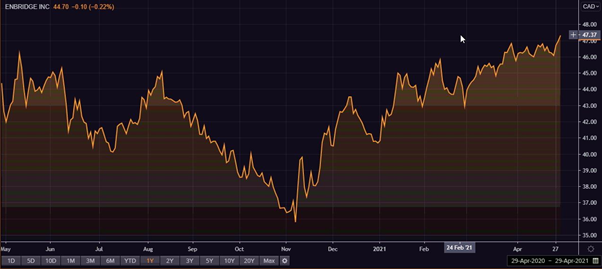 1-year chart of stock performance of Enbridge (Source: Refinitiv/Thomson Reuters)
The energy company distributes a dividend of C$ 0.835 on a quarterly basis and it witnessed a divided growth at the rate of 10.3 per cent in the last three years. Over 7.5 million shares of the company were traded in the past 10 days, as per TMX.
Enbridge posts a market cap of C$ 95.8 billion. Its stock grew by 16 per cent YTD. In 2020, its adjusted earnings were C$ 4.9 billion, down from C$ 5.3 billion in the previous year.
Its cash provided by operating activities increased to C$ 9.8 billion in 2020, an increase of C$ 0.4 billion from 2019.
The above constitutes a preliminary view and any interest in stocks should be evaluated further from an investment point of view.