Highlights

Bombardier has launched an updated version of the Challenger 3500 aircraft.
The Canadian business jet manufacturer reported a 45 per cent year-over-year increase in its total aircraft deliveries in the second quarter of 2021.
Bombardier is set to rejoin the S&P/TSX Composite Index, effective September 20.
Bombardier Inc (TSX:BBD.B) saw its stocks hit a record high of C$ 1.98 on Tuesday, September 14. Although the stock closed lower at a value of C$ 1.9 apiece, its daily trading volume reached a notable 7.33 million.
The Canadian business jet manufacturer's new 52-week high appears to have been triggered by the launch of the Challenger 3500 corporate jet's updated version of in a virtual event on Tuesday.
After a difficult journey through the pandemic last year, the transport equipment maker seems to be heading for some improvement amid asset sales and new launches. Let's take a close look at its recent stock and financial performance to understand the company's status better.
Also Read: Is SmileDirectClub (SDC) a dental stock to buy?
Bombardier Inc (TSX:BBD.B) stock performance
Stocks of Bombardier Inc surged by about 381 per cent in the last one year. The industrials scrip also noted a significant growth of nearly 310 per cent year-to-date (YTD) and that of over 19 per cent in the past one month change.
Bombardier presently holds a price-to-earning (P/E) ratio of 0.8, which indicates that the current stock price is low relative to its earnings.
The industry giant was removed from the S&P/TSX Composite Index in 2020 as it failed to meet the minimum requirements for listing. But amid market improvement, it is set to return to the index on September 20 this year.
Bombardier Inc's latest financial highlights
Bombardier reported a net income of US$ 139 million in the second quarter of fiscal 2021, down by seven per cent from that of US$ 150 million in the same quarter a year ago.
The company's business jet revenues were up by a notable 50 per cent year-over-year (YoY) to US$ 1.5 billion. This was boosted by the 45 per cent YoY increase in its total aircraft deliveries of 29 in the second quarter.
With its adjusted EBITDA at US$ 143 million in Q2 2021, it aims at improving cost structure, achieving favorable aircraft deliveries, and consistent progression through its Global 7500 aircraft learning curve.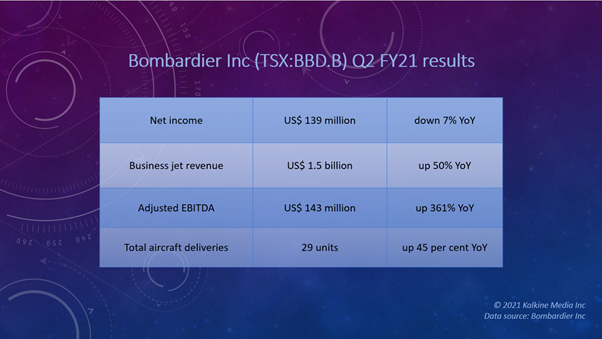 What's in store for Bombardier Inc?
The global business jet manufacturer carried a massive burden of debt into 2020 from its botched CSeries deal, only to be hit further by the COVID-19 pandemic.
However, through a string of asset sales over last two years, including the sale of jet program CRJ to Mitsubishi Heavy Industries and its rail business to French firm Alstom SA, Bombardier seems to be making some headway.
With the sale of its commercial aviation business as well, Bombardier is now solely focused on becoming a global leader in the business aircraft industry. In this light, the company is said to have followed a heavy investment cycle that consisted of launching innovative technologies and new products and services.
In its Q2 earnings report, the Canadian firm revised its 2021 guidance to project an annual revenue of about US$ 5.8 billion (up from that of US$ 5.6 billion) and an annual EBITDA of US$ 575 million (up from US$ 500 million). Bombardier also expects to record business jet deliveries of about 120 units this year.
Also Read: 5 best Canadian mid-cap stocks to buy this September
Bottom line
With global aviation industry slowly returning to normalcy, the Canadian company could see a growth going forward if its debt position continues to improve.
Earlier this month, Bombardier delivered its fifth Global business jet to Sweden-based defense supplier, Saab, for conversion into an airborne early warning and control solution formally known as GlobalEye.
The company says that as many as 550 of its business aircraft are performing "specialized missions" worldwide. The family of aircraft include Global, Challenger and Learjet.