Summary

Bitcoin's value dropped by three per cent to US$ 30,600 on Monday, July 19, led by a bearish crossover.
Bitcoin's volatility has narrowed in the last one week, but it may witness another rollercoaster if its value falls below US$ 30,000 apiece.
On the other hand, institutional investors have been eyeing Bitcoin's discounted price. Hence, any upcoming price dip in BTC could be short-lived.
Bitcoin (BTC) has been testing its support level of US$ 30,000 since the May 19 crypto market crash. Experts anticipate that once Bitcoin drops below its current support level, it may extend the bearish trend to the US$ 27,000-mark.
The crypto market, on the other hand, has been looking strengthened and less volatile recently.
Finance technology companies could expand their inventories if BTC token's price gets more discounted. The largest cryptocurrency, aka 'digital gold', has been fluctuating in the range of US$ 31,000 to 36,000 apiece this month.
The decentralized currency has narrowed its volatility in the past one week as its trading price stayed between US$ 31,000 and US$ 33,000 apiece, representing consolidation.
Will Bitcoin note a rollercoaster trajectory again?
From a lifetime high of around US$ 65,000 apiece, achieved in mid-April, Bitcoin has declined 52 per cent to US$ 30,600 apiece.
On May 19, BTC slumped below US$ 30,000 for an hour and rebounded over US$ 40,000 apiece in the next 24 hours. In the first half of 2021 alone, Bitcoin has witnessed a 20 to 30 per cent volatility in the wake of hyped buying and panic selling.
The overall market has faced massive pullback as well, especially after China's crackdown on crypto mining companies.
Bitcoin could repeat its rollercoaster price trajectory if the token goes through one more sharp dip in the next few days. Institutional investors, on the other hand, are awaiting a reasonable price margin to enter the crypto space. Thus, Bitcoin's price can fluctuate enormously.
Green Crypto Mining Operations (Copyright © 2021 Kalkine Media)
Will Bitcoin recover to $65K in 2021?
The cryptocurrency market has seen a massive adoption worldwide in the past year, including Latin American nations allowing trading in Bitcoin and Ether. Hedge fund managers have also been exploring the crypto market, especially in digital assets like Bitcoin.
EV giant Tesla Inc. (TSLA:US, NASDAQ:TSLA) is also likely to resume payments in Bitcoin on the back of a green crypto mining operation.
Such developments can push Bitcoin to a record high by the end of this year. However, some anti-Bitcoin trends have already been noted in the market.
The mainstream acceptance of crypto trading has also brought along the attention of financial regulators, which are seeking to streamline crypto exchanges with Know Your Customer (KYC) directives.
A glance at Bitcoin/USD chart
Bitcoin's token price dropped more than three per cent on Monday, July 19 (9:40AM EST). The crypto token is trading well below its moving average multiple.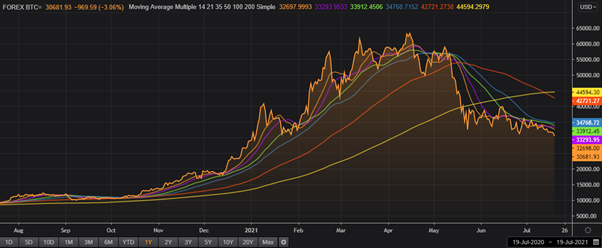 Bitcoin/USD one-year price chart against moving average multiple. (Source: Refinitiv)
The bearish crossover has not impacted the BTC price movement much, but the US$ 30,000-mark could make or break the current trading patterns. However, the death cross formation pushed back Bitcoin in early June.