Highlights

Fan tokens are issued to give power to their holders to decide on governance within the sports team
Lazio competes with Socios.com fan tokens that have already found many takers in the market
Lazio is a very new crypto token with a potential to likely gain value if investors find utility in fan tokens
Cryptocurrency investment space is not for the lazy. It requires quick decision making to reap profits in a market notorious for volatility.
Among thousands of options to invest in, one borrows from the term 'lazy', but as stated earlier, timing is important. The Lazio token, which also appears to pay homage to the ancient region of Lazio in Italy on the Tyrrhenian Sea, has some interesting features. Let's find out.
What is Lazio fan token?
Fan tokens have their own utility in the real world. The popular cryptocurrency, Bitcoin, may or may not become a universal legal tender, but fan tokens like Lazio come with a perfect usefulness.
Fan tokens allow the holders to become a part of the decision-making in the space they are linked to. For example, Socios.com is said to have joined forces with some elite sports ventures, including the Ultimate Fighting Championship (UFC) and the Paris Saint-Germain (PSG). Socios.com launches fan tokens for these sports teams, which the holders can use to have a say in governance.
What is Lazio fan token (LAZIO) & what is its price prediction?
Lazio is a Binance token, which makes it an interesting fan token considering the popularity and market share of Binance crypto exchange.
Also read: Is investing in altcoins better than Bitcoin?
How does Lazio token work?
The holders of Lazio gain voting rights within the sports venture, which it is linked to. Besides, there are special rewards that can be earned. The sports team recognizes the Lazio fan token holder as a VIP, who is given special access to view the sport in the VIP zone.
Lazio also claims to provide benefits like a visit to the player area, and discounts on the merchandise to holders. What's more? Lazio holders can even unite to decide what message is inscribed on the captain's armband, besides having an influence on the teams' governance decisions.
Lazio fan token performance
Lazio fan token is trading at nearly US$22 apiece as of now. It debuted on Binance recently, and hence not much data is available to analyze the price performance.
According to CoinMarketCap, Lazio's market cap is nearly US$199 million, which ranks it quite low as compared to multiple other crypto tokens, including Binance's own Binance Coin (BNB).
Lazio fan token price prediction
Lazio is a Binance Smart Chain based crypto token, and hence it might gain in value owing to the clout of this blockchain within the crypto universe.
Binance's official announcement regarding Lazio token sale on Launchpad on October 21, 2021, drew wide interest of crypto enthusiasts. It is claimed that 10 per cent of the total supply of Lazio token will go out in a public sale at a price of just US$1 apiece.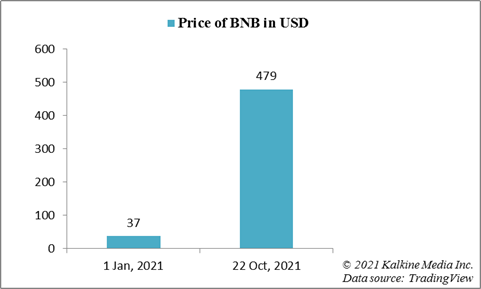 Considering the surge in major cryptos like Bitcoin and Ether in the recent weeks, Lazio can likely hover in the higher trajectory for the remaining months of 2021. BNB year-to-date (YTD) return is nearly 1,200 per cent, which indicates that Lazio may take a similar upward path.
Also read: Can Bitcoin end 2021 with a price tag of $100,000?
Bottom line
Fan tokens are the latest craze in the cryptocurrency world, just like non-fungible tokens (NFT). As they are linked to sports teams like football clubs, they have been adopted by many fans. Lazio fan token is a Binance backed crypto, which makes it a formidable player.