Source: everything possible, Shutterstock
Summary

iMining Blockchain stock resumed trading on the TSXV on Thursday after more than a month's halt
The stock surged by 263 per cent are trading resumes.
The company has already completed its due diligence to acquire the Canadian-based Ethereum staking service provider CanETH and is awaiting approval by the exchange.
Stocks of iMining Blockchain and Cryptocurrency Inc. (TSXV: IMIN) exploded as much as 263.63 per cent, as the company raised money to acquire CanETH Staking Services Inc., an Ethereum 2.0 solution provider.
On February 3, 2021, trading of iMining's stocks had been halted by the Toronto Stock Exchange (TSXV) as it reviewed its acquisition of CanETH. However, the company claims that it followed due diligence for the transaction and submitted required documents to the TSXV.
The shares resumed trading yesterday. Over 12.79 million shares changed hands in the intraday session.
iMining also concluded a private placement and raised C$ 2.155 million by offering 17.24 million subscription receipts at C$ 0.125 apiece. The company will finance the acquisition through the raised amount, as per the exchange filing.
Let us dive-deep into this crypto miner's financials and stock performance:
iMining Blockchain and Cryptocurrency Inc. (TSXV: IMIN)
This blockchain-powered financial firm operates in the crypto mining space. Its share price rocketed by 1,900 per cent in one year. The Vancouver-based company's share price is C$ 0.60.
It has yielded over 823 per cent this year, with a price-to-cashflow of 11.20. The stock has doubled from its previous 52-week high of C$ 0.30 per common share. It has sprinted back by 2,900 per cent from its COVID-caused low of C$ 0.020 (recorded on March 19, 2020).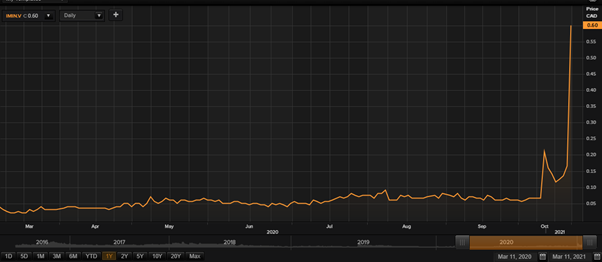 iMining Blockchain's One Year Stock Performance Chart. (Source: Refinitiv)
The latest crypto frenzy in Canada could help iMining to scale up its business.
There is an unprecedented influx of young cryptocurrency traders in the country. Millennials and Gen-Z have been downloading crypto apps to explore this red-hot market on foreign exchanges, including Binance, Coinbase, Webull, Cytpto.com, etc.
As a result, crypto trading platforms have also observed a higher transactions volume this year.