Highlights

CIBC (TSX: CM)'s dividend yield was more than 10 per cent as of writing

Fairfax (TSX: FFH) stock spiked by roughly 15 per cent in 12 months

National Bank's (TSX: NA) net income rose 11 per cent year-over-year (YoY) in Q2 2021
Economic factors like inflation surge and rate hikes are causing market-wide fluctuations, with Canada's benchmark index recording a quarter-to-date (QTD) loss of over 14 per cent on Thursday, June 23. The TSX financial index also slipped by roughly 14 per cent in 2022, which could be daunting for some investors.
However, a key point to note is that some quality financial stocks can still be explored for the long-term horizon as they are known to be robust market players with a long history of notable operations and performances.
Here are 10 of the best TSX financial stocks that could be explored for long-term stability.
1. Canadian Imperial Bank of Commerce (TSX: CM)
Canadian Imperial is among the top lenders in Canada, with market capitalization surpassing C$ 56 billion. Also referred to as CIBC, this financial institution offers personal and business banking, commercial banking and wealth management solutions in Canada and the US
CIBC reported a net profit of C$ 1.52 billion, in total, for the quarter that ended on April 30, 2022. The lender also posted a return on common shareholders' equity (ROE) of 14 per cent at the end of the latest quarter. Furthermore, CIBC's dividend yield was more than 10 per cent (the highest in this list). CM stock fell by almost 15 per cent in the past 52 weeks.
2. Toronto-Dominion Bank (TSX: TD)
Toronto-Dominion improved its total revenue to C$ 11.26 billion resulting in an increased net income of C$ 3.81 billion in Q2 2022 from C$ 3.69 billion in the same period of 2021.
The C$ 151-billion market cap lender also enhanced its financial position with total assets of C$ 1.82 billion at the end of Q2 2022, relatively higher than C$ 1.77 billion in the quarter that ended on January 31, 2022. TD Bank will disburse a quarterly dividend of C$ 0.89 per share on July 31. This bank scrip plunged by over three per cent in a year.
Also read: CM and TD: 2 TSX financial stocks to tackle rate hike fear
3. National Bank of Canada (TSX: NA)
National Bank reported a double-digit increase of 11 per cent in its net income to C$ 893 million in Q2 2022 than in Q2 2021. The Canadian lender also posted a dividend payout ratio of 32 per cent in the latest quarter, lower than 38 per cent a year ago.
As for its stock performance, NA scrip decreased by nearly 11 per cent in 52 weeks.
4. Fairfax Financial Holdings Limited (TSX: FFH)
Fairfax offers property and casualty insurance, reinsurance and related financial services via its subsidiaries. The insurance company increased its insurance contract receivables to US$ 7.6 billion at the end of Q1 2022, from US$ 6.88 as of December 31, 2021, which helped its total assets grow to US$ 52.36 billion in the balance sheet dated March 31, 2022.
Fairfax earned net premiums of US$ 4.77 billion in the latest quarter, comparatively higher than US$ 3.73 billion a year ago. This financial service company doles out an annual dividend of US$ 10 per share. FFH stock spiked by roughly 15 per cent in the last 12 months.
Also read: 2 TSX dividend stocks to buy as BoC hikes rates again: CM and SLF
5. Manulife Financial Corporation (TSX: MFC)
Manulife's profitability increased as its net profit surged by C$ 2.2 billion year-over-year (YoY) in Q1 2022. The financial company noted that its new business value in Canada rose to C$ 104 million and in the US grew to C$ 69 million in the latest quarter compared to C$ 78 million and C$ 44 million, respectively. In addition, this large-cap company has a dividend yield of over six per cent.
Manulife, earlier in June, outlined its global Impact Agenda to accelerate its environmental, social and governance (ESG) initiatives and focus on sustainability. MFC scrip dipped by about 10 per cent in a year.
6. Canadian Western Bank (TSX: CWB)
Canadian Western posted C$ 74 million in net profit in the second quarter of FY2022, up by three per cent YoY. The mid-cap bank said its expense efficiency ratio also swelled by 480 basis points (bps) YoY to 53.7 per cent in the latest quarter.
Canadian Western doles out a quarterly dividend, currently C$ 0.31 per share. The diversified financial firm also held an ROE of almost 11 per cent. CWB stock plummeted by nearly 30 per cent in 52 weeks.
7. goeasy Ltd (TSX: GSY)
goeasy is a financial technology firm that provides credit services to consumers. The small-cap firm's profitability, represented by its ROE, was about 25 per cent.
As goeasy saw improved demand for its products and channels, leading to a significant surge of 75 per cent in loan originations to C$ 477 million in Q1 2022 compared to Q1 2021. The fintech firm noted a YoY rise of 25 per cent in its operating income to C4 80 million in the latest quarter. On July 8, goeasy is set for a quarterly dividend payout of C$ 0.91. As of its stock performance, goeasy scrip declined by almost 46 per cent in 2022.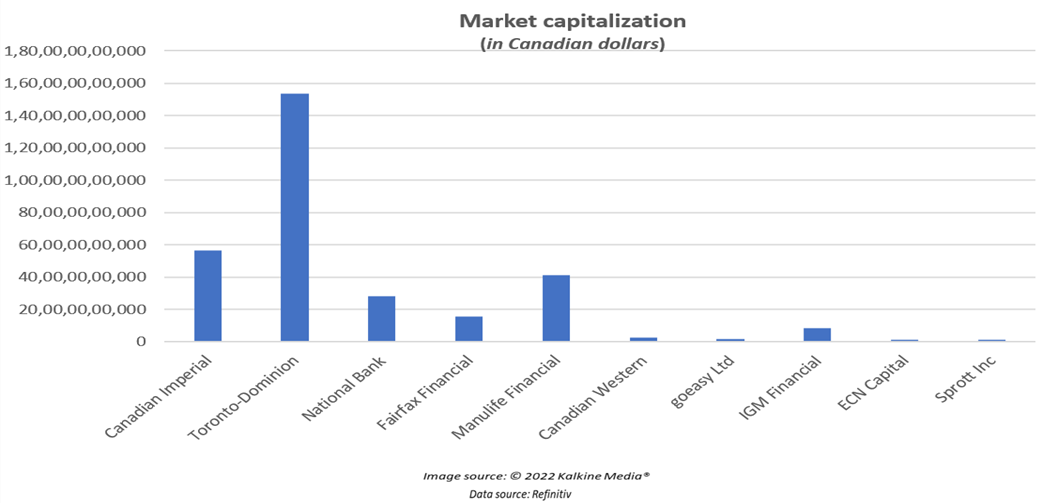 8. IGM Financial Inc (TSX: IGM)
Non-banking financial company IGM said its net profit swelled by 8.5 per cent YoY to C$ 219.3 million in the first quarter of 2022. The asset management company pointed out this was a record high Q1 net profit in its history.
IGM Financial will deliver a quarterly dividend of C$ 0.563 per share on July 29. IGM scrip lost nearly seven per cent in four weeks.
9. ECN Capital Corp (TSX: ECN)
ECN Capital posted originations of US$ 398 million in Q1 2022, reflecting a YoY increase from US$ 299.6 million reported a year ago. However, the credit service provider's net profit slipped to US$ 4.3 million in the latest quarter compared to US$ 5.9 million in the previous year's quarter.
ECN's ROE stood at 240.48 per cent, showing high profitability. However, the debt-to-equity (D/E) ratio of 2.35, above 1, shows that it primarily uses debt financing over equity. ECN stock gained by over eight per cent year-to-date (YTD).
Also read: TFII and CIX: 2 Canadian value stocks to ease recession worries
10. Sprott Inc (TSX: SII)
Sprott posted C$ 23.7 million in assets under management (AUM) at the end of Q1 2022, representing a YoY growth of 16 per cent from the previous quarter. The small-cap asset management firm saw its net profit surge by C$ 3.3 million YoY to C$ 6.5 million in the latest quarter.
Sprott pays a dividend of US$ 0.25 to its shareholders every quarter. SII stock slipped by almost three per cent in 52 weeks.
Bottomline
These TSX financial stocks could offer some stability to investors in the long term. Also, some of companies mentioned here are dividend aristocrats and could provide a boost to portfolio income. Hence, Canadians investors can explore these financial service stocks if thinking about long-term.
Please note, the above content constitutes a very preliminary observation based on the industry, and is of limited scope without any in-depth fundamental valuation or technical analysis. Any interest in stocks or sectors should be thoroughly evaluated taking into consideration the associated risks.