Highlights

As on June 30, 2022, the net income for TELUS Corporation was C$ 498 million.
As of September 30, 2022, Enbridge Inc. acquired Tri Global Energy, a Renewable Energy Developer.
Gross profit for Pembina Pipeline Corporation was calculated at C$ 711 million in Q2 2022.
TFSA and RRSP are saving options that require a thorough understanding to take advantage of them. Contributing to the TFSA gives you tax-free income as output, while the taxable income is reduced through RRSP contributions for the respective year.
As an investor, TSFA and RRSP can be used when the right option is available. Selecting stocks to put into these accounts can be tasking. So, one should make sure the market is studied well before investing.
Do you involve yourself in market research and keep a close eye on the stocks you are targeting to add to your portfolio?
If you are a long-term investor, consider the factors that play a crucial role in the market and individual stocks.
Here, let us analyze a few dividend stocks and look at their performances in recent quarters:
TELUS Corporation (TSX: T)
TELUS Corporation is a wireless service provider and a local exchange carrier. It provides landline, television, and internet services. The company has an employee size of 90,800.
For the quarter ending June 30, 2022, the net income for TELUS Corporation was C$ 498 million, an increase of approximately 45 per cent.
In Q2 2022, the total customer growth was 247,000, an increase of 24,000 over the previous year.
The quarterly dividend announced by the company was C$ 0.339 with a dividend yield of 4.798 per cent. Reportedly, the earnings per share (EPS) is C$ 1.34.
Toronto-Dominion Bank (The) (TSX: TD)
Toronto-Dominion operates in Wholesale banking and retail banking in the US and Canada. Moreover, it owns a 13 per cent stake in Charles Schwab.
For the third quarter of fiscal 2022, Toronto-Dominion's earnings (adjusted) were C$ 3.8 billion, up 5.1 per cent. There was an increase (from the year-ago quarter) in the company's assets in Q3 2022, which were reported at C$ 1,840.8 billion.
Currently, the company has a total market capitalization of C$ 156.6 billion, and the quarterly dividend announced by the company for its shareholders was C$ 0.89.
Reportedly, as of September 15, 2022, the company announced to build 15 more stores in Charlotte, North Carolina, by 2025 to cater to the increasing population.
The graph below illustrates the company equity changes between the two quarters.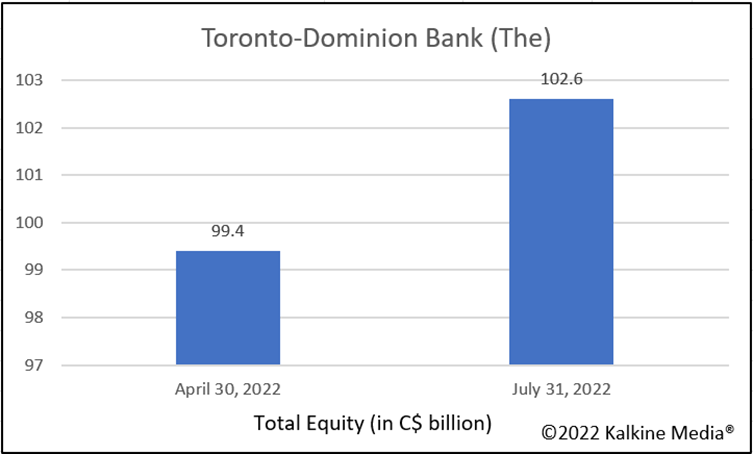 Enbridge Inc. (TSX: ENB)
Enbridge owns midstream assets used for the transportation of hydrocarbons across the U.S. and Canada.
In Q2 2022, the adjusted earnings were C$ 1.4 billion and remained unchanged compared to the previous year. Moreover, the company's cash provided by operating activities remained unchanged at C$ 2.5 billion.
In Q2 2022, Enbridge reaffirmed its guidance for 2022 and expected its EBITDA to be in the range of C$ 15 billion to C$ 15.6 billion.
The company also acquired a renewable energy developer called Tri Global Energy. Enbridge distributed a quarterly dividend of C$ 0.86.
Royal Bank of Canada (TSX: RY)
Royal Bank of Canada is the largest bank in the country and offers diversified financial services. The C$ 174.6 billion market cap company has an employee size of 88,541.
The net income for Royal Bank of Canada in Q3 2022 went down by 17 per cent year-to-year (YoY) and was reported at C$ 3.6 billion. The company's diluted EPS of C$ 2.51 was also down by 15 per cent on a yearly basis.
Further, the quarterly dividend announced by the company was C$ 1.28. The EPS is reported to be C$ 11.01 with a price-to-earnings (P/E) ratio of 11.40.
Reportedly, as of September 27, 2022, the RY completed the acquisition of Brewin Dolphin Holdings PLC, a wealth management firm.
Pembina Pipeline Corporation (TSX: PPL)
Pembina Pipeline is a midstream company with an integrated product portfolio that includes pipelines and assets across the storage. It also is involved in propane exports and gas gathering.
The C$ 24.8 billion market cap company, Pembina Pipeline, pays a dividend of C$ 0.217 on a monthly basis. It is next payable on October 14, 2022.
In the second quarter of 2022, Pembina Pipeline posted total revenue of C$ 3,095 million compared to C$ 1,902 million in the year-ago quarter. Further, the EBITDA (adjusted) is C$ 849 million compared to C$ 778 million in the previous quarter.
Moreover, for the quarter that ended on June 30, 2022, the gross profit was calculated at C$ 711million.
Bottom Line
As the market is highly volatile this year, a long-term strategy might protect an investor from losing money. As an investor, closely watch the performances of the stocks before coming to any decision. TFSA and RRSP are options worth exploring and should be aligned with your stocks. Make sure to select your stocks carefully and check with every fluctuation happening around.
Please note, the above content constitutes a very preliminary observation based on the industry and is of limited scope without any in-depth fundamental valuation or technical analysis. Any interest in stocks or sectors should be thoroughly evaluated taking into consideration the associated risks.