Highlights:

goeasy Ltd. (TSX: GSY) has a market cap of C$ 1.9 billion.
Royal Bank of Canada pays a dividend of C$ 1.28.
BCE Inc.'s media revenue surged 8.7 per cent in the second quarter of 2022.
The times are turbulent for the stock market worldwide due to several headwinds. Even before completely emerging from the effects of the pandemic, the war broke out between Russia and Ukraine leading to a massive supply chain disruption.
The geopolitical tensions and rising inflation have impacted the stock market, which saw established companies crumble during the year's first half.
So, for a new investor, it can be daunting to enter the market. They should carefully analyze the stocks of companies before deciding.
Here are a few stocks explored by Kalkine Media®:
goeasy Ltd. (TSX: GSY)
Mississauga, Ontario-based goeasy Ltd. is a Canadian financial services firm that offers loans to non-prime borrowers. It also has two business segments apart from that-easyhome and LendCare.
goeasy has a market cap of C$ 1.9 billion and distributes a dividend of C$ 0.91 per share quarterly.
Its earnings per share (EPS) was 10.72, while its price-to-earnings (P/E) ratio was 11.3 as of September 21, 2022.
The company registered a net income of C$ 38.3 million in Q2 2022, up 97 per cent from C$ 19.5 million in the year-ago quarter. goeasy said its operating income in Q2 2022 was a record C$ 85.2 million, whereas it was C$ 56.1 million in the same period in 2021.
goeasy also had a Q2 2022 organic loan growth of C$ 216 million, complemented by stable credit performance.
Royal bank of Canada (TSX: RY)
Royal Bank of Canada is a global financial services firm and is the largest Canadian bank by market valuation. The 89,000-strong employees' company serves more than 17 million customers worldwide. It has a market capitalization of 177.095 billion.
The RY stock rose over 0.63 per cent year-to-date (YTD), while over the past month, it increased more than four per cent.
Royal Bank of Canada announced a quarterly dividend of C$ 1.28, next payable on November 24, 2022.
The RY shares attained its highest 52-week highest price of C$ 149.59 on January 17, 2022, while tanking to its 52-week lowest price of C$ 118.24 on July 15, this year.
For the quarter that ended July 31, 2022, Royal Bank of Canada achieved a net income of C$ 3.6 billion, down C$ 719 million from the year-ago quarter. The company's diluted EPS of C$ 2.51 also fell 15 per cent from the same quarter in 2021.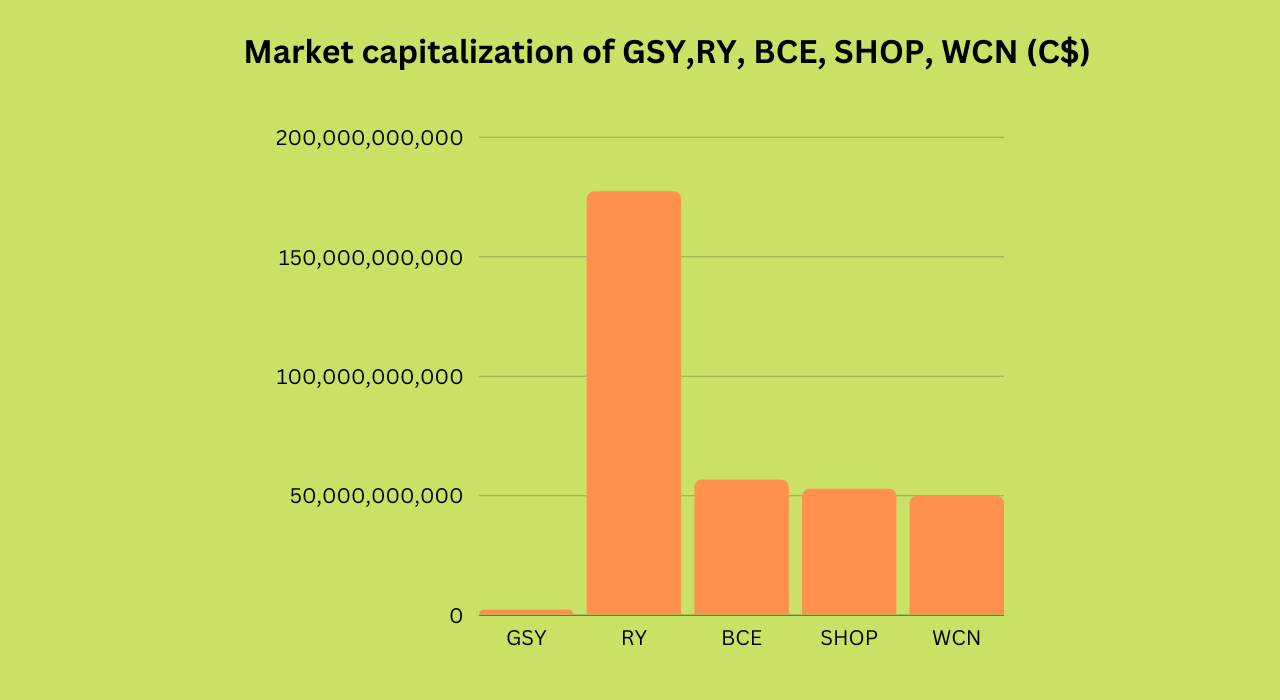 Source: ©Kalkine Media®; © Canva via
BCE Inc. (TSX: BCE)
BCE Inc. is a holding company for Bell Canada, comprising telecommunications providers and many mass media assets. It was formerly known as Bell Canada Enterprises Inc.
BCE Inc. is a C$ 56.4 billion company that paid a quarterly dividend of C$ 0.92. The next payout is slated on October 15 this year.
While the BCE stock tumbled by over 6.18 per cent YTD, it decreased by 2.41 per cent in the current quarter.
As per Refinitiv data, BCE stocks had a Relative Strength Index (RSI) of 61.74 on September 21, 2022. This indicates that the stock may have a stable market condition currently.
In the 2nd quarter of 2022, BCE Inc.'s media revenue grew 8.7 per cent with 5.6 per cent adjusted EBITDA growth. The company's digital revenue also increased by 55 per cent.
BCE Inc. posted second-quarter 2022 operating revenues of C$ 5,861 million, compared to C$ 5,689 million in the same quarter in 2021, which is a growth of 2.9 per cent.
Shopify Inc. (TSX: SHOP)
Shopify Inc. is a Canadian global e-commerce company based out of Ottawa, Ontario. Shopify is the e-commerce platform for virtual stores and retail POS (point-of-sale) systems.
Shopify is a C$ 52.5 billion market valuation company. On a yearly basis, the SHOP stock declined by over 77.47 per cent. However, in the latest quarter, it rose by over two per cent.
The company's total revenue in Q2 2022 rose by 16 per cent YoY to C$ 1.3 billion. Meanwhile, its monthly recurring revenue (MRR) for Q2 FY22 was C$ 107.2 million, up by 13 per cent year-over-year. It was attributed to a higher number of merchants joining the platform and the jump in the number of retailers using POS Pro.
Shopify's operating loss for Q2 2022 was reported at C$ 190.2 million, versus an income of C$ 139.4 million in the year-ago same period.
Waste Connections (TCX: WCN)
Waste Connections is a provider of solid waste and recycling services in North America that entered the Canadian market in 2016, merging with Progressive waste. The firm generated 14 per cent of the consolidated revenue from its Canada operations.
The WCN stock jumped over 5.67 per cent YTD while rising 16.17 per cent in the current quarter. As per Refinitiv, as of September 21, 2022, the RSI value of the stock was 55.86. It indicates that the stock could be stable.
Waste Connections posted revenue of C$ 1.816 billion in the 2022 second quarter, up 18.4 per cent from the corresponding quarter a year ago.
Its net income in 2022 Q2 was C$ 224.1 million, while the adjusted EBITDA was reported to be C$ 566.8 million.
Bottom line:
Investing has become challenging as the market has remained volatile since 2022. Even seasoned investors are wary of picking stocks in a bearish market triggered by rising inflation, macroeconomic factors, and interest rates.
The constant fear of a looming recession has also impacted the market. So, as new investors, it is even harder. One should do a proper analysis of the fundamentals of the companies before making any decision.
Please note, the above content constitutes a very preliminary observation based on the industry and is of limited scope without any in-depth fundamental valuation or technical analysis. Any interest in stocks or sectors should be thoroughly evaluated taking into consideration the associated risks.