Summary

Rogers Communications recorded a double-digit surge in its consolidated revenue in Q2 2021.
The 5G telecom firm's stock could soar to a new 52-week high before July ends.
The company plans to expand its 5G data network coverage from the current 50 per cent to 70 per cent within the second half of 2021.
Rogers Communications Inc. (TSX:RCI.B) posted a double-digit top line surge in the second quarter of 2021. Its quarterly profit was also up by eight per cent on a year-over-year (YoY) in the period, led by a strong monthly postpaid churn of 80 basis points.
Its cable and wireless services segments' top line increased by five and two per cent YoY for Q2 2021, respectively. In Q1 2021, the wireless segment revenue was down by six per cent YoY.
Rogers reported consolidated revenue of C$ 3.58 billion for Q2 FY21, noting a rise of 14 per cent YoY from that of C$ 3.15 billion a year ago.
The company registered an adjusted bottom line of C$ 387 million for the previous three months, up 25 per cent YoY against C$ 310 million in Q2 FY20.
The telecom giant recorded diluted earnings per share (EPS) of C$ 0.60 in the latest quarter, which was an increase of 11 per cent YoY versus the EPS of C$ 0.54 a year ago.
Now, let us delve into the 5G stock's price movement and financial outlook.
Rogers Communications Inc. (TSX:RCI.B)
The large-cap firm declared a dividend of half a dollar per share for the third quarter of 2021. Its dividend yield presently stands at around three per cent.
Rogers stock is trading at 66.96 apiece, with a market cap of C$ 33.80 billion. It gained nearly 13 per cent year-to-date (YTD) and recorded a one-year high of C$ 67.06 apiece on July 7.
The internet data provider's stock could register a new 52-week record this month, led by its Q2 2021 earnings performance.
The scrip has returned more than 20 per cent in the last one year.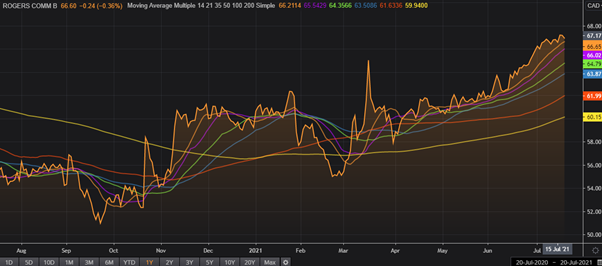 Rogers' one-year price chart against moving average multiple. (Source: Refinitiv)
Rogers stock maintained an uptrend throughout the second quarter of 2021. It is likely to sustain this bull rally in the second half of this year.
Rogers' Outlook For 2021
Rogers Communications' financial results may strengthen its proposed bid for Shaw Communications Inc. (TSX:SJR.B). The company has already made a C$ 26 billion deal with Shaw, which awaits the Canadian telecom regulatory body's approval.
By acquiring Shaw, Rogers plans to expand its 5G network coverage from 50 per cent to t0 70 per cent Canadians by the end of this year.