Highlights

The COVID-19 pandemic has significantly increased the traction for online gaming and esports.
A company listed below has posted a return on equity of 18.91 per cent.
A stock mentioned here has increased by more than 75 per cent in the last nine month.
With technological advancement and upgradation, the e-gaming and esports space is rapidly evolving. People were addicted to online platforms even before the pandemic, but it could be said that pandemic has significantly increased the traction of this industry.
This increased interest in the online gaming and esports space has in turn, given way to a surge in demand and demand for companies involved in the game.
Also read: Top 5 Canadian gold stocks to buy at low prices & hold long term
On that note, let us explore three Canadian online gaming stocks.
1. Spin Master Corp (TSX: TOY)
Canadian entertainment player Spin Master Corp provides almost all kinds of gaming experiences across the globe.
On Monday, November 10, Spin Master stock closed at C$ 48.41 per share, up by roughly 16 per cent in the last week.
It has also increased by more than 75 per cent in the last nine months. On a year-to-date (YTD) basis, it has gained nearly 67 per cent.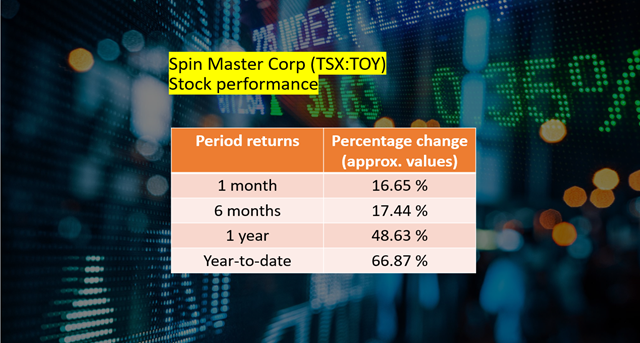 Image source: © 2021 Kalkine Media Inc     
The Toronto-headquartered gaming company reported a year-over-year (YoY) rise of 25 per cent in its total revenue to US$ 714.5 million in the third quarter of fiscal 2021.
Its net income stood at US$ 135.4 million in Q3 FY2021, up from that of US$ 86.8 million in the in the same quarter a year ago.
The C$ 1.5-billion market cap company held a return on equity (ROE) of 18.91 per cent and a return on assets (ROA) of 11.49 per cent (as of Thursday, November 11).
2. Bragg Gaming Group Inc (TSX: BRAG)
Bragg Gaming Group Inc is a Toronto-based electronic gaming firm that provides business-to-business gaming technology and casino content aggregation.
The e-gaming giant saw its stock close at a price of C$ 9.85 per share on November 10, noting a one-year return of more than 23 per cent.
On the financial front, Bragg Gaming posted a YoY rise of 9.9 per cent in its revenue of US$ 15.2 million in Q3 FY2021. Its wagering revenue was US$ 3.8 million in this quarter, representing a YoY growth of 4.8 per cent.
Moreover, it reported a YoY decrease of US$ 0.8 million in its net loss, which amounted to US$ 2.9 million in the latest quarter.
3. Playgon Games Inc (TSXV: DEAL)
Canadian online gaming company Playgon Games Inc leverages its proprietary software technology to the global e-gaming market.
Playgon Games, headquartered in Vancouver, saw its stock close at C$ 0.37 per share on November 10, up by 17.46 per cent.
Its stock has soared by more than 25 per cent in the last month at this price level. On a quarter-to-date (QTD) basis, it has swelled by more than 17 per cent. It has also jumped by almost three per cent in the past one year.
Playgon Games has reportedly surpassed a C$ 54 million-mark in betting turnover in October this year. Three new operates are also said to have onboarded with VegasLoungeTM , its proprietary live dealer platform, said an announcement on October 28.
On the valuation side, Playgon Games held a P/B ratio of 7.40 and debt-to-equity (D/E) ratio of 0.18 on November 11.
Also read: 3 top Canadian psychedelic stocks to buy
Bottom line
The online gaming industry could gain further momentum as metaverse becomes a reality and technology evolves further.
Some gaming companies are already trying to explore the metaverse concept for the gaming world, which is expected to take the global gaming space to another new level.
However, investors should be mindful about the recent developments in the online gaming space. Further, a company's details, like its financials, fundamentals, operational updates, etc. should be closely considered before venturing into any investment decisions.