Highlights

Investors saving for retirement could consider TSX bluechip stocks

Canada's main equity index plunged over 12 per cent in 2022

Stocks of Telus zoomed by almost five per cent in nine months
Investors looking for a financially healthy retirement life could consider TSX bluechip stocks like Manulife (TSX: MFC), Telus (TSX: T), Barrick (TSX: ABX) etc, which are currently priced under C$ 30, for their RRSP accounts.
Canada's main equity index plunged by over 12 per cent in 2022 amid market uncertainty resulting from economic factors, including Consumer Price Index (CPI) growth and policy rate measures to control price pressure. On Wednesday, June 13, Canada's top lender pushed its interest rates up by one per cent to tackle inflationary challenges as the nation's CPI rose 7.7 per cent in May 2022.
As these factors could continue to impact investors' behaviour and stock markets in the short run, RRSP investors could look at some relatively robust TSX stocks that can outlive such economic challenges and offer value in the long horizon. Let us look at five such TSX bluechip stocks.
1.

Manulife Financial Corporation (TSX: MFC)
Manulife provides life insurance and wealth management services in Canada, with a market capitalization of more than C$ 43.02 billion. Manulife recorded a dividend yield of almost six per cent (a financial ratio that shows how much annual dividend a company pays relative to its current stock price).
MFC stock slipped by nearly seven per cent in 52 weeks. As per Refinitiv data, Manulife stock breached its support levels and clocked a 52-week low of C$ 21.28 on June 23. MFC reportedly recorded a Relative Strength Index (RSI) of 48.38 (near moderate level) on July 13.
2.

Telus Corporation (TSX: T)
Telus announced to buy LifeWorks (TSX: LWRK) in a deal of C$ 2.3 billion in mid-June. With this deal, the 5G internet provider aims to grow its healthcare solutions.
Stocks of Telus zoomed by almost five per cent in nine months. According to Refinitiv, Telus saw an RSI value of 42.25 on July 13.
3.

Barrick Gold Corporation (TSX: ABX)
Barrick Gold released its preliminary results for Q2 FY2022 on Thursday, July 14. Barrick said its preliminary sales were 1.04 gold ounces and 113 million copper pounds. In addition, its preliminary production amounted to 1.04 million gold ounces and 120 million pounds of copper.
ABX stock decreased by over 18 per cent in a year. As per Refinitiv information, ABX stock noted an RSI of 27.23 on July 13, indicating an oversold condition.
4.

Algonquin Power & Utilities Corp (TSX: AQN)
Algonquin increased its quarterly dividend to US$ 0.181 (payable on July 15) from C$ US$ 0.171 paid in the last quarter. AQN stock diminished by about seven per cent in the last 52 weeks. According to Refinitiv, AQN stock recorded an RSI of 44.36 on July 13, up from the oversold mark of 30.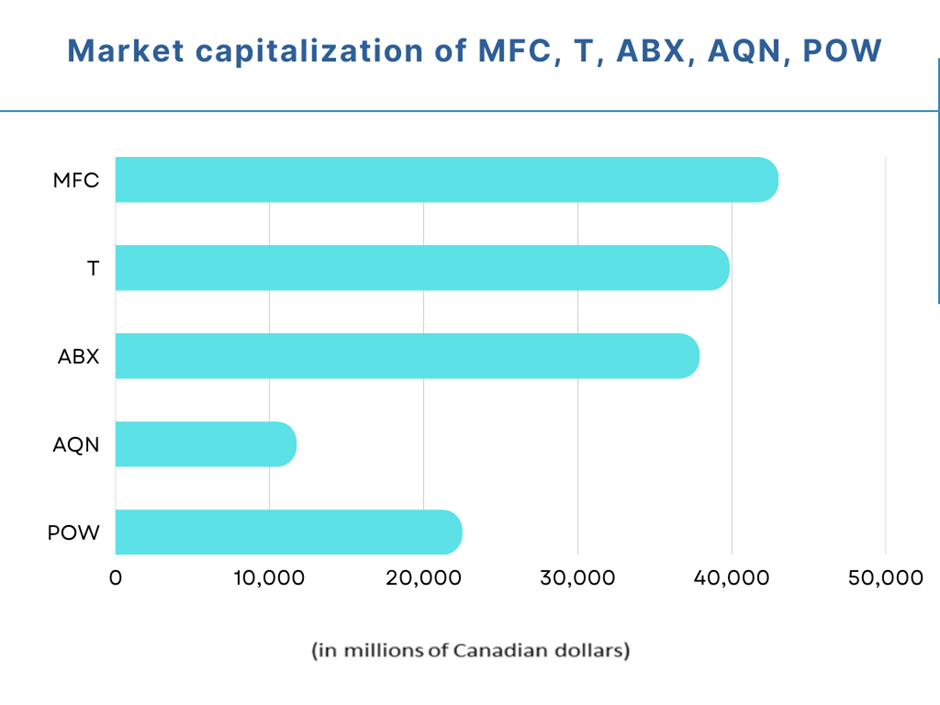 ©Kalkine Media®; ©Garis Studio via Canva.com
5. Power Corporation of Canada (TSX: POW)
Power Corporation is a C$ 22.49-billion market cap financial service company. The Canadian insurer will disburse a quarterly dividend of C$ 0.495 on July 29. POW stock slumped by over 14 per cent and, as per Refinitiv, had an RSI of 43.45 on July 13.
Bottomline
Investors looking for quality TSX stocks for their RRSP portfolio could consider these bluechip stocks as some are currently available at discounted prices and could offer significant long-term value in addition to dividend income.
Please note, the above content constitutes a very preliminary observation based on the industry, and is of limited scope without any in-depth fundamental valuation or technical analysis. Any interest in stocks or sectors should be thoroughly evaluated taking into consideration the associated risks.