Summary

Rritual Superfoods' products have been approved for listing on the Company's Amazon Store in the US.
The Company has partnered with the full-service Amazon agency, Orca Pacific, to build and optimise the Rritual Amazon store.
The superfood player is confident that Amazon store eCommerce rollout will increase brand value and expand the customer reach of Rritual.
In yet another significant move regarding its US market strategy, Rritual Superfoods Inc (RSF:CSE) announced that its products have been approved for listing on the Company's Amazon Store in the US. The listing is scheduled for the end of June.
ALSO READ: Rritual Superfoods, CROSSMARK gear up for full rollout in the US
Source: © M-sur|Megapixl.com
Rritual's partnership with Orca
Rritual Superfoods also announced a collaboration with Orca Pacific, an Amazon agency, to build and enhance the Rritual Amazon store and execute its digital marketing strategy.
The Company disclosed that its engagement with Orca and rollout on Amazon would firmly support RSF's mission for its products to meet the consumers' desire and be available for convenient purchase. Through the partnership, Rritual will also focus on Amazon Prime listing.
Rritual is confident that Amazon store eCommerce rollout would elevate the Rritual brand and expand customer reach across the country.
MUST READ: Rritual Superfoods smashes full year US retail distribution targets within six months
Rritual Superfoods and Amazon in discussions since late 2020
In late 2020, Rritual Superfoods emerged as a winner at the annual ERCM Buyer's Choice Awards. ECRM is at the forefront of virtual commerce and makes the buying and selling process more efficient by boosting connections between the buyers and suppliers via key programs that use digital as well as face-to-face platforms.
DID YOU KNOW: Rritual to meet global retailers at ECRM European Virtual Conference
Since winning the prestigious award, Rritual has been in discussions with Amazon and actively involved in the launch of the Rritual Amazon store.
RSF is developing a Superfood Platform dedicated to broader distribution and modern innovation. At the fore of innovation, Rritual seeks to become a premium brand in the emerging functional mushroom and adaptogenic superfood market. The Company aspires to lead and define the superfoods category, and access to its product line on Amazon is a significant part of the ambition.
DO READ: Rritual makes deeper inroads in the US with product launch on Rite Aid e-commerce platform
Based on a survey conducted by Feedvisor on over 2,000 customers in the US, 89% of the consumers were more likely to buy from Amazon than other eCommerce websites.
Management Commentary
Mr David Kerbel, CEO of Rritual, stated-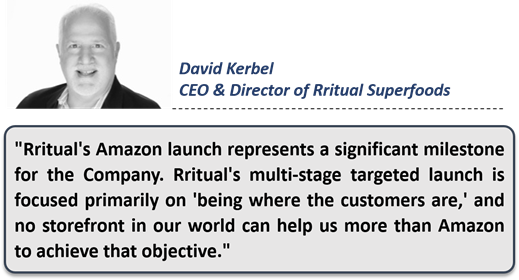 Peter Palarchio, Director of Marketing for Rritual, commented-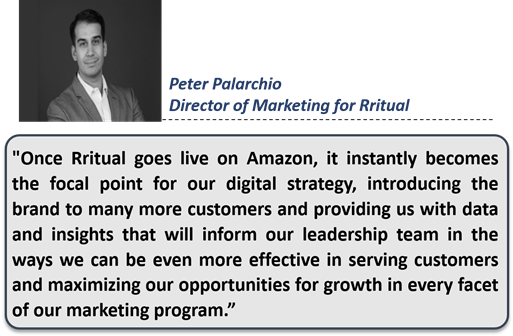 On 17 June 2021, RSF shares last traded at CA$0.79.
ALSO READ: New purchase orders worth CA$306K sweeten the pot for Rritual Superfoods