Highlights

Blockchain and BTC are now household names, and SpendTheBits is an enabler in this space
SpendTheBits is led by Jaskaran Kambo, who founded the company with a vision to make Bitcoin & crypto everyday currency for everyone via utilizing the xrp ledger technology.
Others, including the COO and CTO, inject cost efficiency and technical superiority into the app
Blockchain has been gaining popularity by the day. What started with a blockchain-based crypto asset like Bitcoin (BTC) is now a space with elements like NFTs, DeFi, and Web3.
Celebrities like Madonna and Paris Hilton are launching NFTs or non-fungible tokens. DeFi or Decentralized Finance is said to be competing against the traditional 'centralized' financial landscape. It has features like lending and borrowing of digital assets, collateralized loans, and passive income in the form of interest. Web3 or Web 3.0, as popularly referred to, is said to be the internet version that can shift the balance of power toward users.
Blockchain is making inroads in every sphere -- financial, social, and more -- like no other tech today. What's more? S&P Dow Jones, the company that manages the S&P 500 Index, now has indices to track the price of BTC. Not just that, companies like Tesla and MicroStrategy are also investing in BTC, that too in billions. Sovereigns are also warming up to cryptos. Recently, Ukraine allowed donations in crypto assets in the wake of the geopolitical conflict.
Where does the SpendTheBits app fit in this scheme of things? And what does the team at SpendTheBits bring to the table?
SpendTheBits cryptocurrency app
Having realized that crypto assets are finding increased acceptance, SpendTheBits entered the scene to make it more secure for stakeholders.
The app uses XRP Ledger, built for real-time "Payments." XRP Ledger allows SpendTheBits to facilitate quick transfers of crypto assets. The app is claiming to take its deposits and withdrawal features further, creating a robust crypto-asset ecosystem. Here, users can store their assets safely, besides using them for spending purposes. XRP Ledger also helps in bringing down transaction costs, the app asserts.
BTC funds reflect in the user's wallet instantly after the first confirmation on the blockchain, SpendTheBits claims. For now, the company is focusing on BTC, but it is eyeing more assets in upcoming app versions. The future road map includes a Merchant Portal rollout so our users can pay for goods and services using the App.
Also read: Salient features of SpendTheBits that make it a perfect app for crypto users.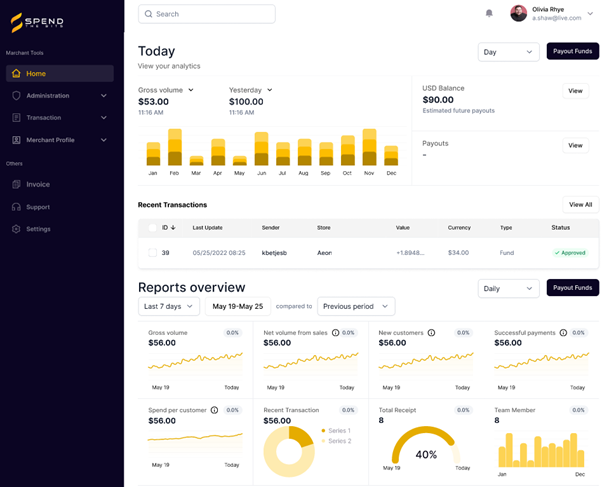 Source: SpendTheBits Merchant Portal Screenshot
Team at SpendTheBits
Jaskaran Kambo, Chief Executive Officer
Jaskaran brings the know-how of multiple industries, including banking and software development. The two sectors underlie the crypto-verse, with cryptos arguably becoming a new 'alternative investment' asset.
Jaskaran, aka Jay, founded the company using his expertise during his stints at Servus Credit Union, Manulife, Canadian Western Bank, and ATB Financial. He has a rich knowledge of computer systems and project management. He counts Thompson Rivers University as his alma mater. Jay assessed all blockchain networks ahead of starting his SpendTheBits journey. XRP Ledger's slew of security features and efficiency backed his decision to underpin SpendTheBits using this blockchain.
Ashish Rathi, Chief Operating Officer
Ashish is one of the two key tech guys at SpendTheBits. His primary focus has always been operational efficiently by lapping up emerging technologies.
Ashish has a rich experience in Python, JavaScript, PHP, and other tech used in programming. Android development has been another focus area. He has had stints at WestJet and other companies, primarily IT service providers. Ashish manages micro and macro-operational aspects at SpendTheBits.
He invests energy in making the user interface easier without losing privacy and security. He prioritizes the release of timely app versions to keep it bug-free.
Aditya Agarwal, Chief Technology Officer
Aditya is the second tech-focused person. Aditya brought to SpendTheBits the decades of rich expertise he gathered while working with Microsoft, GE, and other tech giants.
Though SpendTheBits is an uncomplicated affair for the user, what lies beneath is complex tech. Aditya holds proficiency in programming, frameworks, languages, and other technologies. He is who turns the web of complex software elements into an easy-to-use interface for users. He oversees every aspect of technology at SpendTheBits, with cybersecurity as the priority.
SpendTheBits avails the services of many experts to make the app a low-cost, high-security enabler for crypto enthusiasts. In a world that is embracing blockchain tech, alongside assets powered by the same, the app claims to provide a technologically advanced user experience.
Also read: What's in Canada Budget 2022 for cryptocurrency enthusiasts?
Risk Disclosure: Trading in cryptocurrencies involves high risks including the risk of losing some, or all, of your investment amount, and may not be suitable for all investors. Prices of cryptocurrencies are extremely volatile and may be affected by external factors such as financial, regulatory, or political events. The laws that apply to crypto products (and how a particular crypto product is regulated) may change. Before deciding to trade in financial instrument or cryptocurrencies you should be fully informed of the risks and costs associated with trading in the financial markets, carefully consider your investment objectives, level of experience, and risk appetite, and seek professional advice where needed. Kalkine Media cannot and does not represent or guarantee that any of the information/data available here is accurate, reliable, current, complete or appropriate for your needs. Kalkine Media will not accept liability for any loss or damage as a result of your trading or your reliance on the information shared on this website.