Highlights

The global crypto market cap has crossed over US$1 trillion.
SpendTheBits is a cryptocurrency payment mobile app built on a decentralized open-source platform, XRP Ledger.
SpendTheBits plans to add more digital assets support to its app.
Cryptocurrencies, the most contemporary of all asset classes, are piquing the interest of many, so much so that regulators and government authorities are now taking it very seriously.
Though, how the crypto industry will unfold in the long run is a subject of speculation, it has arguably become an alternative investment destination for many. Many retail investors have lapped up blockchain-based digital assets including BTC and NFTs. Not just retail investors, big corporates like Tesla and MicroStrategy have also deployed their cash into BTC.
That said, investing or transacting in cryptocurrencies has its own set of complexities. One entity, SpendTheBits, has sworn to weed out all the concerns to provide a secure pathway to crypto investments and payments.
SpendTheBits -- What is it?
SpendTheBits is touted to be a perfect solution to crypto holding and spending needs, with XRP Ledger underpinnings.
The app can be downloaded on a smartphone to store BTC in a secure manner. SpendTheBits envisages to create an ecosystem where crypto assets are readily used in payments. This aligns with the vision of Bitcoin creators, who foresaw BTC as complementing fiat currencies like the USD and CAD. One of the key features of SpendTheBits is instant BTC deposits.
Read: Salient features of SpendTheBits that make it a perfect app for crypto users
SpendTheBits is contemplating on adding more cryptos to its app considering investors' growing interest in altcoins like DOGE and SHIB.
Also read: Explained: How many types of cryptos are there?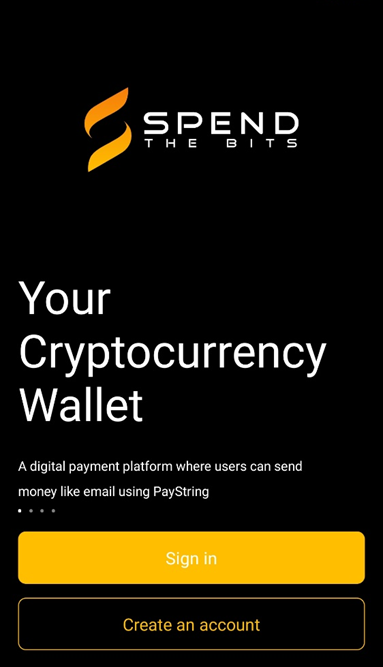 Source: Screen grab of SpendTheBits app
SpendTheBits vs. traditional exchanges and wallets
Focus
Source: Screen grab of SpendTheBits app
CoinMarketCap, which tracks the prices of cryptos, has over 19,000 digital assets listed on its website. Exchanges like Coinbase also support a large number of crypto assets for trading purposes. But this may add complications for investors by heightening the risks of picking a seemingly popular but fundamentally weaker crypto asset.
SpendTheBits has its focus on BTC for now, and any further additions would be backed by proper due diligence of the digital asset. BTC is the largest crypto asset, holding a whopping 40% share in the total market cap.
Technology
The debate around centralized (CEX) and decentralized exchanges (DEX) aside, the primary focus now is on how secure any platform is to hold and move cryptos.
Watch this video for more information on SpendTheBits app. (Source: YouTube link of SpendTheBits app)
SpendTheBits uses XRP Ledger -- which also powers one of the top ten cryptos, XRP token -- to ensure the security of transactions. XRP Ledger boasts "no chargebacks", with support for a variety of digital assets. SpendTheBits' use of XRP Ledger separates it from conventional crypto wallets and exchanges. The feature that lets SpendTheBits users store private keys on a local device further strengthens the security of digital assets.
Costs and speed
Source: Screen grab of SpendTheBits app
One of the key features of cryptos is the speed of transactions, besides the costs involved in remittance. This is arguably their biggest USP. Typical wallets and exchanges may either fail on both or any one of these.
SpendTheBits claims to have a mechanism that transfers BTC instantly. This emanates from transaction materializing immediately via utilizing the consensus mechanism of XRPL. The app also claims to reduce the underlying costs to put the maximum returns in investors' pockets.
Eco-friendly
If there was one element that compelled Ethereum's blockchain to move from proof-of-work to proof-of-stake, it was the energy inefficiency of the proof-of-work validation method. Extensive energy usage of the crypto industry has regularly drawn criticism from various quarters.
Source: Screen grab of SpendTheBits app
SpendTheBits' reliance on XRP Ledger lowers the power consumed when transactions are recorded. In some manner, the app claims to add to the world's fight against climate change.
Takeaway
With cryptos fast becoming an alternative investment asset for a section of investors, it is time that enablers like wallets and exchanges become cost-efficient and energy-efficient. SpendTheBits, which has both these attributes, asserts it can be the solution.
Risk Disclosure: Trading in cryptocurrencies involves high risks including the risk of losing some, or all, of your investment amount, and may not be suitable for all investors. Prices of cryptocurrencies are extremely volatile and may be affected by external factors such as financial, regulatory, or political events. The laws that apply to crypto products (and how a particular crypto product is regulated) may change. Before deciding to trade in financial instrument or cryptocurrencies you should be fully informed of the risks and costs associated with trading in the financial markets, carefully consider your investment objectives, level of experience, and risk appetite, and seek professional advice where needed. Kalkine Media cannot and does not represent or guarantee that any of the information/data available here is accurate, reliable, current, complete or appropriate for your needs. Kalkine Media will not accept liability for any loss or damage as a result of your trading or your reliance on the information shared on this website.