Highlights

Canada's benchmark index performed best in over a decade in 2021

Global equity market is inundated with retail investors that use online brokers like Bitbuy

The S&P/TSX Composite Index is up only marginally so far in 2022, but long-term view is optimistic
Apple, Microsoft, and Tesla gave whopping returns in 2021. That's no mean feat at a time when every nation and its respective economy was reeling from the pandemic.
The S&P 500 Index gave nearly 27 per cent return in 2021. And the S&P/TSX Composite Index, which tracks large cap companies listed in Canada, gave nearly 22 per cent return, its best in 12 years.
Where's the disruption?
Two important factors in 2022
First, the rise of retail investors across the globe, from the US to Canada, fueled the equity market rally. Thanks to online zero-commission brokerages like Robinhood and Bitbuy, a small investor with just a few dollars can invest in stocks. And these few dollars make a handsome amount of money in the overall market.
Covid or no Covid, the retail investor class is bullish on stocks, and when they know about the gains of S&P 500 and TSX Composite, and individual stocks in 2021, they may only increase their bets.
Also read: How to raise your credit score?
Second, federal governments are doing all they can to infuse liquidity in the economy by policy actions like the CARES Act and CEWS. Besides, central banks have supported them by keeping policy rates low to encourage borrowing and spending. There is a reason why the housing markets in all economies including Canada are so hot. Low mortgage rates and pandemic savings are the primary reason.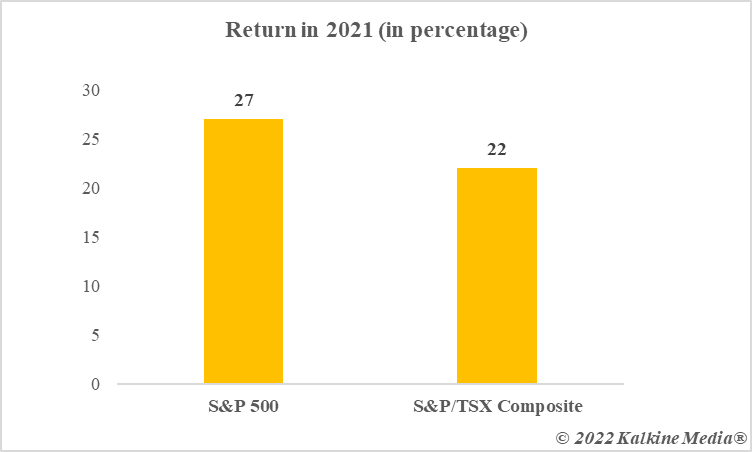 Can rate hike dent sentiments?
Let's wait for when the Fed and the Bank of Canada raise policy rates.
There might be a slight correction in the market, but in a broader perspective, the resurgence of Covid and sporadic lockdowns here and there may not upset the market. One, there is enough liquidity in the stock market, thanks to the retail investor rush. Two, rate hikes, even if they come, would not be steep enough to dent investors' interest.
Also read: What to do when debt feels unmanageable?
Will Covid disrupt the equity market in 2022?
Long-term viewpoint
Keeping in view the present trend and looking at the way the global stock market quickly regained from the sudden pandemic shock in early 2020, the long-term view is optimistic.
Here, it is important to understand that not all sectors rise or fall or rise or fall in same proportion at any given time. The returns of even large cap companies can be in the negative territory over a given period. At some points, we can have meme stocks, which are often low market cap stocks, rising, while large stocks like financials not gaining sharply.
Also read: Tech stocks in 2022: Will they create wealth for investors?
Keeping tabs on what's happening in different sectors is at the heart of prudent investment strategy.