Source: whiteMocca, Shutterstock
The year 2021 is playing out virtually the same way as 2020. Pandemic-induced lockdowns have reappeared and return to normal economic activity is no way on cards.
Are there any lessons to be learnt from stats of TSX indices in 2020? Will markets witness similar returns on investment in 2021? And if yes, where should you invest?
In March 2020, Canadian markets witnessed one of the biggest crashes, causing deep economic recession, at levels unseen since the Great Depression in 1930s.
But then, things turned around in the second half of 2020. Markets witnessed all-time highs along with decent IPO activities.
In this article, we take stock of some TSX indices and its returns, hoping it will aid investors' decisions. Here is an analysis of TSX SmallCap, Cannabis, and the benchmark Composite indices.
What Figures Say:
In the last one year, the S&P/TSX SmallCap index advanced by a phenomenal 74.12 per cent, a representative of how small cap companies are faring on the exchange. Now this return is not just in the positive territory, it is also extensively high.
Pot stocks have rallied in 2020 and 2021 could see a rerun, especially with marijuana legalization on the cards in the US and Mexico.
The S&P/TSX Cannabis Index returned 60.64 per cent in the last one year. While the figure is impressive, it is lower than SmallCap Index.
In contrast, the main equity index in Canada, the S&P/TSX Composite Index, shows a moderate return of 34.46 per cent in the same period.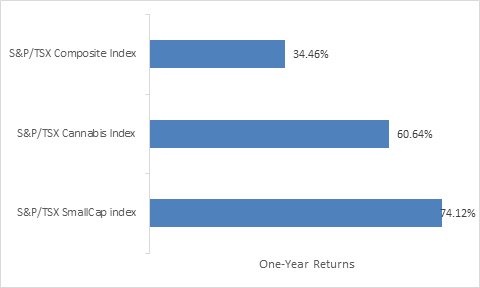 © Kalkine Image 2021
In 2021 so far, a similar pattern seems to be repeating.
The SmallCap index has gained 12.43 per cent year-to-date (YTD), while the Cannabis index is up over 32 per cent YTD. In the same time frame, the TSX Composite is up by 10.83 per cent.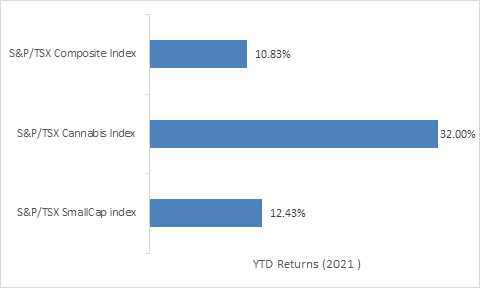 © Kalkine Image 2021
North American markets some sharpest and violent stock market corrections, followed by record-making recovery in 2020.
And despite a buoyant beginning, 2021 is trotting on the same lines.
The COVID vaccines are yet to prove their efficacy in real world.
Amid all uncertainties, it is certain the economy will still take time to recover and reach the pre-pandemic levels.
The above comparison can help in investors in taking an informed decision and hone their investment strategies.