Source: ©Kalkine Group 2021
It's a big day for Canada as the Trudeau-led Liberal government unveils its first federal budget in two years. People from across the country tuned in on their various gadgets to find out what Finance Minister Chrystia Freeland had in store for them.
Tabled on Monday afternoon, April 19, here are the top 10 key highlights of this iconic budget that you must know about.
1. Additional C$ 101 in Stimulus

The Liberal government has kept its promise to provide an additional stimulus of C$ 101.4 billion over the next three years that will help create jobs and usher in a "resilient and inclusive recovery" from the "COVID storm".
Without missing a beat, FM Freeland also snapped back at those who have (and may again) criticized the government's massive spending plans, questioning if they have lost their jobs and income amid the pandemic.
©Kalkine Group 2021
2. C$ 30 Billion Investment in Childcare Over 5 Years

To provide "affordable, high-quality and flexible" child care support for all, FM Freeland said that C$ 30 billion will be invested in establishing a nationwide early learning and child care system over the next five years.
The initiative, which will see an investment of C$ 8.3 billion thereafter, intends to bring down the cost of child care to C$ 10 per day in Canada by 2025-2026.
3. Extensions of CEWS, CERS & Lockdown Support

In its efforts to "heal the economic wounds" and support middleclass Canadians, Freeland said that the federal government will extend the support measures "as long as required".
Technically, however, the Canada Emergency Wage Subsidy (CEWS), the Canada Emergency Rent Subsidy (CERS) and the Lockdown Support measure have been extended till September 25 this year.
The number of weeks available for the Canada Recovery Benefit and the Recovery Caregiving Benefit have also been extended, while the Employment Insurance sickness benefits have been stretched from 15 to 26 weeks.
All in all, the extensions of these programs will cost some C$ 12.1 billion, making it one of the most expensive items on the 2021 budget.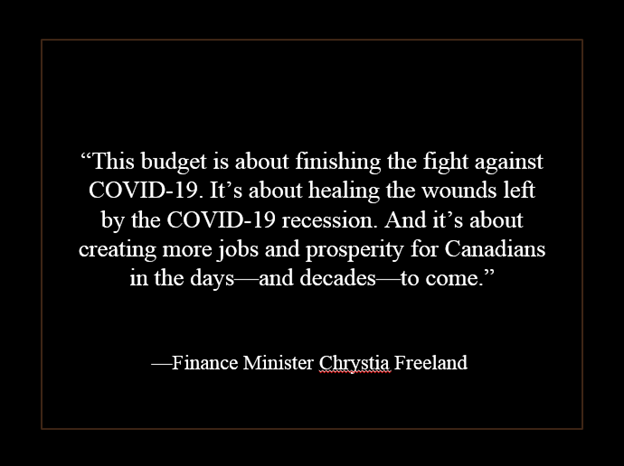 ©Kalkine Group 2021
4. C$ 3 billion Investment in Long-term Care Facilities
To support elderly Canadians, the Trudeau government have set aside a C$ 3 billion investment for long-term care facilities.
The Budget 2021 has also increased the Old Age Security for seniors of and above the age of 75 to help them access "better financial security".
5. C$ 2.2 Billion Investment in Biomanufacturing sector
As the government plans to get all willing Canadians vaccinated for COVID-19 by September 2021, Monday's budget proposed to invest C$ 2.2 billion in Canada's biomanufacturing sector and life sciences firms over seven years.
The package will see an investment of C$ 1 billion for the Strategic Innovation Fund, the introduction of Clinical Trials Fund and the creation of more jobs in the health research and pharmaceutical sectors.
6. 1 Million Jobs by Year-end, C$ 595 Million for Hiring Programs

Promising to bring in one million jobs by the end of 2021, Freeland said that C$ 595 million will be earmarked for a newly introduced Canada Recovery Hiring program to help support employment.
The program, Freeland added, will be available temporarily between June 6 and November 20 this year.
7. C$ 5.7 Billion Earmarked For Young Canadians
With young Canadians being one of the hardest hit demographics during the pandemic, Budget 2021 sets aside about C$ 5.7 billion over the next five years for the youth.
In order to help young people pursue and finish their education, the government will earmark C$ 4.1 billion to help make paying down student loans easier and offer direct support to students.
8. $2.5 Billion for Affordable Housing
Canada's skyrocketing real estate prices over the past year has put a 'stop' sign on the dreams of buying a house for many. Monday's budget, however, pointed that the Trudeau government plans to invest an additional C$ 2.5 billion in affordable housing initiatives over the next seven years.
The government also plans to redistribute about C$ 1.3 billion in existing funding to quicken the development, repair, etc of some 35,000 affordable housing units.
9. Increase Minimum Wage To C$ 15
In its efforts to help low-wage workers, Freeland said that the Liberal government will be increasing Canada's minimum wage mark to C$ 15 across the board.
This will lead to an increase in pay for over 26,000 workers in the country, barring the provinces where the minimum wage figure is more than C$ 15.
10. C$ 5 Billion To Initiate A 'Green Recovery'
In line with its promise to "build back better" the economy ravaged by COVID, Freeland pledged an additional C$ 5 billion investment for green initiatives over the next seven years.
The plan, Freeland said, is to speed up Canada's efforts to hit its net-zero emissions target by 2050.