Highlights

With upcoming holiday season inching closer, companies like Lightspeed Commerce Inc are likely to benefit with increased consumer spending.
Canada Goose Holdings Inc (TSX:GOOS) holds a price-to-earnings ratio of 78.70 as of October 4.
In the first quarter of fiscal 2022, Aritzia Inc (TSX:ATZ) reported a 167 per cent year-over-year jump (YoY) in its revenue.
Many Canadians are probably already making their shopping lists for the holiday season. But as you spend on gifts this season, you could also explore some stocks that could help your wealth grow in the long run.
We have shortlisted some TSX-listed companies that are likely to benefit from the shopping spree this holiday season.
Shopify Inc (TSX:SHOP)
Shopify provides different platforms for retailers and merchants of any size, scale, and geographies. In September 2021, the premier Canadian e-commerce giant launched a platform to boost UK-based merchants' cross-border sale capabilities.
Shopify's total revenue for Q2 2021 was US$ 1.119.4 billion. In addition, its gross merchandize volume for Q2 2021 jumped by 40 per cent year-over-year (YoY).
These two metrics likely present an upward trend in the growth of Shopify stocks in the long run.
Aritzia Inc (TSX:ATZ)
Despite the turmoil in the Canadian retail industry, this apparel stock saw a surge of roughly 131 per cent in the past one year.
The stocks posted a return on equity (RoE) of 18.54 per cent and a price-to-earnings ratio (P/E) of 72.4, as of October 8.
In the first quarter of fiscal 2022, Aritzia's e-commerce revenue was up by 167 per cent YoY.
Cargojet Inc (TSX:CJT)
Cargojet Inc, a leading air freight company in Canada, believes customer demand is highest in the fourth quarter of each fiscal year, owing to the increase in retail activity as the holiday season approaches.
In the second quarter of the current fiscal year, Cargojet recorded a 14.4 per cent YoY growth in average domestic network revenues.
CJT stocks, on the other hand, recorded a P/E ratio of 93.4, of October 8.
Lightspeed Commerce Inc (TSX:LSPD)
With upcoming holiday season inching closer, a company like Lightspeed Commerce is likely to benefit with increased consumer spending.
The leading one-stop commerce platform announced earlier in October that is has acquired global e-commerce platform Ecwid.
In Q1 2022, Lightspeed's total revenue was up by 220 per cent YoY. In the fiscal 2022, it aims to earn a revenue of about C$ 510 million to C$ 530 million.
Canada Goose Holdings Inc (TSX:GOOS)
Canada Goose is engaged in the manufacture and retail of premium outerwear, with a particular focus of winter clothing like parkas and jackets.
With the winters in Canada likely to be above than normal, retailers like Canada Goose could see sales of their winter wears get boosted. It is also set to launch footwear line in November.
Canada Goose noted a market cap of C$ 2.7 billion and a P/E ratio of 80.9 on October 9.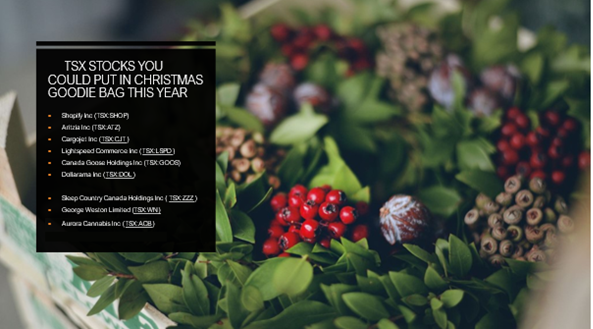 © 2021 Kalkine Media
Dollarama Inc (TSX:DOL)
The discount retail store operator's sales increased by 1.6 per cent YoY in Q2 FY22. With the launch of 13 new stores in the second quarter, the company's total store count also went up to 1,381.
Dollarama's net earnings for Q2 FY22 stood at C$ 146.2 million, as compared to C$ 142.5 million in the same period a year ago.
DOL stocks posted a price-to-book (P/B) ratio of 125.8 and an ROE of 487.2 per cent on October 8.
Sleep Country Canada Holdings Inc (TSX:ZZZ)
Despite tough market conditions, Sleep Country Canada saw its revenue surge by 67.3 per cent YoY to C$ 77.3 million in Q2 2021.
The retailed noted that its e-commerce sales represented about 29.6 per cent of its total revenues in the latest quarter.
The Canadian mattress retailer also recorded a 22. 7 per cent increase YoY in its operating EBITDA margin in Q2 2021.
George Weston Limited (TSX:WN)
The Canadian holding company raked in a revenue of C$ 324 million in the second of 2021. One of its reportable segments, Weston Foods, reported a 4.6 per increase YoY in sales in Q2 2021, amounting to C$ 431 million.
George Weston's dividend of C$ 0.6 grew at a rate of 4.83 per cent in the past five years.
The company, which operates via multiple subsidiaries, held a P/E ratio of 32.6, as of October 8.
Also Read: 5 TSX stocks to invest in if you are over 60
Aurora Cannabis Inc (TSX:ACB)
Aurora Cannabis posted a nine per cent YoY increase in its medical cannabis net revenue in the fourth fiscal quarter ending June 30, which it said was primarily driven by sustained growth in the global medical business.
Its cash in hand stood at about C$ 400 million in Q4 FY21.
The Edmonton, Canada-based enterprise, which grows and markets medicinal and recreational pot, noted a market of over C$ 1.8 billion on October 8.
Bottom line
With the excitement around the festive season picking up pace, retailers are walking that extra mile to attract customers.
While the pandemic continues to affect businesses of all size and scale, companies could see an improvement in sales figures from the previous year with nationwide vaccination campaign ramping up.