Highlights

As tough as it has been, a second year of the pandemic has taught us some notable investing lessons.
Many investors learned that some sectors have and are likely to continue suffering amid the pandemic, while some others go on to collect gains.
Generally, the stock market is believed to move alongside economic trends. Year 2021, however, taught us that that may not always be the case.
Congratulations! You have (almost) made it through another year of a global pandemic.
Humankind's battle with COVID-19 has been one for the history books. But as tough as it has been, we have also learned a few lessons from this virus, some of which strongly apply to our financial wisdom.
So, let's remind ourselves the top stock market investing lessons we have learned this year.
1. Think before panic selling
One of the biggest investing lessons 2021 taught us was not to entirely give up on investing in stock markets.
When the markets plunged in the wake of the COVID-19 breakout in March 2020, many investors gave into the panic and traded in their stocks for safer bets. Such traders noted significant losses when the stock markets rebounded, even outperforming expectations in some cases, amid ramped-up vaccination campaigns in 2021.
2. Maintain a diverse stock portfolio
While 2020 introduced us to the aftermath of the COVID-19 outbreak, 2021 brought us experience. Investors, for one, learned that some sectors have and are likely to continue suffering amid the pandemic, while some of the others go on to collect gains.
Therefore, holding an assortment of stocks from different sectors in your portfolio is more likely to protect you from massive losses than sticking to just one of a kind.
Also read: Top 4 penny dividend stocks of 2021
3. Stock markets don't always work in tandem with the economy
Generally, the stock market is believed to move alongside economic trends. Year 2021, however, taught us that that may not always be the case.
In most cases, global economies were still trying to get a grip of the COVID situation, exacerbated by rising unemployment and future uncertainties, while the stock market were already rebounding.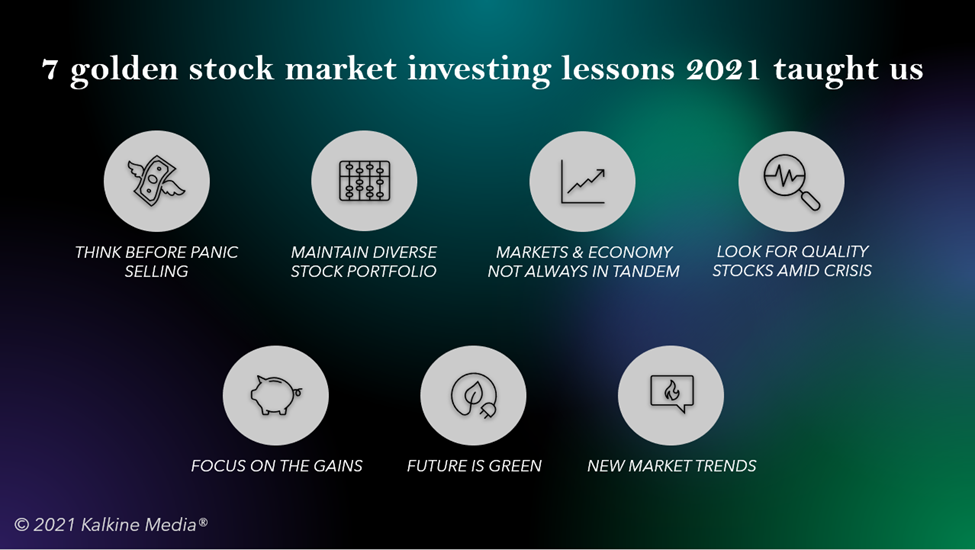 4. Focus on the gains
While it is crucial to evaluate to your risk appetite and do all you can to protect yourself from losses, it is ideally best to not let this concern completely keep you from stock markets.
The universe of stock trading is filled with risks and volatility, but there are also the benefits of profit and dividend payouts.
Year 2021 showed us quite a few recovering and growing companies, teaching us that growth and quality stocks can help us increase our passive income if dealt with smartly.
Also read: How to buy the best dividend stocks in Canada?
5. The future is green
Increased government initiatives and growing public concern have reminded us, once again, that environmental causes are here to stay.
Year 2021 saw a number of UN and global meets addressing the issue of climate change, where many world leaders pledged to work on their carbon emission goals and pollution levels.
With the interest around green solutions growing, companies focused on renewable technology and power are likely to gain traction going forward. Therefore, thoughtfully parking your funds in one of these arenas may pay back in the future.
6. New market trends
While 2020 ambushed us head-first into a homebody economy, 2021 gently – but forcefully – nudged into more challenges.
Still settling into work-from-home setups and online classes, we came face to face with new vaccine names, rolling lockdowns, global supply-chain bottlenecks, raging semiconductor crunch, and, of course, rising inflation.
The negatives and positives of these developments aside, all of these events through 2021 triggered notable market trends. Investors who were able to use these trends to their benefit and narrow down on stocks that were likely to outperform the market due to these events were able to make gains.
7. Quality stocks can be found even in the darkest of times
The COVID-19 pandemic was not a one-off situation. Economic challenges as such will continue to crop from time to time until the end of civilization. An important investing lesson to learn from the second year of COVID-19 is that quality investment opportunities can be found even amid global crises.
Each time a new COVID-19 variant came for the human race, or a fresh wave of infections hit us just when things were going back to normal, smart investors deep-dived into research to look for the hidden gems in the stock market.
In other words, they were looking for stocks that were likely to be boosted by the new challenge.
Case in point – In the wake of the delta variant, share prices of Moderna Inc (NASDAQ:MRNA) had gone through the roof. Investors who had anticipated this surge in the light of increased interest in vaccine manufacturers are likely to have benefitted.
Moderna stocks noted a rally once again last month, soaring by as much as 21 per cent in a day on November 26, following the emergence of the omicron variant.
Bottomline
An important lesson that both 2020 and 2021 taught us was that past experiences can help only so far to gauge the future. In other words, while the stock market performances the past years can help one make better decisions, investors are likely to reap more benefits if they focus on the trends and developments of 2022.