Highlights

Telus (TSX: T) reported a net profit surge of 21.3 per cent year-over-year in Q1 2022

Telus stock rose by nearly four per cent in 52 weeks

Magna (TSX: MG) doles out dividends (presently US$ 0.45) on a quarterly basis
If you are a young Canadian investor worried about retirement, quality stocks like Telus (TSX: T) and Magna International (TSX: MG) can help you unlock long-term value for your golden years.
According to the Canadian Retirement Survey, which was recently released by the Healthcare of Ontario Pension Plan (HOOPP) and Abacus Data, around 67 per cent of the young respondents were found less likely to own a home, as compared to those aged above 35 (47 per cent).
The survey also noted that about 61 per cent of the adults under 34 years were also found less likely to have savings over C$ 5,000.
With concerns around a retirement crisis rising in Canada, especially among young people, let's discuss two TSX stocks that young investors could consider for their retirement portfolio.
Also read: Shopify (SHOP) vs Amazon: Which tech stock is better buy amid selloff?
Telus Corporation (TSX: T)
Telus announced the acquisition of LifeWorks Inc (TSX: LWRK), a Canadian technology firm engaged in assisting clients on overall well-being, including pension and benefits administration and retirement consulting, on June 16. According to the telecom company, this acquisition, if approved, will strengthen its Telus Health division, positioning it as one of the global leaders in digital health and wellness.
The internet service company recently announced a private investment of C$ 9 million in Mékinac and Les Chenaux to deploy its PureFibre 5G networks and foster digital innovation to bridge the digital divide.
Also read: 3 TSX clean stocks to buy as IEA projects energy investment to rise 8%
On the financial side, Telus improved its profitability by reporting a net profit surge of 21.3 per cent year-over-year (YoY) to C$ 404 million in Q1 2022. The communication service company hiked its quarterly dividend to C$ 0.339 per share on July 4, which it said marked a 'twenty-second' raise since 2011.
Telus stock rose by nearly four per cent in 52 weeks and posted a Relative Strength Index (RSI) of 32.73 on June 23 (near the oversold mark of 30), as per Refinitiv.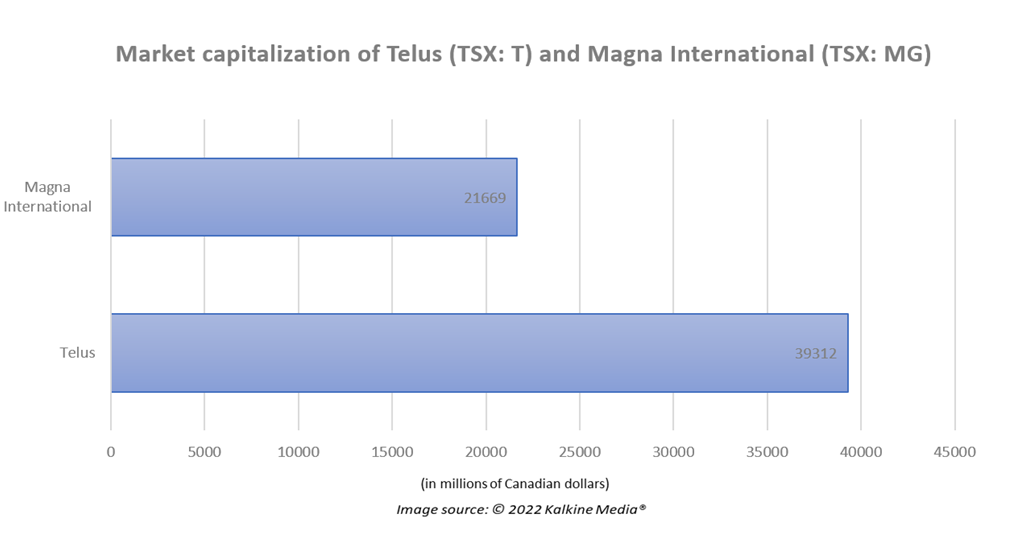 Magna International Inc (TSX: MG)
Magna recently revealed its Breakthrough Lighting solution that offers 'hidden-until-lit' light effects to consumers and enables refined interaction with their vehicles. The automotive supplier targets to have this lighting technology ready for production in 2023.
Magna is also working with Canadian software firm BlackBerry to advance Advanced Driver Assistance System (ADAS) solutions for the automotive industry.
The vehicles and parts company reported sales of US$ 9.64 billion in Q1 2022, lower than C$ 10.17 billion a year ago. This TSX large-cap company also doles out dividends (presently US$ 0.45) on a quarterly basis.
MG stock fell by over 28 per cent year-to-date (YTD) and recorded an RSI value of 42.33 on June 23, according to Refinitiv.
Bottomline
One reason behind considering these stocks could be that they both are large-cap stocks, which could provide sturdy dividend income in future years. Another key point to note is that these stocks could provide substantial returns if supported by growth in their business footprints.
Please note, the above content constitutes a very preliminary observation based on the industry, and is of limited scope without any in-depth fundamental valuation or technical analysis. Any interest in stocks or sectors should be thoroughly evaluated taking into consideration the associated risks.